30 things that made NYC rule in 2016
As the year comes to an end, we award the magical moments and places that made life in New York City rock in 2016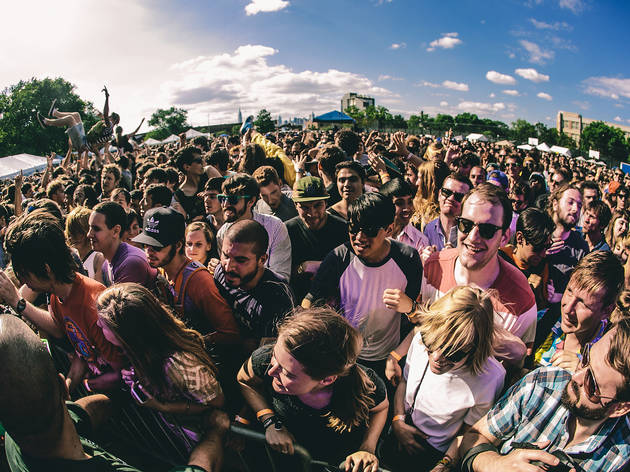 2016 has had its ups and downs (and downs and downs), but that didn't stop the city from killing it this year. So let's toast for the best things we saw, ate and generally were amazed by in the last twelve months. For more 2016 love, check out the best music videos of 2016, best TV shows of 2016 and the best new artists of the year.
RECOMMENDED: Full guide to the best of 2016
30 things that made NYC rule in 2016
Best bittersweet comeback
A Tribe Called Quest
On November 11, as the shock of the election still reverberated, Queens rap legends A Tribe Called Quest released, without warning, its first record since 1998: the wild, vibrant, fiercely political double LP, We Got It From Here…Thank You 4 Your Service. Founding member Phife Dawg died from complications of diabetes in March, and he worked on his contributions to We Got It up until the end. The fruit of their labor is arguably the first important, intensely personal work of resistance in the Trump era.—Andrew Frisicano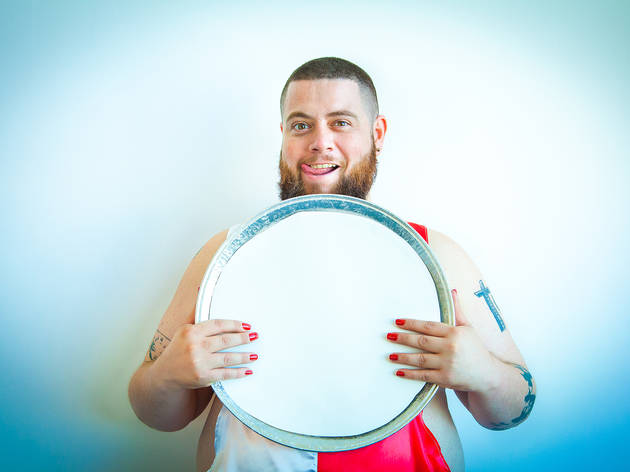 Tonight's Special with SHANE SHANE
Every month, the bearded, barely clad Shane O'Neill performs musical acts, stand-up and sketches—on demand. At the start of his show, you're handed a menu of performance pieces, which O'Neill takes on at your request. He's manic and he's all yours.—DG
Sid Gold's Request Room, 165 W 26th St (212-229-1948, sidgolds.com). First Wed of the month at 8pm; suggested donation $5.
Westlight
For years, rooftop bars, especially ones perched atop hotels, were synonymous with douchiness, all velvet-rope snootiness and sweaty, swarming crowds. But at Williamsburg's spankin'-new hotel the William Vale, Westlight—the 22nd-floor rooftop lounge from acclaimed restaurateur Andrew Carmellini and his team at NoHo Hospitality—there's not a velvet rope in sight, and there's plenty of room to breathe: 6,855 square feet, in fact, with an interior set with velvet banquettes and globe lights and an exterior with wraparound views of the New York skyline. A bar is only as good as its drinks, though; luckily, the ones here—like a Scotch-charged New Kind of Kick perfumed with thyme—are made by cocktail pro Anne Robinson (Evening Bar, PDT).—CI
111 North 12th St, Brooklyn (718-307-7100, westlightnyc.com)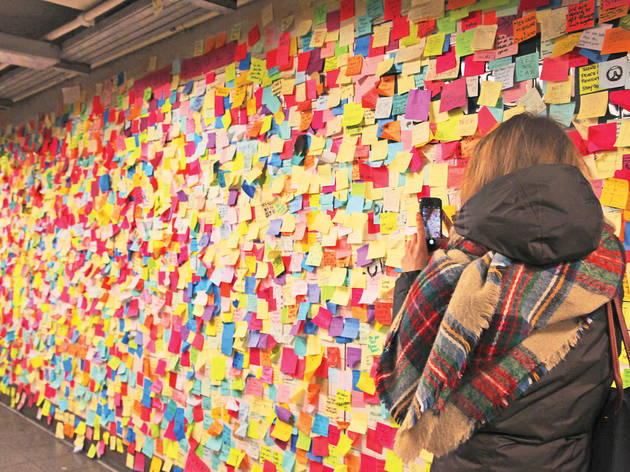 Photograph: Kelsey Dubinsky
The sticky-note subway wall
This was not the wall you heard about in the presidential campaign. The day after the election, experimental artist and amateur "subway therapist" Levee set up shop in the 14th Street station, in the tunnel between Sixth and Seventh Avenues, with a few pens and a few thousand Post-its. Commuters scribbled down their feelings, then stuck them to the wall—more than 10,000 notes and counting. Everyone (schoolchildren, professionals, tourists and even Governor Andrew Cuomo) flocked there. The wall was such a relief to New Yorkers that incarnations have since popped up in the Union Square station and Atlantic Terminal. (We're hoping Levee sees imitation as the best form of flattery.) To quote one message, "This is helping."—Annalise Mantz
The Hills on Governors Island
As of last July, the Hills on Governors Island are alive but not necessarily with the sound of music. Instead, you can hear the hum of parkgoers and their bicycles as they tool around the island's two-plus-mile promenade, the gleeful squeals of folks slithering down one of the four massive slides and the delighted gasps of visitors ogling perfect views of the New York Harbor and Lower Manhattan. While much of the green space's landscape has changed (and, oh, is it hilly), preexisting features such as Hammock Grove and Picnic Point (which had been closed since 2012) are still major focal points. But this new addition has us counting down the days until the island opens again in May.—Jennifer Picht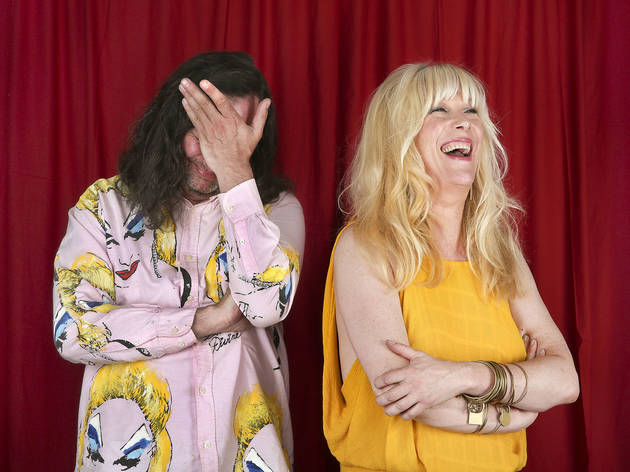 Photograph: Tammy Shell
Best long-overdue theatrical reunion
Kiki and Herb
In the 1990s and 2000s, Kiki and Herb—the demented geriatric lounge-singer alter egos of Justin Vivian Bond and Kenny Mellman—were a pillar of downtown performance, weaving monologues and songs into tapestries of fury and dark comedy. After nearly a decade apart, they reunited at Joe's Pub in April, in a sold-out run that knocked audiences on their asses and screamed wild sense into their ears. Here's hoping that Bond and Mellman join forces again soon. We need all the apocalyptic honesty, wit and defiance we can get right now.—Adam Feldman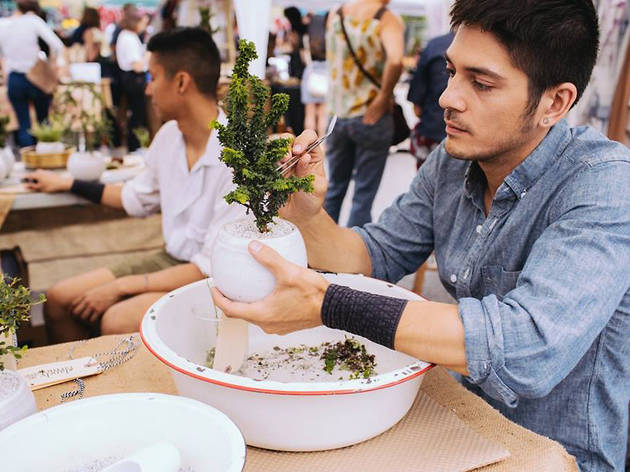 Photograph: Courtesy Bulletin
Best new excuse to booze and shop
Bulletin Market
Sure, the alfresco bazaar—which occupied the empty lot on the corner of North 8th Street and Driggs Avenue last summer—was rooted in merchandise just like a lot of indie fleas in the 'Burg. But it operated more like a laid-back block party, where you could mingle over craft beers, play lawn games, groove to DJ sets and grab grub from Luke's Lobster and Melt Bakery. (The market relocated to the William Vale hotel for the first two weekends of December, so yay for those holiday shoppers who were able to check it out.)—JP
Best reason to stay out till 8am
Anthony Parasole's set at Blkmarket Membership
With clubs and parties biting the dust at an alarming rate (RIP, Palisades and Aviv), Blkmarket Membership's birthday bash in May gave us confidence that the underground is still alive and well. Props to New York native Parasole, whose sunrise set at Blkmarket's new Bushwick HQ reminded us that it's not just the Brits and the Berliners owning the moment. His seamless sonic journey spanned from hard-hitting techno to Prince, all blasting as sunlight seeped through the cracked windows.—Vivienne van Vliet
Robyn at Governors Ball
With no album or tour to promote, the Swedish dance-pop juggernaut surprised us during her headlining spot at Governors Ball, opting for a continuous flow of remixes that reworked even her best-known songs into dance-music newbies. Sure, she lost a few folks to the Strokes (who played at the same time on another stage), but those who stayed got a thrilling ride from the star in rare form, a perpetual-motion machine possessed by her own music, bounding across the busy stage, using a full-length rotating mirror as a dancing partner and singing for pretty much only herself. (We just got to reap the rewards.)—Andrew Frisicano
Indian
The year saw the evolution and expansion of everything from Italian pasta to Hawaiian poke, but no food field benefited from high-profile openings and blogosphere buzz quite like New York's Indian-food scene. After years of losing major players like Tabla, Devi and the OG dining room Tamarind, NYC was on the receiving end of subcontinent heavyweights including Indian Accent (123 W 56th St; 212-842-8070, indianaccent.com), the Michelin-starred NYC sister to Manish Mehrotra's high-end New Delhi restaurant; Tapestry (60 Greenwich Ave; 212-373-8900, tapestryrestaurant.com), Suvir Saran's fusion-friendly Indian spot in the West Village; and Pondicheri (15 W 27th St; 646-878-4375, pondichericafe.com), the all-day Indian café and bakery that Anita Jaisinghani imported from Houston to Nomad.—CI
Show more
But what about the worst moments of the year?
We've got those, too. Check out the things that made NYC absolutely suck in 2016.