Like nature itself, and the majesty of fall's color changing leaves, early twilight hours and crisp breeze, autumn in New York is so much more than an incredibly bizarre, hospitality-adjacent old movie. These last few months of the year also usher in new beginnings; a snap back to action after the long lull of summer, the first day of school, cuffing this and that. It is also the time to start working warming or otherwise seasonally appealing savory, sweet and all-occasion foodstuffs into your dining routine. Here are some to try right now at Time Out Market New York.
What: The black garlic tonkotsu ramen ($21.50).
Imagine, rustling back inside your roomy and improbably elegant cabin after a lively round of snowmobile tag, your cheeks red with excitement and a little windburn. In the shabby-chic, double-island kitchen awaits a soothing bowl of ramen, replete with thin noodles, sliced pork belly, scallops, bean sprouts, kikurage mushrooms, black garlic oil and garlic chips swirling in its pork broth. It's a victory.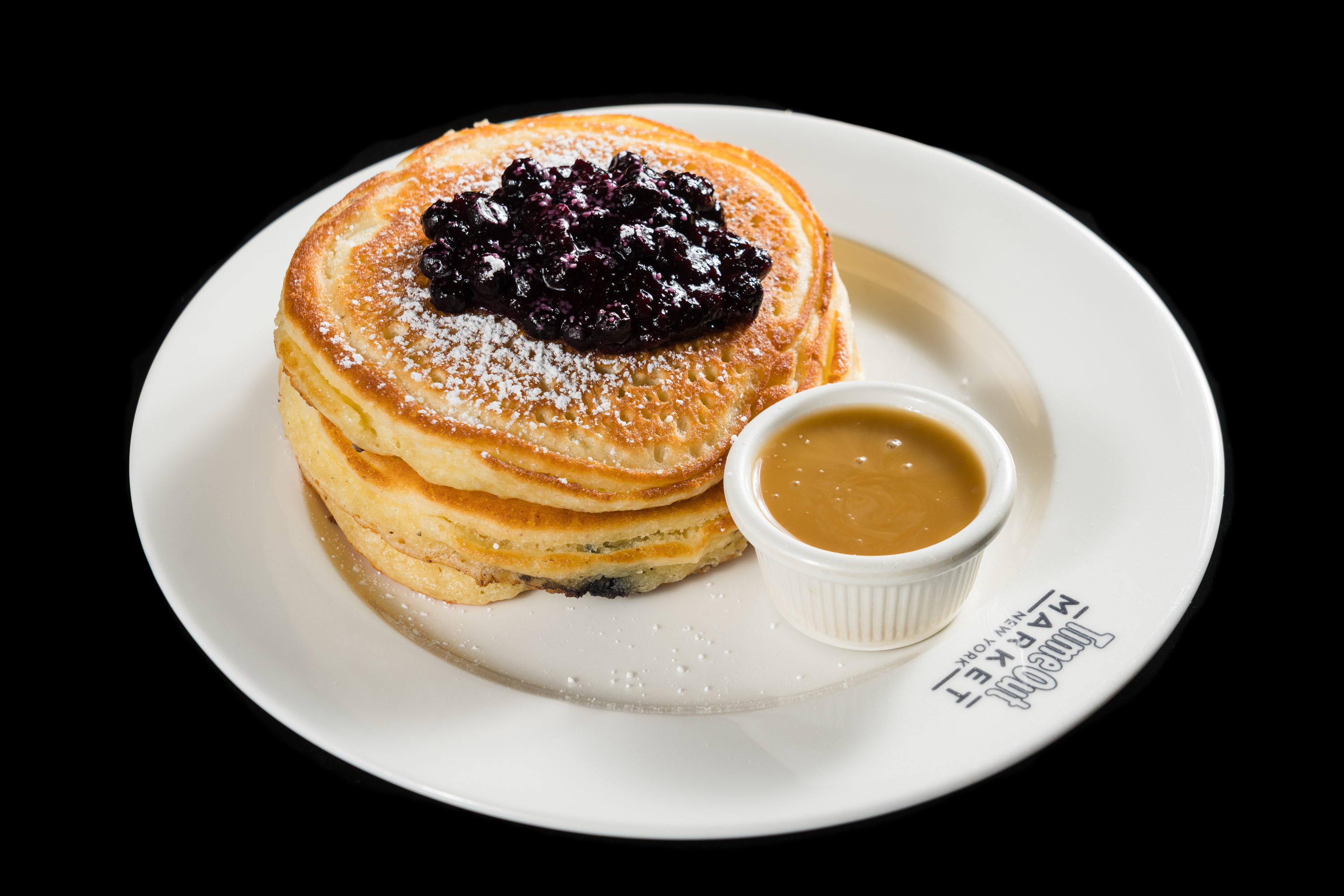 What: The pancakes with warm maple butter ($15).
Some flavors simply say fall while others sing it out like Liza with a Z and this stack of pancakes is all pizzazz. The satiny maple butter goes a long way toward that seasonal conceit, cloaking and Clinton Street's expert breakfast signature (also available in blueberry, banana walnut or chocolate chunk varieties) like Halston ultrasuede.
What: The brussels sprout Caesar salad ($16).
Depending on who, what, where, when and sometimes why you are, brussels sprouts are either a plain, steamed weeknight bore, or a dynamic bit of green lovingly prepared for holiday dinner tables. Learn to love them for the first time or revisit an old fondness with the shaved brussels winding around the sliced avocado, vegan Parmesan croutons and vegan dressing in this verdant salad.
What: The honey chili cauliflower ($11).
Another sometimes divisive side or slab served as a main "for the vegetarians," these crispy cauliflower florets will win over plant pessimists once and for all.
What: The toasted toasted pumpkin seed and smoked chile dip ($14).
Another one of those items synonymous with the season, this is the gourd you've been waiting for, absent the pesky pie spice. It's served with jicama, cucumbers and sweet peppers for a fresh take on the taste.
What: The gravy-smothered fried chicken sandwich ($15).
Football. Gravy. Online discourse about what is and is not basic. All enjoyable throughout the year; all closely associated with the fourth quarter. Get the middle on the fried chicken sandwich at Jacob's pickles, available to smother in sausage or mushroom cheddar varieties.
What: The mapo tofu ($17.50).
As the air grows colder and its heat we seek, mapo tofu has it all in a double dose of temperature and light spice. Chinese-influenced, plant-based Rogue Panda's is, naturally, meat-free.
What: The tres golpes sandwich ($18).
Tis the season to gather in groups, whether for family parties, friendsgiving or corporate secret Santa reveals, with abundance is in order across the board. Bark barbecue's tres golpes sandwich is bounty on a bun, piled with pulled pork, fried cheese, maduros and bark sauce.
What: The fig and prosciutto pizza ($22).
In the grand debate about fall's best flavors—where pumpkin, apple and cinnamon always enter the chat—fig is less discussed in spite of its tremendous merrymaking merits. It's pretty popular via sweets, but we advise you try it on a pie—a pizza pie! Fornino adds prosciutto, mozzarella, gorgonzola and arugula to black mission figs for a fruity zing on what's expected.
What: The Your Neck of the Woods ($5.75-$9.75).
Speaking of sweets, the innovators at Sugar Hill Creamery have autumn-ized that classic summertime treat, iced cream, for maximum seasonal appeal. Its name, conjuring campfires (though actually named for Al Roker, Today show devotees will attest), its flavors—sweet potato and a graham cracker-pecan pie crust mingling with cookies and cream—recalling familiar festive foods, these confectionary creators have cracked the code on churning out ice cream for every type of weather.