Between Thanksgiving and New Year's Eve, there are countless reasons to grab a drink: the umpteenth happy hour with friends or colleagues, your cool friend who has a cooler friend hosting "a small gathering" in her new apartment and yes, pop-up bars galore. While there are plenty of things to do in the winter when you're in NYC, finding a bar is at the top of the list. Whether you simply want a drink (or two), the city's best bars and rooftop bars provide you countless options. But the best holiday pop-ups give you more than your run-of-the-mill G&T. Instead, you'll find everything from Christmas-themed cocktails to outdoor igloos with sweeping views of the city. Here's where you'll find more reasons to keep the holidays going one drink at time.
Collier Sutter contributed reporting.
Arthouse Hotel's Holiday Movie Revival Pop-Up Bar
By now, you've likely seen a clip or two of A Christmas Story, Elf and A Charlie Brown Christmas to last you until 2020. But the Arthouse Hotel's Holiday Movie Revival will keep you in the festive mood far longer than any Christmas-themed flick. From Home Alone, Kevin McCallister's home is recreated and there's even Uncle Lewis's burnt Christmas tree from National Lampoon's Christmas Vacation. The cocktails follow the themes, too, with drinks like the "fra-gee-lay" leg lamp ($16) from A Christmas Story and Clark Griswold's holiday egg nog poured from the carton ($17). The bar is open until January 5th in the Upper West Side hotel's lobby and lobby bar. 2178 Broadway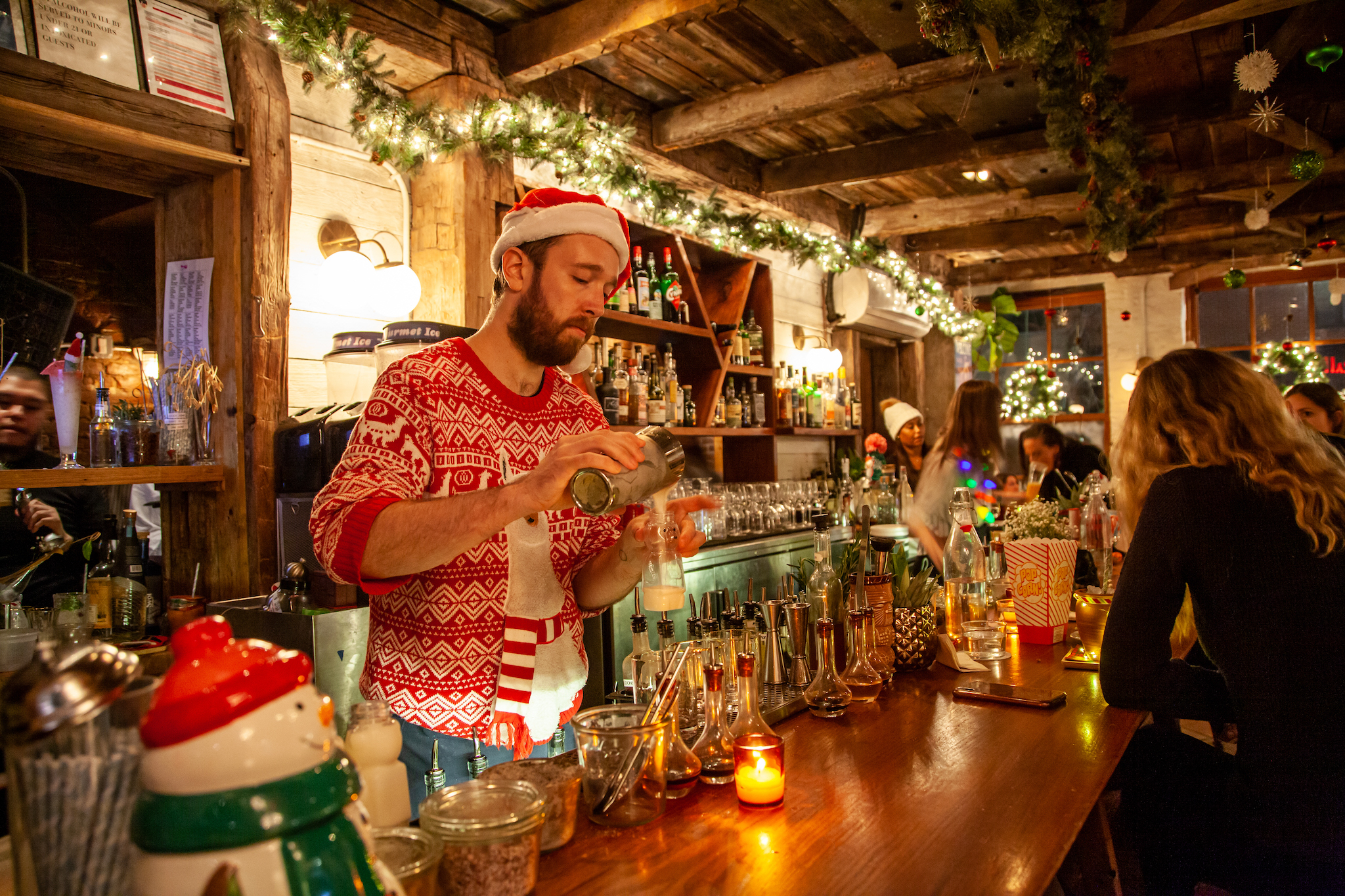 We're not expected to have a white Christmas in New York this year but at Sunday in Brooklyn, the seasonal pop-up bar returns to Williamsburg through the end of December with all the festive cocktails and drinks that put you in a festive mood. Themed cocktails like Polar Bear Club and Surfin Santa can help you wash down the raclette beer cheese fondue. 348 Wythe Ave.
Fever-Tree Porch
Bryant Park's Winter Village is filled with all things locals and tourists alike are drawn to this time of year, from the ice skating rink to all the shopping. The cocktail options are better this year than ever with the Fever-Tree Porch, a heated outdoor space that's ideal for sipping on hot toddies. You can pair other Fever-Tree Ginger Beer-spiked cocktails with a menu of small bites like a giant pretzel and hot pastrami on rye. Bryant Park
The Lobby Bar at Dream Downtown's Winter Rose Garden
For this hotel lobby bar's first-ever pop-up installation, they're impressing visitors by revamping their space into the ultimate red room with 15,000 roses on the walls, red furniture and candles to set the mood. This pop-up concept is way more sultry than "Jingle Bells" and we're sort of, uh, obsessed. It's open through March.
That whole "Bright Lights, Big City" theme gets a pink makeover at the Moxy Times Square through the New Year. We're not talking just pink twinkle lights but cherry snow globes but even a Pink Velvet Hot Chocolate (which you can take photo of while sipping it behind a giant pink neon frame). 485 Seventh Ave.
City Winery's two winter igloos located at Rock Center's North Plaza, between 50th and 51st Streets and Fifth and Sixth Avenues, puts you in the middle of everything: everyone's favorite Christmast tree at Rock Center, the Rockettes' nightly eye-high kicks at Radio City Music Hall, a skating rink and mesmerizing window displays at Saks. Open daily from 11am until 10pm, the geodesic-like domes seat up to 8 people. The cozy spaces—only about seven-feet high with 107-square-foot base—are slated to stay open until the new year. Rockefeller Center's North Plaza
The Ho Ho Holiday Lounge at The Springs
Back by popular demand, this pop-up lounge has got the spirit: think bright decorations, a fireplace, festive cocktails and slushies. Best part? The backyard will be turned into a whimsical Santa Land, with Christmas trees and a sled onsite for all of your 'Gram needs. 224 Franklin St.
This season, grab your friends and reserve your very own glass house: Inside, you'll find cozy blankets and a dreamy table for a wintry, family-style meal. Expect add-ons like cheese fondue and homemade pies. You can also get cocktail pairings or flights with the feast. 97 Wythe Ave.
The apres-ski lodge decor can feel a bit cookie cutter around town but The Clicquot Chalet at Mr. Purple takes on a funkier vibe with purple deer heads and endless blankets to keep you warm while hanging out in one of the snow globe domes with all the Veuve Clicquot branding. Our favorite part? The great views of NYC (while sipping some sparkling). 180 Orchard St.
You can feel like you've been hanging out on the Swiss slopes all winter long at Chalet De Ning, located on the The Peninsula New York hotel's terrace. Two chalet-like domes are decked out with a chiminea, where you'll want to gather a group to share drinks over charcuterie plates, spiced French onion dip and gingerbread-spiced chocolate fondue. 700 Fifth Ave.
Tucked inside the lobby of The St. Regis New York hotel is Jack's Champagne Club, a stylish hidden Champagne bar where you can taste bubbly wines all night long (at least from 4-10pm Tuesday-Saturday). Warning: it's not inexpensive and starts at $650 for two guests. You'll be sipping exclusive pours of Krug, Dom Perignon, Veuve Clicquot La Grande Dame, Moet MCII and other rare vintages. 2 E. 55th St.