The Bryant Park Winter Village guide
Everything you need to know about the Bryant Park's Winter Village from admission-free ice-skating to shopping the vendors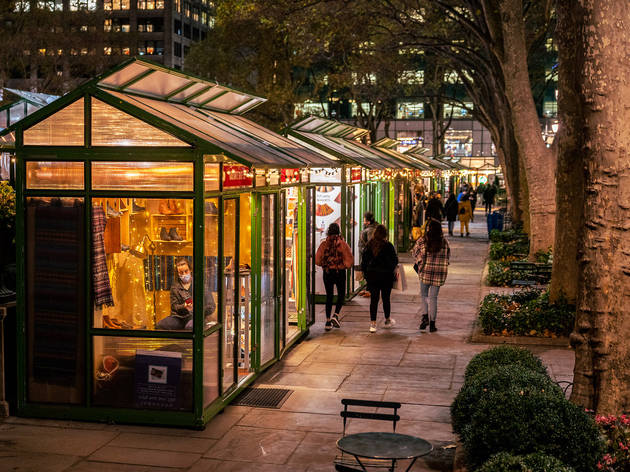 Bryant Park's Winter Village by Bank of America is back in NYC with holiday festivities and shopping and food at its holiday shops.
Its 17,000-square-foot ice-skating rink that's free to use (if you bring your own skates) is always the highlight, but its Winter Village in all its holiday spirit is a close second. This year more than 170 kiosks will be there to peruse—all at one of the best NYC parks
Health and safety protocols will still be around, so this guide contains all the information you need to know, including when the market officially opens (and closes) to the public. Get ready to enjoy the most wonderful time of the year!
RECOMMENDED: Full guide to Christmas in New York
When is the Bryant Park Winter Village 2021?
By the time you choose a costume at a Halloween store and head to your first Halloween party or event in NYC, The Bank of America Winter Village in Bryant Park will already be open for business. The Winter Village is set to open on October 29, 2021 and will be open through March 6, 2022.
What are the hours of operation for the Bryant Park Winter Village?
The holiday shops are open Mondays through Fridays, 11am-8pm, and Saturdays and Sundays, 10am-8pm.
What is there to do at the Winter Village this year?
Not only is there free ice-skating on Bryant Park's 17,000-square-foot outdoor rink (you may bring your own skates or rent them), Urbanspace—the brand that's responsible for Union Square's and Columbus Circle's holiday markets as well as Mad. Sq. Eats—is bringing over 170 holiday shops, including a bunch of new kiosks and eateries for your shopping and eating pleasure through January 2, 2022.
It'll also bring back its Small Business Spotlight that gives four New York City-based minority-owned small businesses, with annual revenues of $1 million or less, an opportunity to showcase their products in a free booth at the Bank of America Winter Village at Bryant Park.
You'll also be able to cozy up at The Lodge by Prime Video, a covered, outdoor après-themed area where visitors can grab a festive cocktail, enjoy delicious food, watch the ice skaters or admire the tree.
What safety precautions will be in place?
This year, reservations and skate rentals must be made in advance online (rental prices change depending the day and time), and fewer skaters will be on the ice at one time. High-touch surfaces and rental equipment will be sanitized throughout the day.
As for shopping, there will be a reconfigured layout with fewer shops that will give people to walk through spacious walkways to avoid congestion.
Things to do near Bryant Park Winter Village
Bryant Park Winter Village archive content
Best things to do this fall in NYC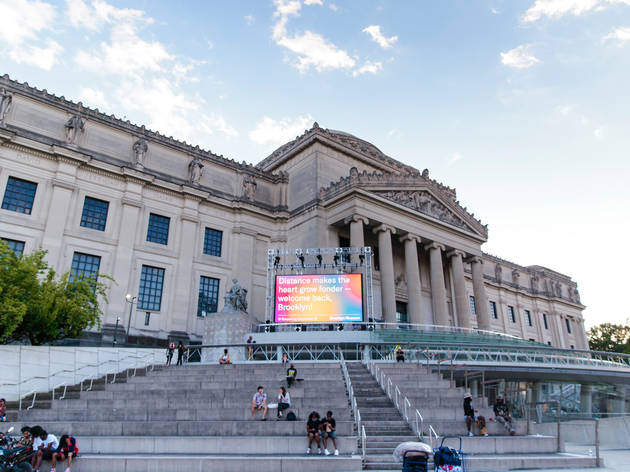 Gawk at the Dior exhibit at the Brooklyn Museum
Fashionistas will freak when they see the Brooklyn Museum's newest exhibit, "Christian Dior: Designer of Dreams" this fall. The exhibition will present over 200 haute couture garments as well as photographs, archival videos, sketches, vintage perfume elements, and accessories.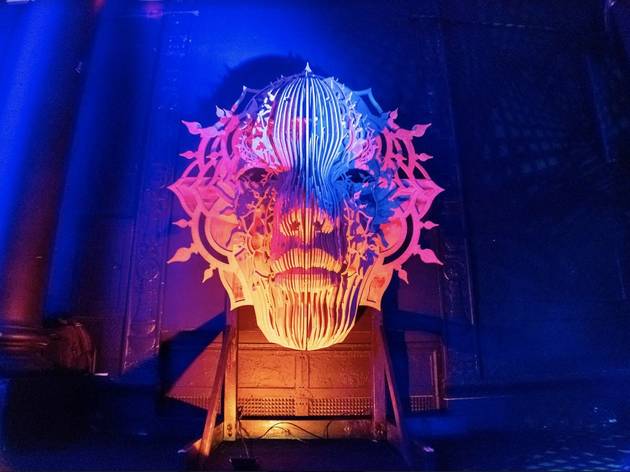 Get lit at the Illumination Light Art Festival
As the days get darker, a sprawling, multimedia experience that explores light as an artistic medium will roll into Brooklyn October 7-9 underneath the K Bridge Park in Greenpoint, Brooklyn. Guests will have the chance to view ten light installations crafted by artists Paolo Montiel, Robert Montenegro, and Darrel Thorne along with artworks showcased at the popular Burning Man festival. And there will also be a dance floor experience and performances! The best part? It'll be free!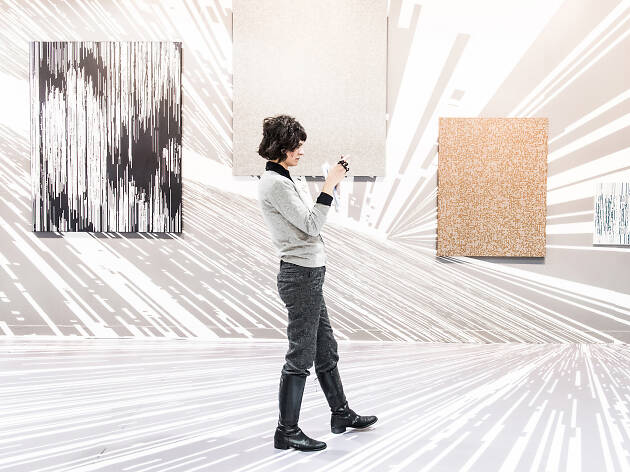 See incredible art at the Armory Show
After a crazy year, The Armory Show is back! This time though, it's at the Javits Center. Rivaled only by Frieze New York, the exhibitors taking part in this year's festivities number 200 art galleries from 33 countries, 59 of which are making their Armory Show debut. If you want a comprehensive look at the latest trends in contemporary art, a visit to the Armory Show is a must.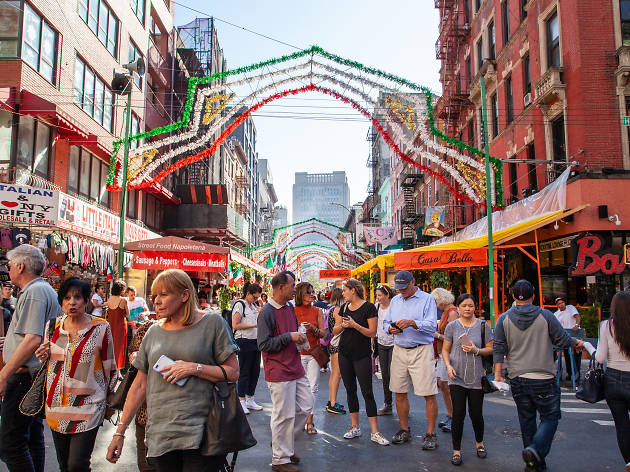 Attend the Feast of San Gennaro
We all need a good Italian feast right now. Luckily, the annual Feast of San Gennaro in Little Italy is back. During this beloved festival, you'll eat at some of the best Italian restaurants in the city, watch colorful parades, catch free concerts and of course, see the world-famous cannoli eating competition.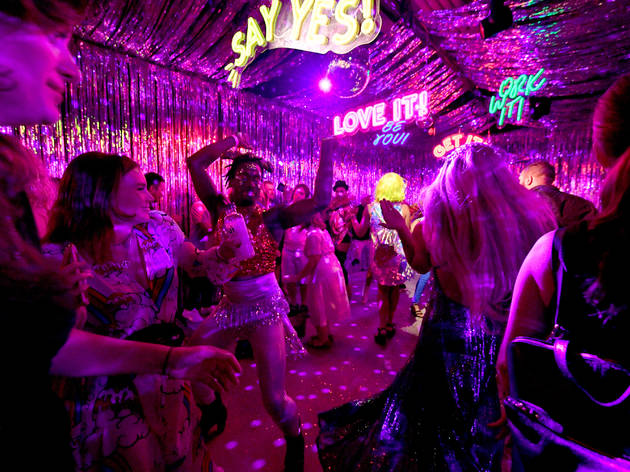 Return to Refinery29's 29Rooms
Escape your same-old rooms for some exciting ones at Refinery29's popular 29Rooms experience this December in Manhattan (for the first time ever). It'll celebrate 2021 with a "Make Contact" theme, i.e. the opposite of social distancing. The event is renowned for ample selfie opportunities with sensorial experiments, disarming first encounters and art-based installations that explore new ways of dating, dancing, socializing and celebrating.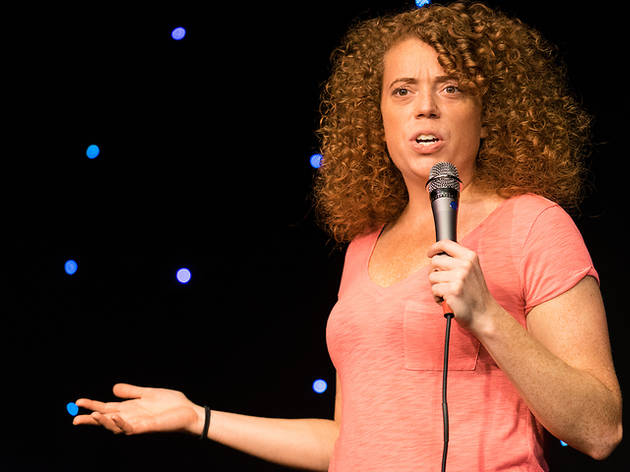 Laugh it up at the New York Comedy Festival
The week-long festival, November 8-14, is set to feature some of the most exciting voices in comedy right now, such as Vir Das, Tim Dillon, Colin Quinn, Michelle Wolf, Norm MacDonald, Megan Stalter, Ronny Chieng, Jon Lovett's Lovett or Leave It, Nick Kroll, Alok, Marc Maron, Brian Regan, Gary Gulman, Bill Maher, Michelle Buteau, Andrew Santino and more. It'll be a chance to laugh hard and often, which is what we need right now.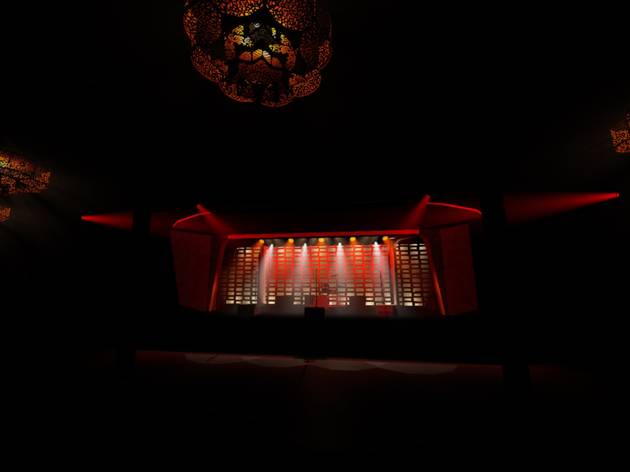 Go to Brooklyn Made's opening
There's a new music venue on the scene starting September 30 called Brooklyn Made. The 500-person capacity space in Bushwick will offer all musicians who play there pretty awesome perks, from access to a private outdoor swimming pool to a second-level carriage house and a loft apartment with unparalleled views of the Manhattan skyline. For audience members, Connie's offers a late-night bar next door and Standing Room, also next door, will be where you can get a cocktail, wine and tapas. Singer/songwriter Jeff Tweedy will kick off the opening with two nights of performances beginning September 30.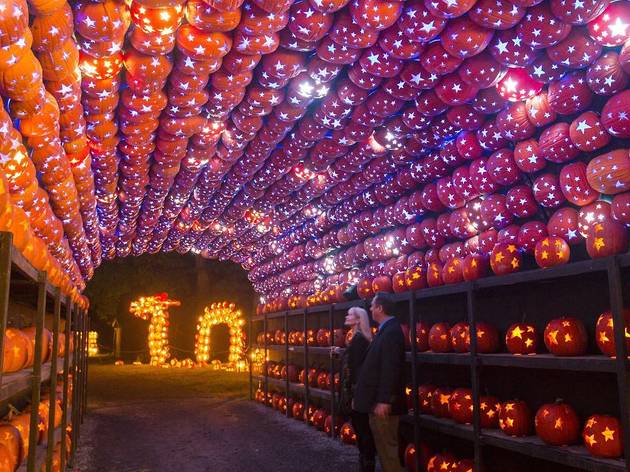 Celebrate Halloween
It's finally spooky season and already there's a scary number of Halloween events planned for NYC. Don't miss the Village Halloween Parade, Madame Morbid's Trolley Tours, the House of Spirits cocktail experience, the Central Park Pumpkin Flotilla, and of course, The Great Pumpkin Blaze (outside of NYC). Check our Halloween guide for more chilling fun!
Ascend Summit One Vanderbilt
There's a heart-pounding experience opening above Manhattan at the massive Summit One Vanderbilt 1,401-foot-tall skyscraper. Starting October 21, guests will be able to look over NYC from at least 1,000 feet with only glass between them and the view. "Ascent," is an all-glass enclosed elevator that travels up the outside of the building to 1,210 feet while "Levitation," is a series of transparent glass sky-boxes that jut out of the building at 1,063 feet above Madison Avenue. The Summit aims high with a forthcoming all-day cafe and bars, too, by Danny Meyer's Union Square Events.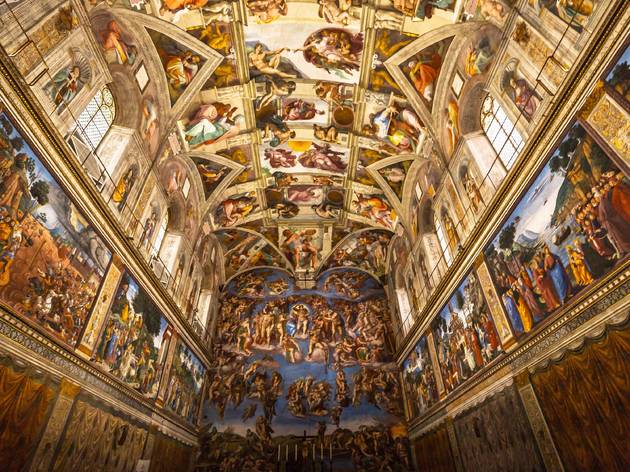 Marvel at this realistic Sistine Chapel exhibit
Michelangelo's Sistine Chapel at the Vatican is one of the must-see artworks of a lifetime, and for a limited time, its likeness will be right here in New York City. "Michelangelo's Sistine Chapel: The Exhibition" will bring New Yorkers close to a high-res replication of the fresco that draws about 5 million people each year. It's the next best thing.
Show more