Bryant Park, New York
Find out everything about Bryant Park in New York including what free events and programs the green space offers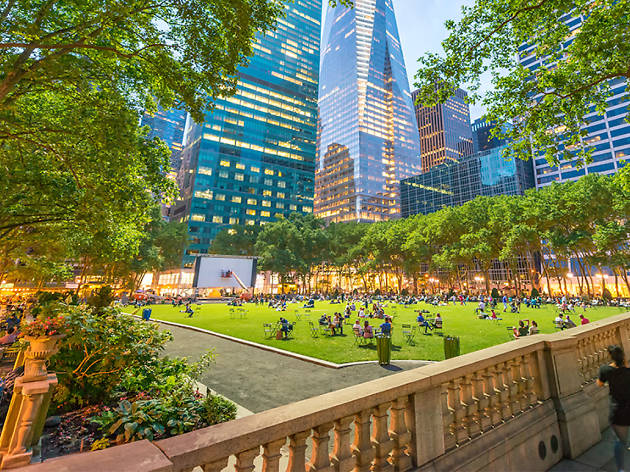 The next time you plan a visit to Bryant Park, you should really read up on what midtown's beloved green space, spanning 9.6 acres, has to offer. Whether you're looking for one of the best outdoor markets, summer movie screenings or doing some holiday shopping at the annual Bank of America Winter Village at Bryant Park, our guide includes the can't-miss free events, classes and entertainment you'll find at the indispensable New York attraction.
RECOMMENDED: See the full list of top New York attractions
Where is Bryant Park?
Bryant Park is located between Fifth and Sixth Avenues between 40th and 42nd Streets.
How do I get to Bryant Park?
You can take the M, B 7, D and F train to 42nd Street-Bryant Park/Fifith Avenue.
When does Bryant Park's lawn open?
Bryant Park's massive lawn opens for the warm-weather on May 6. The regular hours of operation for the green space are 7am to 11pm in May, 7am to midnight June–September during weekdays and 7am to 11pm June–September on weekends.
What other outdoor activities does Bryant Park offer?
Many of the best NYC parks offer amazing things to do outside, including programs that run the gamut from movies under the stars to free alfresco fitness classes. But Bryant Park surely raises the bar in terms of open-air entertainment with more than 1,000 activities. Once the lush and gorgeous lawn opens for the season, the park becomes the perfect warm-weather hangout. Enjoy a picnic, take a Tai Chi class, learn about Beekeeping and more. Next time you go, take advantage of our favorite (and free!) activities you can do at the park below.
Activities
Art Cart at Fifth Ave terrace; Apr­–Oct; Daily,11am–7pm
Get creative and show off your artistic talents with free drawing and craft supplies.
Péntanque at the Péntanque Courts; Apr­–Oct; Mon–Fri 11am–7pm
Members of La Boule New Yorkaise will teach you how to play this popular European game.
Ping Pong at The Tables; Apr–Dec; Daily, 11am–7pm
Get your paddle ready! Gather your friends and challenge park-goers to a riveting game of ping pong.
Games at 40th St Plaza; Mid-Apr–Oct; Daily, 11am–7pm
Can you say Yahtzee? With over 50 tabletop board games to choose from, you and a friend can relive the glory days of Scrabble, Jenga and more.
Reading Room at the Reading Room; Mid-Apr-Oct; Daily 11am–7pm
Activities in the Reading Room include crosswords programs, Poem in Your Pocket Day, BookClub, StoryTime, Writer Workshops, Reel Talks and more.
Putting at The Green, near Sixth Ave; Apr–Oct; Daily 11am–7pm
Don't forget to yell, "Fore!"
Bingo! at Fountain Terrace; June 6, 14 and 30; 7–8:30pm
Comedians usually host this round of Bingo with music provided by a DJ.
Beekeeping at the Reading Room; Apr–July; Last Friday of the month from 12:30–1:30pm
Taste local-made honey while learning about the lives New York honeybees.
Classes
Juggling at various locations; year round; Mon–Fri at various times
Clown around and learn a new party trick!
Fencing at Fifth Ave Terrace; Apr 19–June 21 and Sept 6–Oct 11 on select Fridays; 1:30–2:30pm
En garde! Masters from the Manhattan Fencing Center will teach you the basics of the sport before you duel.
Language Classes at Upper Terrace; Apr 29–Aug 26 (no class May 27); Mon 11:45am–12:30pm
Beginners are welcome to learn Brazilian Portuguese, Japanese and Italian at these one-off classes presented by inlingua.
Knitting at Upper Terrace; Jun 11–Aug 27; Tue 1:30–3pm
Want to become a knit wiz? Learn how to make a scarf just in time for winter with folks from Knitty City.
Fitness
Boot Camp at Fountain Terrace; every Wednesday; 6:30–7am
The Rise NYC will surely raise your heart rate with this blend of cardio and strength training.
Tai Chi at Fountain Terrace; Apr 30–Sept 26; Tues and Thurs 7:30–8:30am
This class, instructed by members of the Tai Chi Chuan Center under the direction of Master Hyland Harrisl, will get you focused and in the zone for your work day.
Yoga May 30–Aug 29; Tue 10–11am (Upper Terrace), Thu 6–7pm (on the Lawn)
Find your inner zen thanks to various yoga instructors in the city. Gaiam brings complimentary mats for you to use, but come early: They're first-come, first-served.
Moves with Limon Dance at Northeast corner of Lawn; Saturday mornings from 10–11am
Shake your rump and learn how to move with dancers from the world-renowned Limon Dance Company.
Pilates at Fountain Terrace; May 6– Aug 26; Mon 7:30­–8:30am
Get toned and de-stress before a big work day with this class presented by the Pilates Initiative and Return to Life Center.
Any other major events at Bryant Park I should know about?
Oh, we've barely scratched the surface here. The green space is essentially a culture hub hosting free art and culture events like outdoor movie nights, Shakespeare productions, Broadway in Bryant Park, a Dance Party series, Musical Chairs, Square Dancing and more. Below is the complete performance lineup for 2019.
May

May 16, 7pm: Hamlet: Princess of Denmark
May 17, 7pm: Hamlet: Princess of Denmark
May 18, 7pm: Hamlet: Princess of Denmark
May 20, 6pm: New York City Opera:La Bohème
May 23, 7pm: Hamlet: Princess of Denmark
May 24, 7pm: Hamlet: Princess of Denmark
May 25, 7pm: Hamlet: Princess of Denmark
May 31, 6pm: Revelations Celebration Community Workshop with Alvin Ailey American Dance Theater
June
June 7, 5pm: Latin Dance Festival: Celebrating Salsa, Bachata and Merengue with LA SONORA NUYORKINA featuring Mayra Bello, Osmay Calvo, and Wilson Quevedo
June 12, 6pm: New York City Opera:Pride in the Park
June 14, 6pm: Contemporary Dance: Jennifer Muller, Talissa Bavaresco, Steps Conservatory, and TBA
June 21, 6pm: Contemporary Dance: Buglisi Dance Theater, Christian Von Howard, Beatrice Capote, and LaGuardia Dance Ensemble
June 28, 6pm: Contemporary Dance: LaneCoArts, Syren Dance, Jarred Bosch, and Harlem School of the Performing Art
July
July 5, 6pm: Contemporary Dance: David Dorfman, Francesca Harper, Urban Tribe, and Earl Mosley's Institute of the Arts
July 12, 6pm: Carnegie Hall Citywide: Le Vent du Nord
July 19, 6pm: Carnegie Hall Citywide: A Day of Inspiration with Ray and Vivian Chew
July 24, 5:30pm: Accordions Around the World
July 26, 6pm: Carnegie Hall Citywide: Cha Wa
July 31, 5:30pm: Accordions Around the World
August
August 2, 6pm: Carnegie Hall Citywide: Harlem Quartet
August 7, 5:30pm: Accordions Around the World
August 9, 6pm: Carnegie Hall Citywide Night: Matuto, Eileen Ivers, and Nathan & the Zydeco Cha Chas
August 14, 5:30pm: Accordions Around the World
August 16, 5pm: Accordion Festival
August 23 at 5pm: Emerging Music Festival Day 1
August 24 at 5pm: Emerging Music Festival Day 2
August 26, 6pm: New York City Opera:Carmen
August 30, 7pm: Othello
August 31, 7pm: Othello
September

September 1, 7pm: Othello
September 5, 7pm: Othello
September 6, 7pm:Othello
September 7, 7pm: Othello
Are there any places to eat and drink at Bryant Park?
Absolutey! There are several food and drink kiosks. Get your caffeine fix at Joe Coffee Company, grab hot dogs, pastries and more at Le Pain Quotidien or oblige your sweet tooth at the Wafels & Dinges stand. During the colder months, more seasonal food kiosks are added during the annual Bank of America Winter Village. The Village has a rinkside bar and food hall called The Lodge which opens starting in October through the beginning of March. On days when it's warmer than 30 degrees, the Southwest Porch opens near Fountain Terrace and boasts a full bar and serves park-appropriate grub (burgers, salads, sandwiches, etc.).
Things to do in Bryant Park, New York