The best afternoon tea NYC has to offer
Sip on afternoon tea NYC-style at these restaurants and cafes, with scones and all the traditional trappings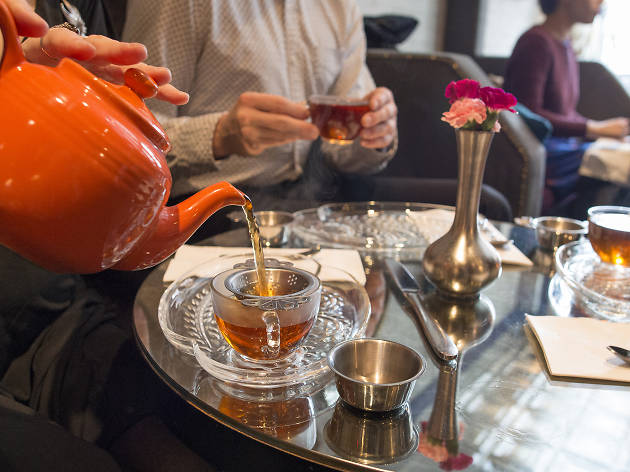 By Abby Carney, Rheanna O'Neil Bellomo and Time Out New York contributors
|
Afternoon tea in NYC is for those who fancy a scone or crumpet alongside a piping hot kettle of tea as a midday pick-me-up. It may be old hat to chase the yawns away with iced coffee and hot java at the best coffee shops in NYC, but the luxury of tea o'clock serves the same function while making you feel like the Queen of England herself. From hotel restaurants to proper teahouses, here's where to go for the best afternoon tea NYC's got to offer.
RECOMMENDED: Full guide to the best restaurants in NYC
Best afternoon tea in NYC
The iconic atrium at the Plaza returned after renovations with a focus on breakfast and afternoon tea. The posh service, a collaboration with Palais des Thés, features leaves from across the globe such as London Early Grey (bergamot, cornflower), Geisha green tea (cherry blossom) and Mekong black tea (pear, mint). A tribute to the hotel's literary heroine, the Eloise tea includes a collection of childhood-favorite sandwiches and savories like bite-size grilled cheeses, chocolate mousse and even cotton candy.
The Ritz offers everything you'd expect from a deluxe Manhattan hotel: Central Park views, luxurious bedding (choose from seven types of pillows!), a destination restaurant, BLT Market, and the indulgent La Prairie spa. Afternoon tea takes place from 2pm to 4pm inside the Star Lounge, equipped with seasonal selections (such as wild strawberry green tea for summer) and assorted savories, like watermelon-feta tarts and wasabi-salmon crostini.
This reborn socialite center has never looked—or tasted—better. Nostalgia buffs will be happy to hear that nothing's happened to the gilded-bird friezes or the famously tacky crystal-bear aquarium. Take your afternoon tea in the glitzy confines from 2pm to 4:30pm daily, with brewing ranging from classic English breakfast to rooibos chai, and accompaniments like assorted scones, petits fours and sandwiches (sturgeon with dill and sour cream, curried chicken salad).
Wander into this sequestered basement and you'll be transported to a story land inspired by Lewis Carroll. First, pass through the quirky gift-boutique-cum-bakeshop, where you can browse Wonderland–themed knickknacks along with dense, delicious scones and muffins. Proceed further and you'll discover a sweet room serving big brunch plates (sandwiches, salads, eggs) and the full teatime monty. It's a fairy tale indeed.
You have to climb a flight of stairs and peek behind a curtain to find this tranquil teahouse, which offers a succession of deftly crafted plates accompanied by a thoughtful list of teas and sake. Each night features two special "sets" that take you from an amuse-bouche like creamy soy-milk quiche or seven-grain rice porridge through a selection of tiny bites (pickled eggplant, tofu and seaweed salad, marinated lotus root), to entrées such as tea-smoked salmon with sliced radish, Dijon mustard and tarragon. It's a great escape from the East Village crowds.
The 1930 landmark overlooking Central Park became part of the posh Indian Taj Hotels, Resorts and Palaces in 2005, setting in motion a $100 million overhaul—but it retains delightfully old-fashioned elements such as elevator operators, original fireplaces and, yes, afternoon tea service. Opt for the brew solo or bump it up with champagne, and choose from a selection of pastries (red-cherry financiers, lemon-meringue tarts) and sandwiches (devilled eggs with red sorrel, boursin cheese with asparagus).
Inspired by Elsie de Wolfe, famed socialite and former neighbor of 56 Irving Place, the rooms of this brownstone (an inn since 1994) are decorated in parlor pinks, soft greens and florals, with antiques tucked into every corner. The fancy five-course tea service includes a sampling of tea sandwiches (cucumber, salmon with cream cheese, goat cheese with sun-dried tomato) and scones to smear with raspberry preserves and clotted cream — plus cookies, cakes and dainty petit fours. It's all accompanied by a pot of tea, naturally, or you can opt for a demurely rebellious cocktail like the Pink Lady (gin, grapefruit, Cointreau).
This cozy but cramped restaurant (think Grandma's living room—if she were British and had a fondness for tiny tables) serves U.K. comfort food that satiates locals and ex-pats. You'll find the usual suspects: bangers and mash, Welsh rarebit, assorted pasties and shepherd's pie. Be sure to visit the adjoining shop for British imports ranging from Cadbury chocolates to ornate teapots perfect for brewing a traditional "cuppa." If you'd rather leave the work to the waitresses, there's a solid afternoon tea spread which includes finger sandwiches, cakes and scones to accompany your fresh pot.
Offering one of the most opulent settings for high tea, this 250-year-old French luxury brand (known for its crystal home goods) serves steaming hot pots of tea, dainty pastries, and even imported caviar. The entire room exudes prestige with rich hardwood floors, plush couches, and sparkling chandeliers. If you're more in the mood for bubbly than tea, servers will gladly pop a bottle or even crack a beer.
Situated above patty shop The Burgary in the Lower East Side, this hidden tea room leads a double life as a speakeasy (Garfunkel's) at night. During daylight, take a seat on one of the plump purple velvet couches or tufted armchairs for full tea service that highlights single-estate teas from India (including a range of black, oolong, green, and white varieties) alongside mushroom-scallion finger sandwiches, a smoked salmon spread, and sweets like brown butter cookies and a daily selection of house-made cupcakes.
For weekends when afternoon tea is the perfect non-brunch, the $25 service at this two-story European manor-style restaurant is a crowd-pleaser — minus the crowds. Three dining rooms serve as few as 12 or as many as 32, so even a full house feels intimate. Opt for the traditional set (tea sandwiches, warm scones, lemon curd squares, shortbread) or splurge an extra $10 for the champagne version.
Opened in 1930 as a residential hotel, the elegant Carlyle is best known for its classy cabaret room, Café Carlyle, and Bemelmans Bar, which features charming murals by Madeline creator Ludwig Bemelmans. The Gallery dining room serves a complete English tea from 3pm to 5:30pm daily, padded out with exotic options (Assam, Verveine), tea sandwiches and scones with authentic Devonshire cream.
If you moved to New York to follow in the footsteps of Holly Golightly, Carrie Bradshaw or Blair Waldorf, you'll feel right at home in the teal Barbie DreamHouse; the windows face Central Park, the walls are painted the patented Tiffany blue, and the brand's fine bone china sits prettily on every table. Fittingly, the starter croissant, shipped from the nearby Eli's Bread, is better than most you'll try in the city: classic, delicate and sweet–the Audrey Hepburn of pastries.
Restaurants, Contemporary American
Hungry East Side shoppers can enjoy pheasant terrine or herb-poached wild salmon at this posh turquoise-and-olive-hued café on the seventh floor of Bergdorf Goodman. Tea service from 3pm to 5pm inside the buttoned-up dining room includes dainty macarons, tea cakes, scones, and views overlooking Central Park South.
As tea parlors go, Bosie has a lot going for it. First, there's the selection of more than 100 loose-leaf teas from co-owner Nicky Dawda's retail company, L'Age de Thé. The rotation is curated by co-owner Kiley Holliday, the youngest American female to be awarded the title of tea master. To go with the teas are classic sweets like macarons and tea cakes from pastry chef Damien Herrgott, who's logged hours at Paris's famed Pierre Hermé and as executive pastry chef at Bouley Bakery.
Need a caffeine boost?
Thirsting for the best iced coffee in NYC? Here are the buzziest, most inventive and tried-and-true-cold brews in town.