The best cheap dumplings in NYC
Whether it's a dim-sum snack or a wallet-friendly dinner, we've found the best cheap dumplings in NYC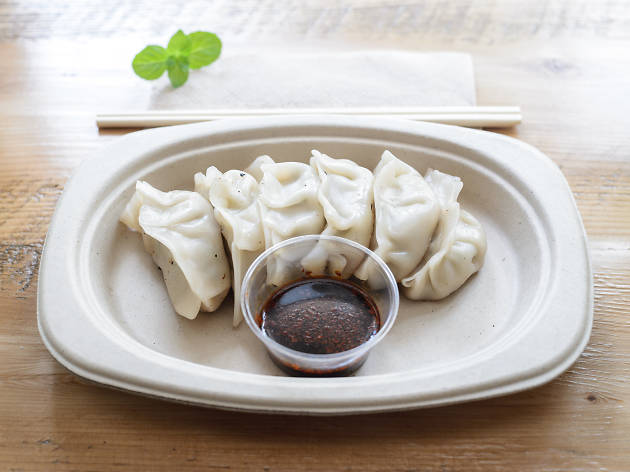 Every culture has a dumpling to call their own: There are Polish pierogis, South American empanadas, Italian raviolis and, of course, Chinese dumplings. Tightly packed in gauzy dough or wonton, the best cheap dumplings in NYC can be fried or boiled, and filled with ground meat, vegetables or even belly-warming soup. As a staple amongst the city's best cheap eats, indulge in full meals of the little wonders at Chinese restaurants and dim sum havens throughout the city for less than a Hamilton.
RECOMMENDED: Full guide to cheap eats in NYC
Looking to sing your heart out?
Ready to channel your inner diva? Chinatown has plenty of karaoke bars where you can have your mic drop moment.
Read more
Sponsored listing
Paulaner
Thanks to a special licensing agreement with its namesake brewery in Munich, Paulaner brews its beer on-site in the same German tradition. The storied 265 Bowery location also gives Paulaner the same scope as most expansive Bavarian beer halls: long communal tables stretch from end to end of the space. Sip one of the five or so house beers—on a recent visit, the selection included a lager, hefeweizen, dunkel and bock (all $7 for a small, $9 for a medium, $16 for a large). Man cannot live on beer alone, so you'll probably want to order some food. Paulaner offers a wide selection of Bavarian classics, like warm pretzels ($6), bratwurst with sauerkraut ($12) and a crispy pork knuckle with roasted potatoes in a dark beer sauce ($32). Interested in taking the taste of Germany home with you? Sign up for one of Paulaner's cooking classes to learn the ins and outs of making your own sausage or strudel.
Lower East Side
Online booking