The best dinner cruises in NYC
All aboard! These elegant dinner cruises in NYC turn yachts and steamboats into floating restaurants.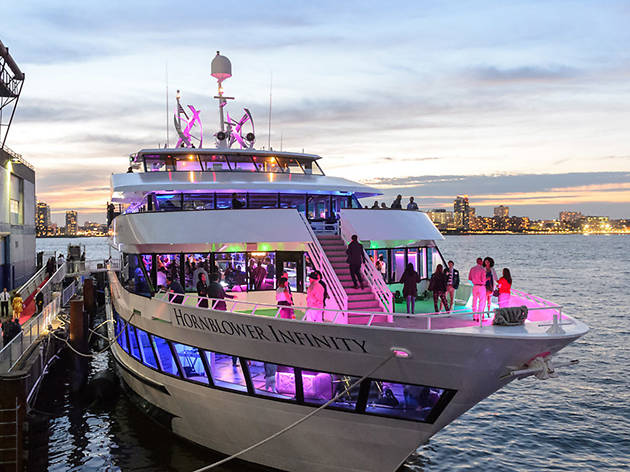 Summer in New York calls for evenings spent on rooftop bars, beaches and dinner cruises in NYC. Gothamites know how to make the most of their leisure time, especially during those fleeting spring and summer nights when the weather feels tantalizingly warm. Why would you stay on dry land when you can bask in the cool breeze off the Hudson River? Even the best restaurants in NYC can't compare to the experience of eating dinner out on the water. These dinner cruises offer prix-fixe menus or buffet meals on enormous three-level ships, sailing taverns and ritzy yachts. Whichever you choose, the ambiance can't be beat. Bon voyage!
RECOMMENDED: Full guide to things to do in the summer in NYC
Best dinner cruises in NYC
1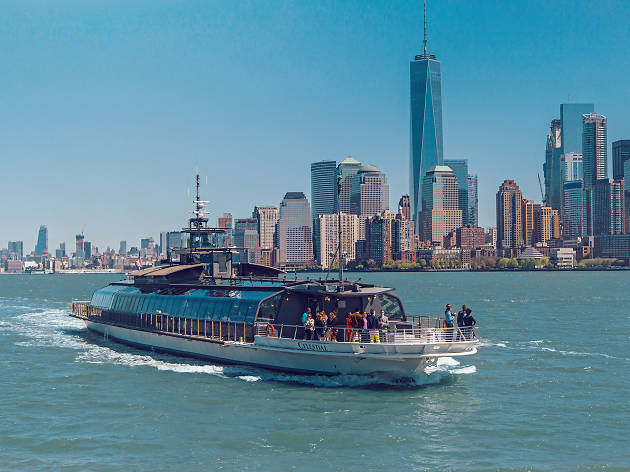 Photograph: Courtesy Bateaux Cruises
Bateaux New York Dinner Cruises
Departing from Chelsea Piers, Bateaux offers frazzled New Yorkers a relaxing three-hour, three-course cruise along the Hudson, with a romantic view of the Manhattan skyline from a glass-enclosed deck. It's a fancy feast, with entrées like miso-glazed cod with oyster mushrooms and sugar snap peas; and jumbo lump-crab cakes with corn succotash. Sip on cocktails, wine and beer from a fully loaded cash bar while live jazz musicians provide the soundtrack for a twinkly evening aboard this dinner cruise.
2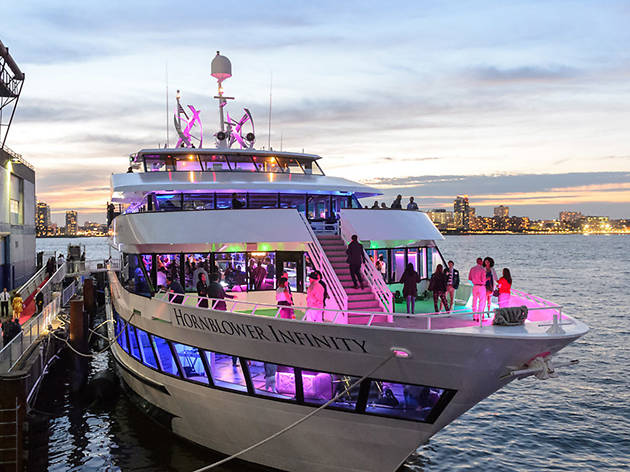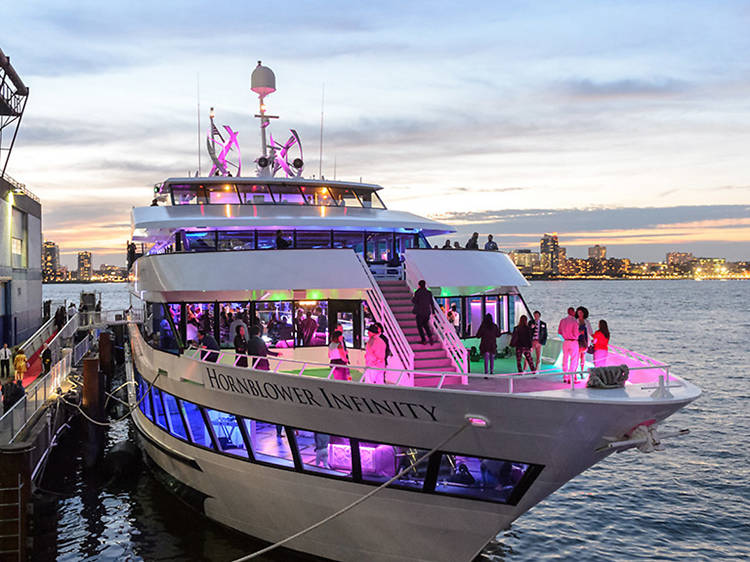 Photograph: Filip Wolak
New York City Lights Dinner Cruise
Hornblower treats guests to a three-course à la carte meal with artisan cocktails on their climate-controlled sun deck. Entrée options include filet mignon with truffled pototatoes au gratin and pan-seared salmon with roasted vegetable couscous and saffron tomato fumé. It's hard to not want to get up and dance as you cruise past iconic New York City landmarks like the Statue of Liberty, Ellis Island and the Brooklyn Bridge to the tunes of a live DJ.
3
Photograph: Courtesy of Noah Fecks
This 160-foot yacht docked at Pier 81 offers three of our favorite things: bubbles, an outdoor deck and incredible views. Though you can grab a drink on the rooftop lounge whenever the ship is at port, you should opt for the nightly dinner cruise if you want the full 360-degree look at the Manhattan skyline. Sip champagne while you snack on hors d'oeuvres, then dine on a four-course meal of Mediterranean-inspired dishes like black truffle burrata, wild mushroom pappardelle and branzino with fingerling potatoes and haricots vert.
For something a tad more beachy, try this floating three-floor lobster shack at Pier 81. Spanning 9,000 square feet between the outdoor top deck and bi-level interior dining space and lounge, and setting sail every 90 minutes, the Destiny's menu features a raw bar and fresh New England seafood like Maine lobster, fish tacos and clam chowder, alongside red and white wine, bottled beers and summery signature cocktails served by the glass or pitcher.
5
Photograph: Mike Freas
Morimoto Sushi and Sake Sail
Sailboats and sushi might not seem like the most obvious combination, but eating fresh seafood as your captain gracefully steers your schooner down the Hudson River at sunset is a surprisingly delightful experience. Catered by Iron Chef Masaharu Morimoto, this excursion features a menu of nine pieces of sushi and one roll paired with four flights of cold sake. And if the idea of lukewarm fish has you feeling, well, a little lukewarm, never fear: The sushi is prepared minutes before you leave the harbor and stored in special coolers for maximum freshness.
6
Photograph: Courtesy Viator
Spirit of New York Dinner Cruise
If laid-back is the vibe you're going for, climb aboard a Spirit of New York cruise at Pier 61. Instead of a formal meal, you'll serve yourself dishes like orzo salad with bay shrimp, braised beef short ribs and honey-sesame chicken from the buffet. Get down to the live DJ, grab a drink from the cash bar or start up a game of oversized Jenga or tabletop shuffleboard.
7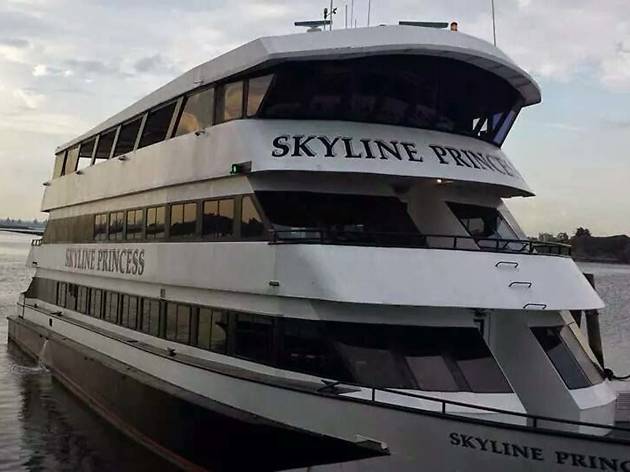 Photograph: Courtesy Yelp/Claudia B.
Setting sail from 1 World's Fair Marina at Pier 1 in Flushing Meadows, this cruise line offers thrilling skyline views over a buffet menu of American cuisine like prime rib, chicken scallopini and crabmeat–stuffed lemon sole. Fully enclosed and unimpeded by inclement weather, the Skyline Princess makes for a sweet dinner at sea getaway any time, any season.
Looking for more of a party atmosphere?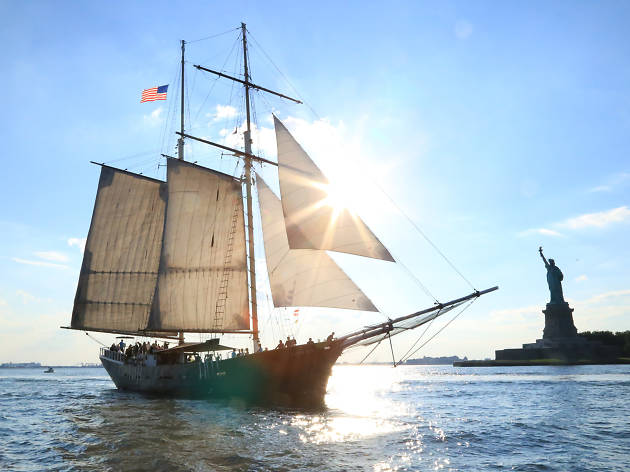 The best place to get trashed this summer in NYC is obvious: On a booze cruise!