The best brunch in NYC
Consult our comprehensive guide to the best brunch NYC has to offer and enjoy the perfect late breakfast this weekend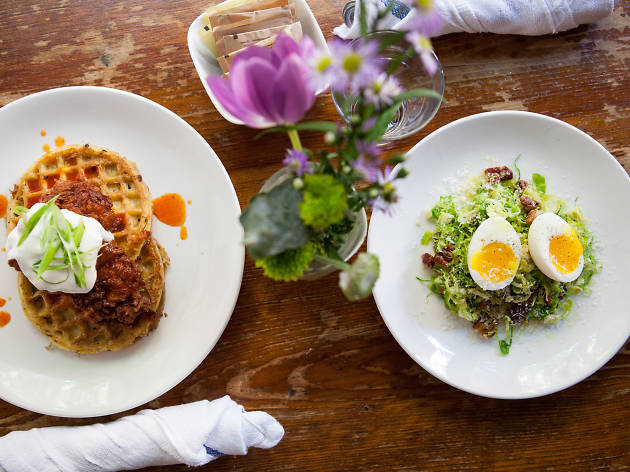 Brunch may be a New York institution, but too often the perfect brunch experience gets messed up by long lines, watered-down mimosas and substandard eggs. Ugh. But don't despair, dear bruncher: With our guide to the best restaurants in NYC for brunch, you can discover under-the-radar and overlooked joints by browsing the full list of spots for the best brunch. NYC also has plenty of options to narrow it down by borough (looking for the best bagels in your neighborhood?). Plus, whether you're looking for top-notch mimosas, Bloody Marys or unique cocktails, we have your day-drinking bases covered with our list of boozy and bottomless brunch spots. In short: Read on, and own brunch.
Do you want more great stories about things to do, where to eat, what to watch, and where to party? Obviously you do, follow Time Out New York on Facebook for the good stuff.
RECOMMENDED: Full guide to the best restaurants in NYC
Sponsored listing
Machiavelli
Trattoria Machiavelli's space sweeps you off noisy Columbus Avenue and into Renaissance Italy, with high ceilings, heavy wooden tables, large black and white floor tiles and cross-frame chairs with pillows, not to mention sidewalk seating. Chef Gian Pietro Ferro (Fiorella, Osteria al Doge) offers up classic Italian cuisine, even producing handmade fresh pasta on-site. The menu is so extensive, with sections for carne, pesce, pasta, risotto and pizza, plus appetizers and daily specials, one wonders how the kitchen manages it all. The wine list is similarly infinite, featuring a wide range of Italian options such as a purple, tannins-heavy 2011 Montepulciano d'Abruzzo from Cerulli Spinozzi. The fritto misto ($13.95) is a pile of crispy shrimp, calamari and show-stealing, buttery baby scallops, plus carrot and zucchini slices. The carpaccio di manzo ($16.95) is delicately arranged like flower petals on a plate, topped with arugula, fennel, shavings of grana padano and truffle oil lightly coating the thinly sliced beef. The ravioli of the cacio e mele con stufato d'agnello ($25.95) is loaded with ricotta, although it's hard to detect the presence of the apple, and lamb ragù is spooned on top. The risotto vecchia Milano ($23.95) is pooled on a plate, wealthy with sweet fennel sausage and saffron. Unfortunately, neither dish arrives particularly hot. Skip dessert and instead sip a digestif: The torta della nonna ($10.95),a traditional pastry filled with cream and layered with p
"Enjoy our jazz brunch weekends, daily specials, artisanal pasta and nightly live music!"
Upper West Side
Online booking