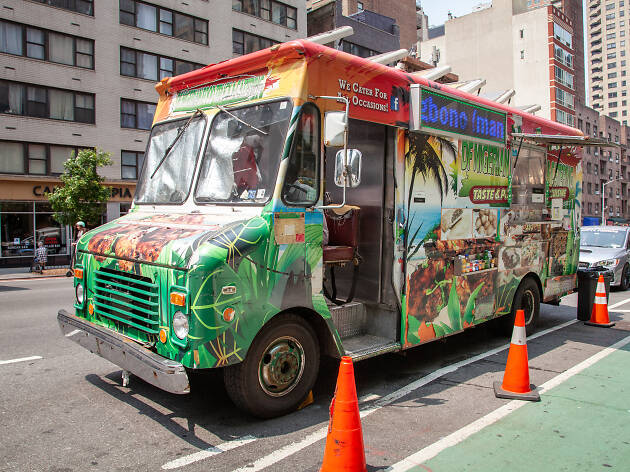 The best New York street food
Our favorite grab-and-go eats in the city—from perfectly grilled cheese to delicious tacos. Try the best New York street food.
There's a time and a place for a New York hot dog or a cold Mister Softee cone. While we love these iconic street eats, the small-business owners running our treasured carts and NYC food trucks have faced increasing regulations from local authorities over the years. But whether it's a retired Navy SEAL making grilled-cheese sammies or a Nigerian immigrant sharing his native country's classics, we here at Time Out will always support our unsung, roll-up-your-sleeves carryout cooks by eating like real New Yorkers—on the street.
Best New York street food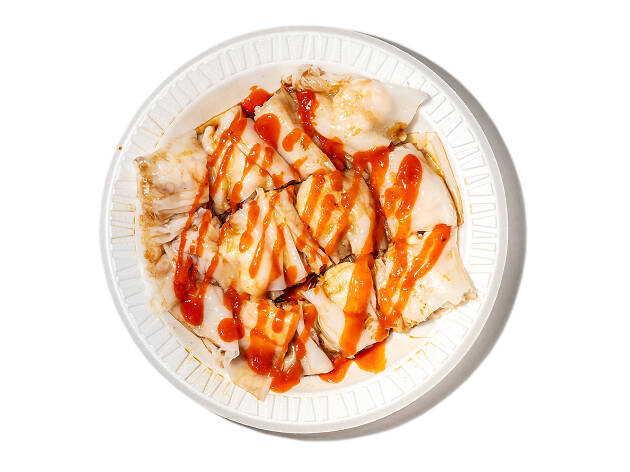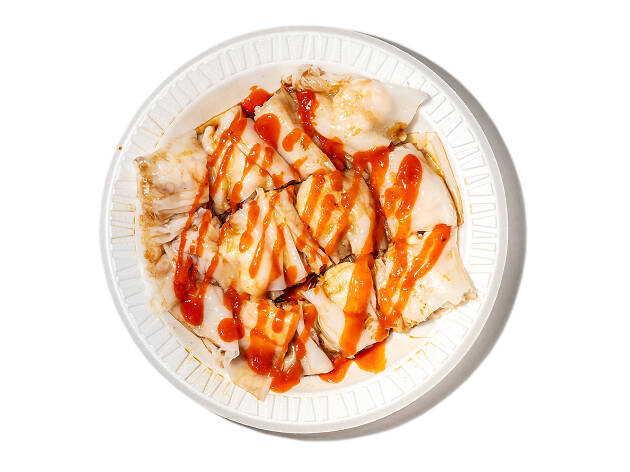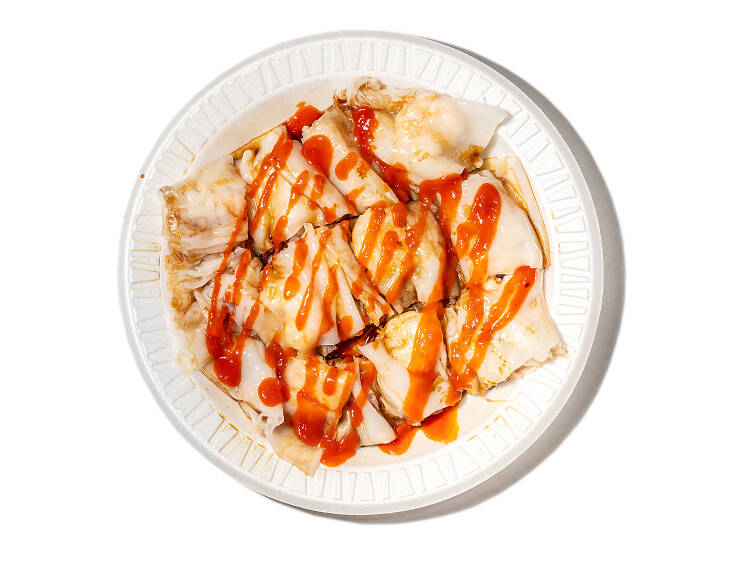 Photograph: Noah Fecks
You can find rice rolls on dim sum menus and carts dotting Chinatown's crowded streets. But Joe's Steam Rice Roll sells our top cheong fun, the wide, translucent rice noodles filled with meat (pork, beef and shrimp are most common). Until recently, you had to squeeze into a narrow mall in Flushing to get a paper plate teeming with the springy noodles doused in sweet soy sauce. Fortunately, there's now an additional hip Canal Street Market location.
Chinatown • Flushing • East Village (instagram.com/steamriceroll). $6.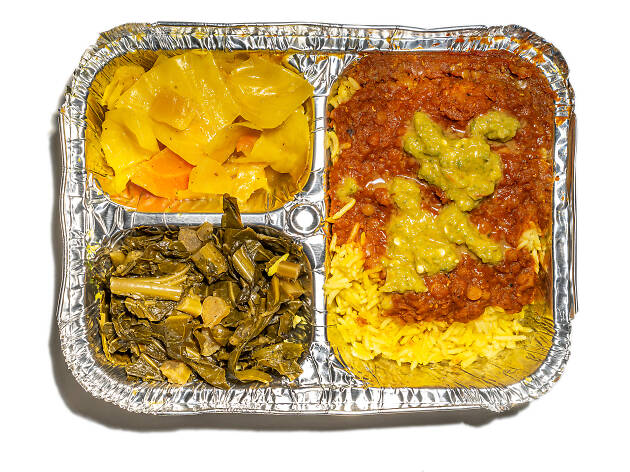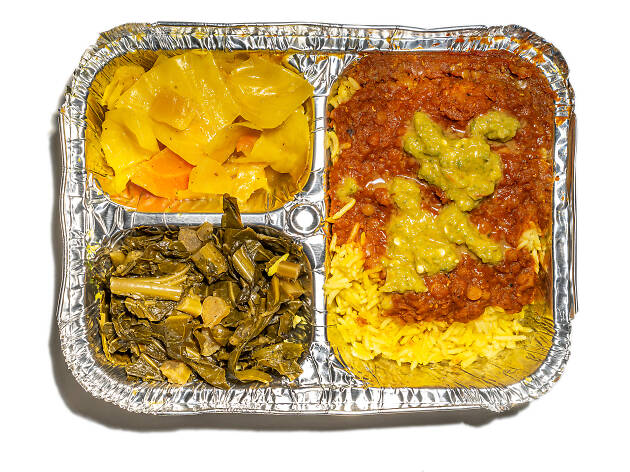 Photograph: Noah Fecks
Owner Eden Egziabher prepares dishes inspired by her Eritrean, Ethiopian and Italian heritage. Switch out your to-go salad for an equally healthful platter of squishy injera (sourdough-risen flatbread) that comes with a choice of veggies (we suggest the red-lentil stew and collard greens), protein (beef or chicken) and a side of rice. Plus, it's one of the best trucks to check out if you have dietary restrictions: All dishes are gluten-free and can be made vegetarian or vegan.
Location changes daily (makinacafenyc.com). $9.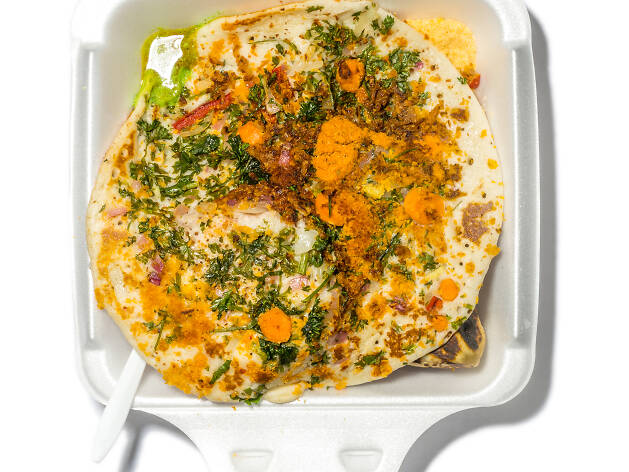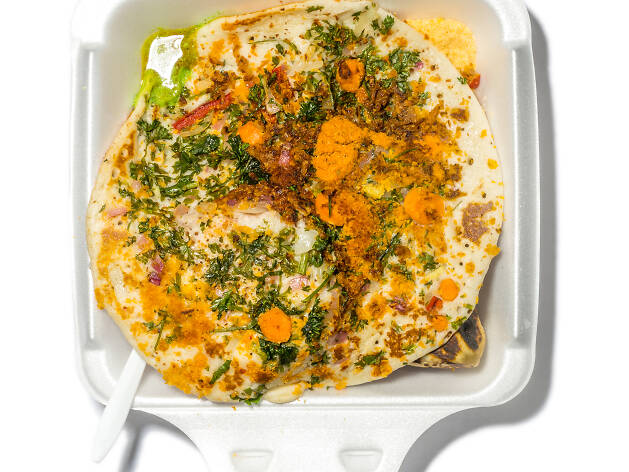 Photograph: Noah Fecks
Thiru Kumar, known as the Dosa Man, has amassed a loyal following since opening his spot in 2001. Every street-food fan (some of whom may also be penny-pinching NYU students) knows to beeline to his NY Dosas cart, parked on the southwest corner of Washington Square Park. Dig into the vegan-friendly dosas—a southern India–style crêpe, packed with fragrant vegetables—and the piping-hot samosas to see why a perpetual crowd buzzes around this college-kid staple.
Greenwich Village (twitter.com/nydosas). $9.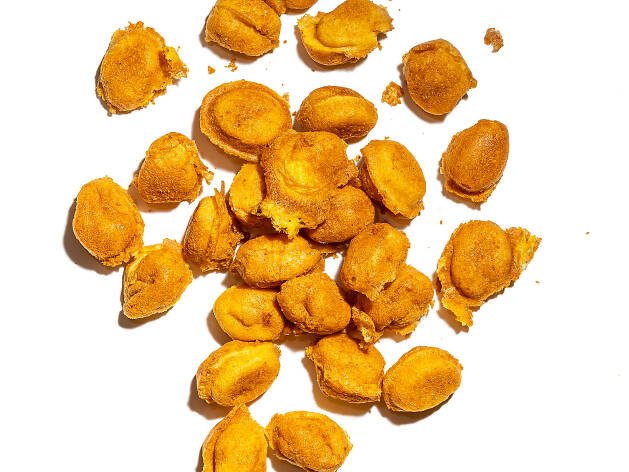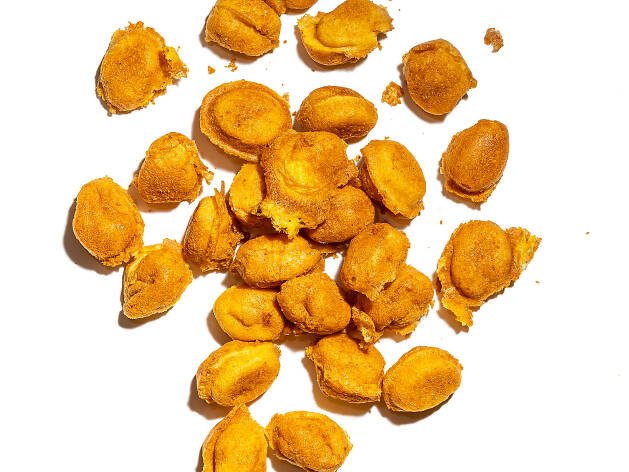 Photograph: Noah Fecks
4. Ling's Fresh Made Sweet Mini Cakes
Every time we're shopping for hard-to-find condiments and snacks in Chinatown at Kam Man, we end the afternoon by treating ourselves to Ling's sweet cakes (really more like pancakes) down the block. Just $1 lands you a heaping wax pastry bag of the fluffy balls of joy, though their surprising airiness means you can finish them off without any help. You can get them covered in chocolate sauce, but true Ling's fiends leave them as is.
Corner of Canal and Mulberry Sts, Chinatown. $1.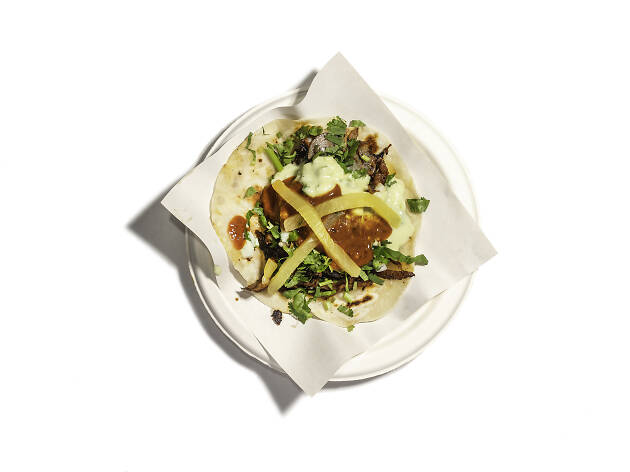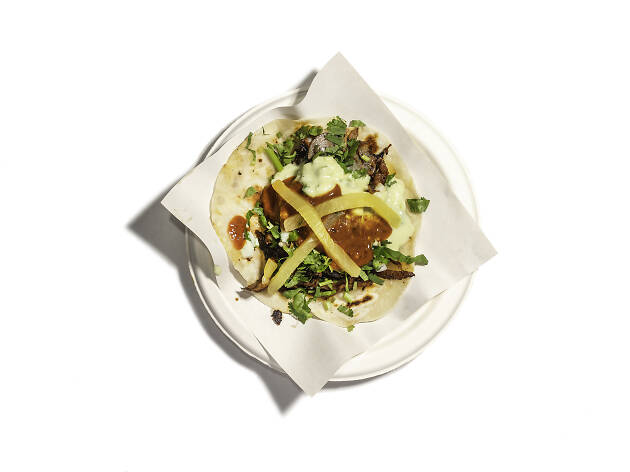 Photograph: Noah Fecks
In the ongoing debate about whether NYC or L.A. has the better Mexican food scene, Los Tacos No. 1 makes a strong case for the Big Apple. A trio of friends—one from Tijuana, Mexico, and two from California—started the eatery in Chelsea Market with a focus on family recipes and fresh ingredients. We can't get enough of the adobada quesadillas, crispy corn tortillas topped with juicy strips of pork and refreshing pineapple. And, of course, we can't resist any of the tacos.
Chelsea • Times Square (lostacos1.com). $3.75.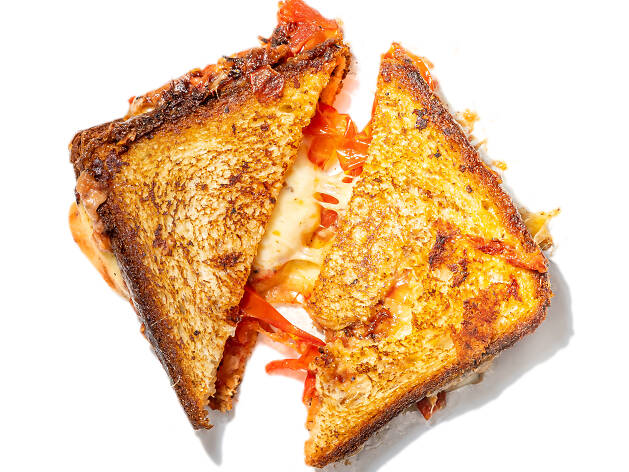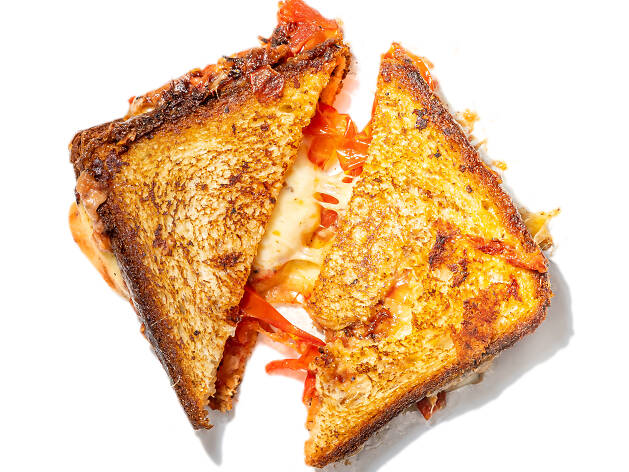 Photograph: Noah Fecks
After Erik Nowak served as a medic in the Navy, he used his GI Bill to try his hand at culinary school. Now, he's opened a food truck that whips up gooey grilled-cheese sandwiches. Sure, it isn't rocket science, but some days you just want a tried-and-true meal that feels like a warm hug, reminding you of simpler times. Consider it your patriotic duty to scarf down this melted goodness, prepared with Gouda, Muenster, Swiss and tomato on a brioche.
Tribeca (instagram.com/docsgrillnyc). $5.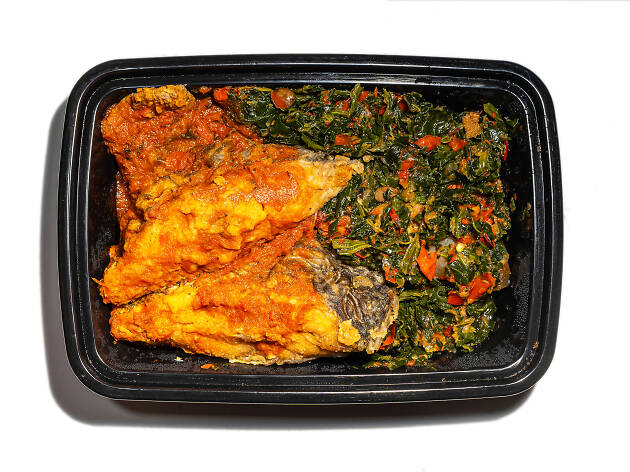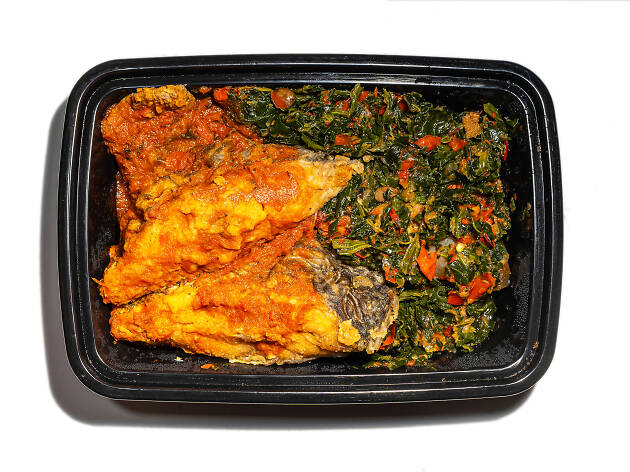 Photograph: Noah Fecks
7. Divine Flavored Food Truck
Located outside the Nigerian Embassy, Godshelter Oluwalogbon's Divine Flavored Food Truck has a diplomatic mission: to make dishes like dun dun (fried yam fingers), efo elegusi (a green vegetable stew) and the West African breakfast favorite akara (fried bean paste packed with onions and salt) as well known as New York pretzels. The gregarious owner takes pride in introducing customers to his country's specialities, and it's working: He won top honors for his cooking at the 2017 Vendy Awards (basically, the Oscars for food trucks). Watch out for the hot Scotch bonnet peppers!
Midtown East (divineflavoredcatering.com). $14.75.
Best selling Time Out Offers