The best food halls in NYC and what you should eat
If NYC's best food halls and food courts bring out your decision paralysis, stress no more—we chose for you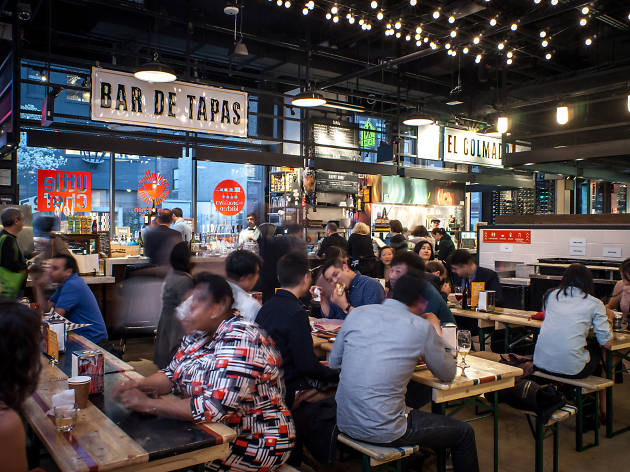 NYC best food halls and food courts take the lively, bustling atmosphere of NYC street fairs and combine it with some of the city's best and trendiest food offerings—what's not to like? Some spots are ideal for quick and cheap eats, while others can be surprisingly high-end, but all provide the perfect solution to bickering with coworkers over what to eat for the best lunch in NYC. Of course, sometimes too many good options make choosing overwhelming, so we've handpicked one must-try food from each one. Take this guide and your squad to your nearest NYC food hall and sample to your stomach's content!
RECOMMENDED: Full guide to the best restaurants in NYC
Brunching on a budget?
Get more bang for your buck with the best cheap brunch places in NYC, offering mimosas and wallet-friendly meals
Read more
Sponsored listing
Trend Diner
This Upper East Side diner has all the classics covered: omelettes, sandwiches, waffles, burgers and so much more. Open until midnight every night, Trend Diner offers locals an easy way to satisfy almost any comfort food craving. For breakfast, choose from more than 15 different omelettes ($8.95–$12.25), Monte Cristo french toast ($12.95) and waffles with every topping imaginable ($8.75–$13.50). Lunch and dinner options include an open-faced hot roast beef sandwich ($19.95), triple-decker BLT ($14.95) and penne alla vodka ($17.95). Need something sweet? They'll blend a milkshake up for you, whether you want a traditional black and white ($6.95) or the Elvis, with chocolate, peanut butter and bananas ($7.45). The dessert menu also includes New York–style cheesecake ($6.25), a classic banana split ($8.95) and bacon-fried bananas dusted with cinnamon sugar ($10.25).
Venue says: "Open from 6am till Midnight 7 days a week. Weekday Happy Hour from 4pm-7pm and buy one, get one half priced entrees, weekdays from 4pm-9pm!"