Heads up! We're working hard to be accurate – but these are unusual times, so please always check before heading out.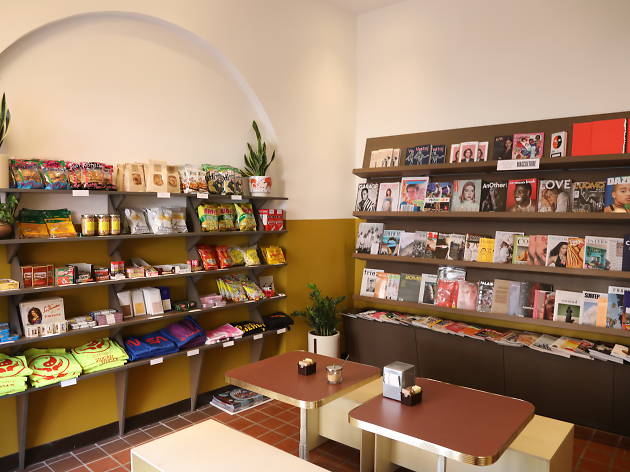 Import News is a new independent magazine shop with hard-to-find snacks
Import News offers a "cross between a Parisian tabac, a Japanese 7-Eleven and an Italian train-station cafe."
We're tired of hearing that print is dying. And, yes, we're biased as we produce our own Time Out New York in print. Sure, publications like ourselves are placing more emphasis on digital than ever. But, two years ago, when Sasha Laing and Ken Miller opened their first magazine shop with snacks sourced from around the world, they realized what was missing from print was the environment; an aesthetically-pleasing space where readers could pick up a specialty magazine on niche topics flipping through while enjoying a mango Pocky stick or two. Thus, Import News was born: first cropping up inside Chinatown's Oliver Coffee. In 2019, they opened up at Fellow Barber, a barber shop. And, just this spring, they've opened inside Public Records, the new hifi listening bar with a vegan restaurant. Import News also has stands in Los Angeles and San Francisco, with more coming soon.
We spoke with founders, Sasha Laing and Ken Miller, about why they wanted to take on print in a time that seems risky for it, their favorite snacks and more.
Where did you see a gap in the way that indie magazines were being distributed and displayed?
In Europe and Asia, there is a pretty good network of shops dedicated to independent publications, but until recently, it was rare to find speciality spaces like that in the U.S. There is an incredible boom in independent publishing happening across the world right now, so we wanted to create a space that would support and promote those publishers.

Another gap we noticed was a little more social/practical—we wanted to create a space where people could go when they had an hour to kill, where they could find some inspiration or discover something new. We all spend a lot of time online and it's nice to have places where you can take a break and interact with physical objects. You can get so much out of spending even just a few minutes with some thoughtfully made things—we really appreciate the design and ideas that go into the products we carry, from print to snack packaging.


Was the first-ever location at Oliver Coffee? How did that partnership come to be?
Yep! We loved the neighborhood and Aisa Shelley—who owns the local bars Mr. Fong's and Primo's, and who opened Oliver Coffee with Lucas Moran—is a longtime friend. He shared our vision of a space that was international, yet a neighborhood institution. A cross between a Parisian tabac, a Japanese 7-Eleven and an Italian train-station cafe.
What were you both doing before you launched? Is Import News your full-time jobs or a side hustle?
Somewhere in between. We mostly do work for clients via our company There., but we liked the idea of having an ongoing project that was very concrete and community-oriented. Plus, Sasha is an artist/writer and Ken is a curator/editor who has done a bunch of books and magazines. So it's very close to our hearts.

Tell us about your selection of magazines. Which ones were you most excited about? Any new ones coming to shelves soon?
We kind of hate picking favorites because there are so many exceptional ones, and they are all really different. We work with most of the publishers directly, so we get very invested in the success of each magazine. What's really cool is being able to build a network that stretches from Malaysia to Hong Kong to Japan to South Korea to Chile to Brazil to Mexico to the U.S. to Canada to Cote d'Ivoire to Rwanda to Morocco to Spain to the UK to France to Germany to Italy to Greece to Serbia to Romania to Latvia to Lebanon...


You have a few Import News locations all over now. Do the magazines / snacks differ at each location? How did you think about curation specific to Public Records versus Fellow Barber?
We do tailor the curation slightly to each location. So we have a few more music titles at Public Records and a little extra men's fashion at the Fellow Barber location in NoMad. But we've been surprised to discover the general curiosity of our shoppers across all locations. We can't stereotype them and they constantly surprise us.
Why was it important to you both to include an international roster of snacks? What spots in New York do you go to find them?
Well, we are very dedicated to the notion of intercultural dialogue. And snacks are yummy! We were the first shop to introduce Hey Yum! organic gummies from Denmark to the US. They're a top seller. We placed some of the first orders for Casa Bosques chocolate from Mexico and have a new, exclusive-to-our-shops beverage that we'll be announcing shortly. We have rarities such as eucalyptus honey from The Apiary in Rwanda. And we've been an early adopter of a lot of local American producers such as Rusty's Chips, Bjorn Qorn, Dada snacks and Non-Food algae-based bars.


Have you noticed a difference between what New York, SF and LA customers are looking for?
The big difference is we do books at our SF shop. We've been really excited to be able to do that there. Given that region's influence on global culture, we wanted to subtly nudge some new ideas into the conversation… ;)