The 19 best new restaurants in NYC this spring
From white-clothed fine dining to hole-in-the-wall cheap eats, find the best new restaurants NYC has to offer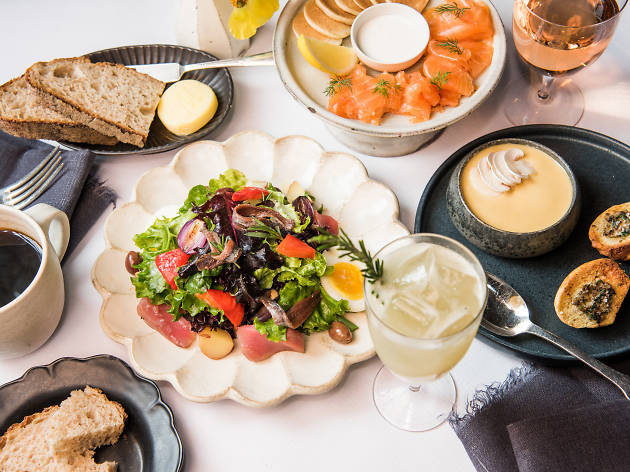 Looking for the best new restaurants in NYC? As much as we love our long-time establishments and neighborhood standbys for a New York pizza slice, New Yorkers are a fast-moving bunch fixated on what's new and happening around them. Luckily, the city's food-and-drink scene provides ample activity to satiate short attention spans. From a sumptuous dessert shop in West Village to a fancy French restaurant in Tribeca, ready your bellies for the hottest and best new restaurants in NYC this spring.
RECOMMENDED: Full guide to the best restaurants in NYC
Best new spring restaurants in NYC
11
Welcome to the fabulous world of La Mercerie, a tidy all-day French restaurant and (be warned, as this is a thing now) immersive retail experience. An outgrowth of a husband-and-wife interior-design firm, the restaurant is located in the happy couple's Roman and Williams Guild, a greed-inducing furniture and design store in Soho. Here's the deal: everything on your table is for sale, and, thanks to acclaimed French chef Marie-Aude Rose, the food at La Mercerie is also a draw: not only uniformly Insta-worthy but pretty tasty, too.
Read more
13
Choose from practically any dessert your inner-child craves, like sundaes, cookie bars and a massive s'mores at this sweet dessert shop in the West Village. Other treats include ice cream cake sandwiches, tipsy marshmallows and salted caramel stuffed brownies.
Read more
14
Chow down on wasabi-dusted lamb and foie gras fried rice at this French-Chinese hybrid that also specializes in the baijiu spirit (China's vodka equivalent) with more than 30 varities in the bar. The original Lumos Bar on Houston St closed down so the owners could expand and focus more on food.
Read more
15
Hell's Kitchen is a bit less harrowing now thanks to the lobster pierogis dipped in tarragon sour cream on the menu at this new American spot in Hell's Kitchen. The intimate space includes exposed brick walls, brown banquettes and flower-shaped chandeliers.
Read more
16
A Naples-born chef spends 96 hours making each square pizza at this East Village spot for the perfect dough. The Roman-style 'za comes in various flavors like Mani in Pasta with truffle cream, porcini, mozzarella, and prosciutto and the patate with over-roasted potatoes, rosemary and mozzarella.
Read more
18
Named after its location, the new food hall will have 19 vendors. Lookout for standbys like Taim, Roberta's and Bobwhite Counter, as well as completely new concepts of Go Fish, a sushi place from the chef and owner behind NoHo's BondST, and Rockaway Clam Bar, a seafood spot from the owner of Red Hook Lobster Pound. Beverage stands include the not-so-good-for-you Top Hops Beer Shop and the very-good-for-you Liquiteria.
Read more
19
Take your pick of Russian dumplings (yes, it's a thing) peddled in Columbus Circle's underground market. The steamed pelmeni are stuffed with Siberian-style pork, chicken, beef or veggie options like potato or cabbage, and topped with dill. Add some soupy chicken broth or get sides of sour cream or mustard mayo.
Read more
Best new restaurants in NYC
Sponsored listing
Dog and Bone
The name of this Kips Bay eatery refers to both its penchant for artisanal sausages and its four-legged manager, Winston the English bulldog. Other canines are also welcome to dine with their owners on Dog and Bone's outdoor patio, though the food is meant for humans only. Choose between several different sausages, including a cheddar bratwurst with green tomato relish, Cumberland sausage with grilled onions and mustard, pork sausage with pickled daikon radish, cilantro and sriracha mayo and beef sausage with sauerkraut and grilled onions (all $13). Other entrees include bangers and mash with onion gravy ($18), a portobello panini with whipped goat cheese ($13) and the Ploughman's Platter of your choice of cold pork pie or scotch egg, cheddar, pickled onions and a pickle ($18). Stop by on Sunday to try the traditional roast beef with horseradish cream, yorkshire puddings, roasted potatoes, peas and carrots ($22).
Venue says: "Welcome to Dog and Bone! We offer Lunch, Brunch, Dinner, Happy Hour AND Late Nite Bites! New: Sunday Roast and Corner Shop."