Restaurant and bar openings: April 4-10, 2013
Tres Carnes, Fatty 'Cue and more open in New York.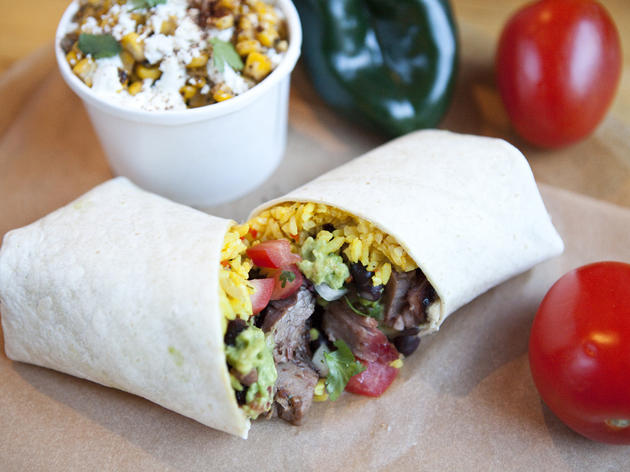 The following venues are expected to open by April 10th. Always call ahead, as openings can be delayed.
The BoilCajun-style crustacean feasts are the focus of this Lower East Side dive. Instead of adhering to Louisiana tradition, the crabs, lobsters and crawfish are boiled and then tossed in plastic bags to coat every crevice with the house sauce of garlic butter, lemon pepper and Old Bay. Peel yours at communal tables or take to the bar for a plate of raw oysters and littlenecks and domestic brews—Brooklyn and Bronx breweries are represented here, as well as hometown New Orleans fave, Abita. 139 Chrystie St at Delancey St (212-925-8815)

Brooklyn Bird A chicken's flying into the Clinton Hill coop—a chicken joint, that is. Filmmaker turned chef Paul Ceriello is behind this Southern-comfort spot on Myrtle Avenue, which has a menu unsurprisingly heavy on poultry: a classic spiedie sub with marinated chicken and cheese; chicken and dumplings; and, most prominently, wings, from mild to ghost-chili hot. Non-bird options include bacon-truffle grilled cheese and tacos teeming with organic veggies and pineapple salsa. Late-night munchers can perch at a tall-boy table for a signature Roman Candle meatball sammie (blue-cheese dressing, buffalo sauce, grilled sourdough) and Sixpoint drafts till the wee hours. The 850-square-foot space evokes an after-hours dinette with original tin ceilings and a hand-painted menu on the wall; a blue neon sign spelling out "BIRD" and hanging birdcages (one filled with bread loaves, another with blue Chuck Taylors) nod to the restaurant's name. 579 Myrtle Ave at Classon Ave, Bedford-Stuyvesant, Brooklyn (718-789-2628)

Desnuda The popular East Village cevicheria expands into Williamsburg with a larger two-room space and full cocktail menu. Ceviches are the main draw: salmon with Thai chili oil, citrus and sweet potato; and tuna with shishito-yuzu truffle glaze, pickled jalapeños and red onion. Watch chef Dominic Martinez (BondSt) plate his inventive seafood dishes, or head to the barroom, outfitted with hand-carved mermaids, maps of Patagonia and a cocktail menu from Gin Palace bartender Chaim Dauermann. Pisco, mescal and cachaça are on offer, as well as wines from Chile, Argentina and Spain, to drink alongside bar snacks like tea-smoked oysters. 221 South First St at Roebling St (718-387-0563)

Fatty 'Cue After a yearlong renovation, the 'Cue crew returns to Brooklyn, reviving its signature finger-lickin' brand of Southeast Asian BBQ in the revamped Billyburg space. Melding the down and dirty style of the original Fatty with the more refined dishes of the West Village locale, chef Anthony Masters (Momofuku Noodle Bar, Eleven Madison Park) turns out new items like chile-rubbed leg of lamb, pig ears glazed with uni sauce and fermented pork rice dumplings. Fans of the original can find Wet Nap–necessary favorites, including deckle-cut brisket and heritage-pork ribs. They've also updated the look of the place, from the bathroom (remodeled with subway tiles and chalkboard paint) to a more dapper barroom (spruced up with copper walls, dark walnut wood and green leather banquettes). Sip signature cocktails like the Fatty Manhattan (modernized with smoked cherry-coke syrup) at the rowdy, reggae-soundtracked bar, or head upstairs to the second-floor dining room for a quieter sit-down affair. 91 South 6th St between Bedford Ave and Berry St (718-599-3090 )
Franny'sFranny's devotees can breathe easy—husband-and-wife team Andrew Feinberg and Francine Stephens have reincarnated their pioneering farm-to-table pizzeria two blocks down on Flatbush. Executive chef John Adler oversees a menu identical to the original's (yes, that means those beloved clam-and-chili pies), while the decor gets a refined face-lift with mosaic tile floors, antique bone mirrors and steelwork throughout. The key difference is that this pizza joint has more of, well, everything—not one but two brick ovens baking up those blistered crusts; 71 seats, almost twice that of the original; and large-format entrées (wood-fired poularde, salt-baked whole fish) available exclusively in the 30-seat private dining cellar. Also on offer: expanded lunch (Friday through Sunday), takeout and, finally, reservations (for six people or more), which should decrease the long lines the hot spot routinely attracts—fingers crossed. 348 Flatbush Ave between Sterling Pl and Eighth Ave, Park Slope, Brooklyn (718-230-0221)
Greenwich ProjectMulberry and Vinatta Project owners expand into Greenwich Village with a bi-level French eatery, decorated with coffee-toned banquets, a glossy white bar and Pop Art paintings and photography. Helming the kitchen is chef Carmine Di Giovanni (Picholine), who turns out casual small plates and modern French dining, like raw-bar dishes and a 35-day dry-aged lamb loin with curried goat cheese. Sommelier Ryan Mills-Knapp (previously at Spice Market, Corton, Tribeca Grill, and Colicchio & Sons) pours glasses of vino off his old-world European list. W 8th St, 47 W 8th St between MacDougal St and Sixth Ave (212-253-9335)
The Hummus & Pita Co. The fast-casual Mediterranean eatery opens a second location, rolling out gyro, falafel and shawarma in Tribeca. Post up at a reclaimed wood high-top for jalapeño-cilantro hummus, an international brew (Mythos from Greece, a Turkish Efes Pilsen) and free Wi-Fi. From a glass-encased kitchen, Israeli chef Haim Ben-Simon works the large taboons and tandoors—Middle Eastern clay ovens used to roast meats and bake flatbreads. As at the Chelsea flagship, you can create your own mix-and-match roll-up: pita or laffa flatbread as a base, with Moroccan beans, baba ghanoush and tzatziki as filling options. 79 Chambers St between Broadway and Church St (212-571-6700)
Little Prince Lightened classics are the focus of this intimate 38-seat bistro in Soho, decorated with globe pendant lamps and a hand-painted ceramic tile floor. The Gallic menu reads like an encyclopedia of French cuisine, with staples like moules marinère, trout almondine and steak au poivre. Instead of standby wines from the Continent, sip French beer like Gavroche French Red Ale and Alsatian Kronenbourg 1664 at the ten-person bar. 199 Prince St between MacDougal and Sullivan Sts (212-335-0566)
Lobster Place The renovated Lobster Place in Chelsea Market presents an expanded seafood counter with options ranging from fresh and steamed lobsters to whole-tuna butchering. In addition to cold and hot sandwiches to go—namesake lobster rolls, oyster po' boys—other prepared foods include seafood chowders and sushi platters. New to the space is an eight-seat omakase sushi counter and standing raw bar, with beer and sake available to drink. Chelsea Market, 75 Ninth Ave at 16th St (212-255-5672)
Mayfield Find new American fare at this 80-seat Crown Heights spot, featuring an open patio for sun-soaked dining. Chef Lev Gewirtzman (Ouest, Stone Park Cafe) engineers a seasonal menu full of seafood (fried clam bellies, grilled octopus), mains (buttermilk fried quail) and vegetables (leeks vinaigrette, porcini custard and pickled honshimeji mushrooms). To drink: a global wine list and a rotating craft beers (Weyerbacher and Bar Harbor Brewing). 688 Franklin Ave at Prospect Pl, Crown Heights, Brooklyn (347-318-3643)
Smorgasburg Snack Bar Get Smorgasburg and Brooklyn Flea crowd-pleasers like Butter & Scotch, Dough and Pipcorn at Whole Foods' new snack bar on Bowery. In the second-floor café, cart pushers can take a breather with a slice of Butter & Scotch's S'Mores Pie and a New Orleans–style iced coffee from Grady's Cold Brew. The shop showcases baked goods (Magpie hand tarts with Anarchy in a Jar jam), beverages (OMilk cashew milk) and even home decor (Claudia Pearson's illustrated tea towels). 95 E Houston St between Bowery and Chrystie St (212-420-1320)
Tres Carnes Barbeque pit master Mike Rodriguez travels north from the legendary Salt Lick, bringing his Texas smoked-meat bona fides to Chelsea. The slow-and-low savant teams with chef Sasha Shor (Little Town NYC, Hudson Terrace) for a Texican—Texas and Mexico—mash-up. Menu headliners include the TC16 Special (an 11-spice-rubbed brisket, smoked for 16 hours) and El Pollo Adobo (pulled chicken with a wet rub of achiote, adobo and lime). Pair the protein-laden tacos or burritos with sides, like black-eyed peas cooked in Lone Star beer, or corn kernels smothered in cilantro-lime butter, cotija cheese and Mexican crema. La Newyorkina pastry chef Fany Gerson supplies desserts, including a smoked-sugar doughnut-meets-churro specialty. Drinks range from classic margaritas made with Sauza tequila to beer 'tails like the Lager Ahumado—Negra Modelo with smoky chipotle puree, lime and Sidra apple soda. The joint's decor takes inspiration from rural and urban hallmarks: Antique ranch tools hang from the ceiling, while a graffiti mural covers one wall. 688 Sixth Ave at 22nd St (212-989-8737)
Wild Miki Agrawal opens a health-nut-friendly pizza parlor in her old West Village Slice space. Agrawal enlisted Chopped chef Nicholas Porcelli (Pop's of Brooklyn, the Meatball Shop) to man the ovens, slinging gluten-free pies such as a pear-and-Gorgonzola version with Medjool dates and fresh rosemary; an eggplant puree with blackened chilies; and a truffled tofu "ricotta" with olive oil and cracked pepper. Vegan crusts are crafted daily from wild yeast, and produce is sourced from Cutchogue, NY's Satur Farms. The drinks menu also has a local bent, featuring Empire State beers (Keegan, Blue Point, Ithaca) and wine (most sourced from Long Island's North Fork region). Grab a seat under hanging Edison bulbs at a family-style table for veg-topped rounds and beer cocktails (like an Ommegang Witte with fresh ginger lemonade). 535 Hudson St between Charles and Perry Sts (212-929-2920)
Sponsored listing
Spaha Soul
SpaHa Soul is a compilation of cusines but they all have one thing in comon - they are all dishes with a soul. My name is Artist Thornton, my earliest memories are of my feet hanging in a sink. Listening to the sound of fresh black eye peas being washed in a pan. Of my grandmother explaining what she was doing all the while humming when "When the Saints go Marching In". You see, I had the greatest formative years growing up with my Grandma. She came from Louisiana by way of Missouri. Now as an adult - and after years of traveling abroad and meeting and seeing all kinds of folks from all manners of life; after opening 7 different restaurants with several different cuisines - I have come up with this style of cooking that could be best described as" Global Soul". So after a day of traffic, noise, and knocking around this beautiful city come on home to SpaHa Soul!
Venue says: "Scratch kitchen, that makes soul food. And global food with a twist! Our food is made with music, laughter, and much Love."