Restaurant and bar openings: July 11-17, 2013
The Elm, Luksus and more roll out in NYC.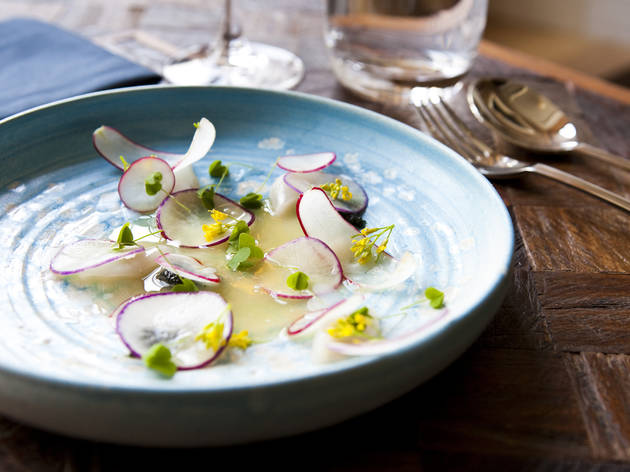 The following venues are expected to open by July 17th. Always call ahead, as openings can be delayed.
ArtePasta Italy native Marco Ornetti mans the pizza oven at this sister restaurant to Upper West Side mainstay Arte Cafe. The lofty 220-seat restaurant—decorated with paintings of '50s Italian celebrities—specializes in traditional Italian fare. Ornetti offers thin-crust pies like a classic Margherita and vegetarian-friendly Verdure (zucchini, eggplant and peppers). Also on the menu are house-made pastas—lasagna bolognese, linguine with clams—along with entrées such as chicken milanese and veal scaloppine. To drink: nearly 100 regional Italian wines (Girolamo Dorigo, Antinori), eight bottled beers (Moretti, Stella Artois) and Peroni on tap. 215 W 85th St between Amsterdam Ave and Broadway (212-501-8585)
Brooklyn Belly Brooklynite Odeis Stephenson slings fried seafood at this takeaway counter in Ditmas Park. Alongside beer-battered cod and conch fritters, you'll find jerk chicken—inspired by his Jamaican heritage—and Southern sides like fried mac and cheese. In warmer months, take your meal to an 18-seat deck outfitted with black picnic tables. 915 Cortelyou Rd between Coney Island Ave and E 9th St, Ditmas Park, Brooklyn (347-787-3110)
Burke & Wills Take a trip to the outback at this 36-seat joint dishing out Australian fare. Named after Robert O'Hara Burke and William John Wills—the first European explorers to cross the country—this Upper West Side restaurant features decor inspired by the duo's journey (wood bale walls, wildlife art). At a 20-seat bar, sip classic cocktails crafted by beverage director Greg Seider (the Summit Bar, Le Bernardin), along with Down Under wines. Chef Stan Matusevich (MP Taverna, Fish Tag) oversees the menu, dispatching plates like the 'Roo burger—topped with tomato jam and shaved onions—and seared barramundi with haricots verts. Rotisserie specials such as stuffed porchetta and whole quail change daily. 229 W 79th St between Amsterdam Ave and Broadway (646-823-9251)
Clarke's Standard The burger-joint offshoot of P.J. Clarke's makes its way to Hell's Kitchen with this third location. Like previous installments, the quick-service dinette serves six bargain burgers, topped with ingredients like charred green chilies, Gouda, crispy shallots or smoked bacon. There are four types of franks, stuffed into jumbo buns or crusty baguettes: One is loaded banh mi–style with shredded carrot and cucumber; another is slathered in chili and cheddar; and an old-school version is topped with vinegary kraut and mustard. Tater-Tots, milk shakes (vanilla, chocolate or a swirl of both) and beer (Genesee Cream, Coors Light) round out the offerings. 977 Eighth Ave between 57th and 58th St (212-245-2200)
Court Street Grocers The popular Carroll Gardens market expands its sandwich operations with a five-seat counter in Red Hook. You'll find signature items like the Breakfast Sandwich and Italian Combo (salami, mortadella and mozzarella). 116 Sullivan St between Conover and Van Brunt Sts, Red Hook, Brooklyn (347-529-5603)
The Elm Paul Liebrandt—the meticulous, oft-polarizing mind behind the two-Michelin-starred Corton—goes casual for this 80-seat eatery. Well, what qualifies as casual for a tasting-menu toque who plates beet-hibiscus gelée and goat-milk Chantilly. In the short-lived Pillar & Plough space at the King & Grove Williamsburg hotel, Liebrandt and his Corton lieutenant Mazen Mustafa oversee a menu divided into four categories: land, sea, raw and shared. The modernist fare includes foie gras with spiced-plum gelée, pistachios and chili-flecked brioche; lamb neck served alongside charred eggplant and brown-butter puree; and an Atlantic turbot for two à la française, topped with fresh peas, bacon and lemongrass nage. For the 12-seat bar, industry vet Johnny Swet (Rogue & Canon, Cole's Greenwich Village) created a menu of hyperseasonal cocktails, heavy on fresh vegetables and herbs. The subterranean space sports metal light fixtures and banquettes made of—what else?—elm wood. 160 North 12th St between Bedford Ave and Berry St, Williamsburg, Brooklyn (718-218-1088)
Ippudo Westside Shigemi Kawahara unleashes the much-anticipated midtown location of his überpopular ramen chain, joining 65 Japanese outlets and 22 international offshoots. The noodle spot features fifteen fewer stools than its 80-seat East Village sibling, but offers a bulked-up menu. At the teakwood counter, ramen master Fumihiro Kanegae serves Ippudo's silky tonkotsu varieties—spicy karaka-men, miso-laced akamaru—made with dashi (bonito-and-kombu-based broth) for extra-briny depth. Appetizers including sea urchin on torched bread and crab-avocado wontons are location specials, along with a shojin (seasonal, vegan and gluten-free) ramen. In addition to sake, you can quench your thirst with a Brooklyn Brewery Kaedama Ale, a russet-hued Belgian number crafted exclusively for the restaurant. 321 W 51st St between Eighth and Ninth Aves (212-974-2500)
King Noodle Up-and-coming Bushwick gets a nouveau-Asian restaurant, a 40-seat spot from Roberta's alum Nick Subic. For his first solo venture, the toque reinterprets Thai, Chinese and Korean cooking with plates like kimchi carbonara and green curry noodles. Spicy starters include wings tossed in house-made Gochujang sauce and mapo chili cheese fries. Take the heat off with Far East beers (Sapporo) or tiki cocktails—including a classic mai tai and flaming Scorpion bowl—by the Narrows' Keith Kenji Cochran. Neon light fixtures and a pink-and-red coral-reef mural by local artists Andrew Steiner and Damon Anderson give the mirrored space a tropical vibe. 1045 Flushing Ave between Morgan Ave and Vandervoort Pl, Bushwick, Brooklyn (718-456-6543).
Luksus Brooklyn's most ambitious beer bar reaches for greater heights—chef Daniel Burns unveils a tasting-menu restaurant in the back of Greenpoint brew juggernaut Tørst. A vet of some of the globe's highest-profile kitchens, including Noma, the Fat Duck and Momofuku (he's the former R&D head), Burns rockets past moules frites and Belgian suds with his beer-pairing fare: vinegar-powder-dusted ham chips; raw razor clams with bone marrow, radish and cucumber vinaigrette; and a rhubarb-beet dessert featuring woodruff meringue and pea-and-anise-hyssop sorbet. For beverage pairings, there's nary a wine list or cocktail menu in sight in the oak-paneled dining room—all courses are served exclusively with beer from the white-marble bar, curated by Tørst's owner, legendary gypsy brewer Jeppe Jarnit-Bjergsø. 615 Manhattan Ave at Nassau Ave, Greenpoint, Brooklyn (718-389-2525)
Maison Kayser Eric Kayser expands his global boulangerie chain—encompassing 100 locations from Senegal to Singapore—with a second NYC location. This Flatiron bakery-café features the same menu as the Third Avenue bakery. Along with Kayser's sourdough baguettes, chocolate éclairs and apricot-pistachio tarts, the 64-seat spot also features a grab-and-go station, offering sandwiches and a juice bar. 921 Broadway at 21st St (212-979-1600)
Potatopia The potato moves from side dish to center of the plate at this spuds-focused fast-casual joint. Four potato varieties (russet, red bliss, Kennebec and jumbo yam) are available in nine different styles, including mashed, au gratin, shoestring and baked. Choose from gussied-up toppings, like Pat LaFrieda grass-fed steak, asiago cheese and mushrooms, along with house-made sauces such as garlic aioli, chipotle ketchup and curry. Create your own combo or opt for a signature dish, like the "Frequent Friers": salt-and-pepper shoestring fries with Parmesan, parsley and garlic. A custom-made tap system dispenses organic sodas, which you can sip with your tater at a steel-framed butcher-block table. 378 Sixth Ave at Waverly Pl (212-260-4100)
The SamplerBushwick drinkers can hole up at this craft-beer cantina from Jorge Ariefs (the Wine Hut), serving growlers to go and pints and bottles to stay. Fully stocked shelves of beer line the walls, with 180 suds from Maine Beer Co., Stone, Omnipollo, Southern Tier and more, each tagged with tasting notes. At the 6-stool wooden bar, pop open a bottle for a $1 corkage fee, or go the draft route: Eighteen taps offer 10- or 14-ounce pours of brews like Bridge & Tunnel Haitian Brown Ale, Evil Twin Lil' B and Peekskill Hop Common. Bar snacks include beef jerky, McClure's pickles and Latin bites like mini empanadas. For on-the-go brewhounds, a growler station is rigged with a Tegas compressor, which injects a shot of CO2 into bottles to keep beer fresh. The beer shop–bar also hosts brewer meet-and-greets and tasting classes. 234 Starr St at Wyckoff Ave, Bushwick, Brooklyn (718-484-3560)
Silvana Tuck into spit-roasted meats and falafel at this bi-level Israeli restaurant in Harlem. During the day, there are Israeli pastries, organic loose-leaf teas and Brooklyn Roasting Company coffee—plus home decor and vinyl records—in the upstairs café-retail shop. The downstairs lounge features Middle Eastern classics (falafel, shawarma, hummus), as well as late-night entertainment like belly dancers, a live DJ and a tobaccoless hookah after midnight. 300 W 116th St at Frederick Douglass Blvd (Eighth Ave) (646-692-4935)
Tabata Noodle Restaurant 2 Find traditional and creative ramen at the smaller outpost of the Hell's Kitchen noodle shop. The 23-seat joint offers a condensed menu, including the Tabata (coconut curry broth) and Sutamina (spicy miso and soy sauce). It also offers Japanese beers and sake. 557 Eighth Ave between 37th and 38th Sts (212-465-2418)
Sponsored listing
Cape House
New England transplants will be happy to know they don't have to go any further than Bushwick to get authentic chowder. Cape House, a clam shack and bar, offers all the classics and a few new options. Traditionalists might go for the whole belly clams, scallops or clam strips, available on a roll or as a platter ($8–$25), or the creamy chowder ($5 for a small, $9 for a large). Not a seafood person? Try a Worcester-style hot dog with chili ($5) or the fried chicken sandwich ($11). If you're in the mood for a more formal meal, order the negroni-braised octopus with herb salad ($20) or the baked haddock with dill cream sauce ($23). And what New Englander would eat clam strips without an ice cold beer? There's Narragansett ($3), Cape House Lager ($4) and Cisco Whale's Tale Pale Ale ($6). You can also order wine and cocktails like the appropriately named The Ancient Mariner with rum, grapefruit and lime ($10).
Venue says: "New England style Clam Shack located right in the heart of Bushwick, Brooklyn. Just a short 2 block walk from the Morgan L train stop."