100 best New York restaurants: Middle Eastern food
The best New York restaurants that examine the cuisine of the Middle East offer a range of intriguing flavors, indigenous to the region.
By Time Out editors
100 best New York restaurants: Balaboosta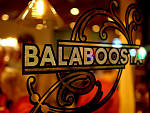 The word balaboosta connotes an endearing Jewish type: The homemaker who possesses just the right touch in everything. Israeli chef-owner Einat Admony—also of the falafel joint Taim, and a veteran of the kitchens at Tabla, Danube, Patria and Bolo—embodies that multiplicity. She's well versed in the ingredients of India, Europe, South America and of course, her native Middle East, combining them in daring dishes at this personal venture. Balaboosta excels with entrees. A marinated half chicken cooked under a brick is ideal comfort food, featuring crisp and juicy heritage fowl with gremolata and apricot-studded Israeli couscous. Lamb three ways offers a tender lamb chop  bathed in lime sauce; soft tenderloin wrapped in Swiss chard; and fried kibbe filled with a hearty mixture of lamb, pine nuts, raisins and spices. Desserts—such as a buttery date-banana bread pudding—hew close to Admony's Middle Eastern roots.
214 Mulberry St, (between Prince and Spring Sts)
Book online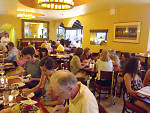 Since 1998, this cult destination in Bay Ridge has been alone at the top of local Middle Eastern establishments, a standard-bearer in a category that has few highlights. Palestinian-born chef and owner Rawia Bishara goes the extra steps in reviving the flavors of her Nazareth childhood—charring eggplants in charcoal, rolling out pita, hand-making savory yogurt. Her efforts pay dividends in an endless variety of silky spreads—lemony labna, smoky baba ghanoush—and almost-narcotic mains, including fried shredded tilapia with almond slivers, caramelized onions and a proprietary spice blend. Best of all are her desserts, like the knafeh, featuring warm, gooey cheese under a buttery layer of shredded honey-soaked phyllo. You're not likely to find better outside the West Bank.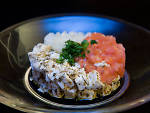 D.C. restaurateur Philippe Massoud's stylish Lebanese eatery would feel right at home in cosmopolitan Beirut: Wood-paneled walls, pocked with windows and mirrors, create the impression of a giant kaleidoscope, and the menu is flush with elevated takes on the familiar. Kebabs, like the lean, moist lamb skewers, are near perfect, and a beautiful chankleech cheese-and-tomato salad is chopped fine with scallions, thyme and oregano. Err on the gluttonous side and overorder—the too-small portions may leave you craving more.
---