Restaurant and bar openings: June 6-12, 2013
Distilled, Old School Brooklyn and more open in New York.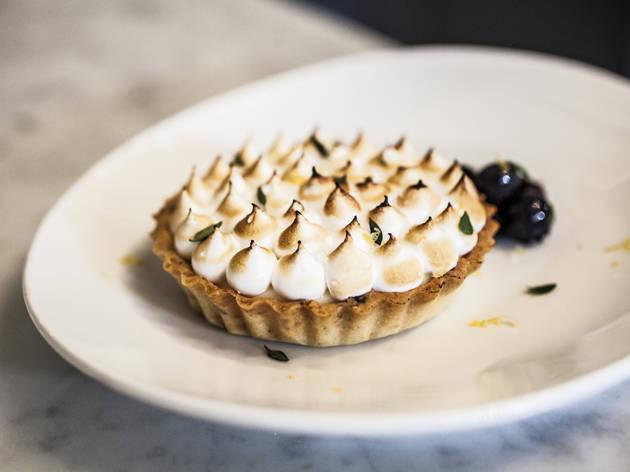 The following venues are expected to open by June 12th. Always call ahead, as openings can be delayed.
Distilled Gotham's historic public house—the drinks-peddling gossip center popular in the mid–20th century—gets a latter-day makeover on June 7th with this Tribeca restaurant, sporting an airy 110-seat dining room and Momofuku vet Shane Lyons's refined comfort food. Lyons puts a fine-dining touch on Southern fare: a salad of local greens and preserved lemon; rosemary potato chips with caramelized-onion dip; and chicken-fried duck with waffles, smothered in smoked serrano maple syrup. The beverage list also tips a hat to the spot's period influences, with a heavy mead (honey wine) selection. But contemporary drinkers can tilt back a craft beer, an American wine or a cocktail (like the Tribecan, made with bourbon, vermouth, chocolate bitters and lemon oil). Floor-to-ceiling windows and a black-stone bar decorate the sleek space. 211 West Broadway at Franklin St (212-601-9514)
DTUT Uptowners have a neighborhood café-bar to call their own again with this reboot of a shuttered Yorkville shop (the name is short for downtown-uptown). Industrial trappings fill the 70-seat spot, including Edison-bulb chandeliers designed by Brooklyn's Urban Chandy and communal high-top tables flanked by gray metal stools. During the day, sip Irving Farm coffee served in custom clay mugs; in the evening, caffeinated drinks give way to a boozier menu of seasonal cocktails and a dozen craft beers (Sixpoint, Dogfish Head). The menu of light bites features childhood favorites: grilled cheese sandwiches (one with cheddar, the other with Brie), tomato soup and make-your-own s'mores. 1744 Second Ave between 90th and 91st Sts (212-410-6449)
Grass Cow Burgers and Shakes Grass-fed beef is the star of this rustic burger shack, outfitted with dark-wooden benches and exposed-filament bulbs. The short food menu features just fries, and an organic patty with or without cheddar (from grass-fed dairy cows, naturally) on a toasted brioche bun. Optional toppings include lettuce, red onion, dill pickles or seasonal produce like California avocados. To drink, find hand-spun shakes (vanilla or chocolate), local craft beer—among the rotating selection are Fire Island Beer Company's Lighthouse Ale and Keegan's Mother's Milk Stout—or house wine (red or white). 347 Third Ave between 25th and 26th Sts (212-889-0089)
Luke's Lobster and No. 7 Sub Dive into lobster rolls and sandwiches at this joint concession stand in Brooklyn Bridge Park. Step up to the waterfront window for New England offerings from Luke's Lobster, including crustacean-packed rolls and Maine Root sodas (blueberry, orange, ginger brew). On the street side, No. 7 Sub offers signature combos on toasted Caputo Bakery bread: turkey and ham topped with jalapeño mayo; balsamic chicken and avocado ricotta; and a veggie patty slathered in smoked French dressing. Take your food to a sunny patch of grass or dine at one of 20 umbrella-covered tables under the Brooklyn Bridge. 11 Water St in Brooklyn Bridge Park, Dumbo, Brooklyn (no phone yet)

Old School Brooklyn You don't need a DeLorean to go back in time at this Carroll Gardens trattoria, from restaurateur Alessandro Peluso (Cacio e Pepe, Bocca). As if you couldn't guess by the name, the homestyle menu is rooted in the kind of comfort food your Italian-American nonna would make: gnocchi with tomato sauce; turkey meat loaf over rosemary-smashed yukon potatoes; and duck-and-veal meatballs in cherry glaze. Pastas—like the sausage-ragù-slicked cavatelli—are hand-rolled, and ricotta and mozzarella are made on the premises, as is the ice cream, served as banana splits, root beer floats and fudge brownie sundaes. Keeping with the old-time feel, the 40-seat space is styled like a 1930s Brooklyn parlor, with framed family photos, an antique Singer sewing machine and Granny's china secured in a glass cabinet. 520 Court St between Huntington and Nelson Sts, Carroll Gardens, Brooklyn (718-407-0047)

Steve's Authentic Key Lime Pie Hurricane Sandy couldn't stop the beloved Red Hook pie shop from making a sweet return to the Brooklyn waterfront. Waist-high flooding ravaged the original factory on Pier 41, putting owner Steve Tarpin and his pastry lieutenants out of commission during their busiest season. The Miami native makes his big comeback on the next pier over, with a sunny kitchen three times the size of his old one. Inside the orange-hued bakery, find his signature graham-cracker-crusted pies, filled with a condensed-milk custard laced with zesty lime juice, plus the Swingle, a tartlet dipped in dark Belgian chocolate. The pies may be the same, but Tarpin will hang a new vintage glass sign etched with the shop's motto: "Always Freshly Squeezed." 185 Van Dyke St at Ferris St, Red Hook, Brooklyn (718-858-5333)

Stumptown Coffee Roasters The lauded Portland, OR, outfit expands its New York holdings—which include a branch inside the Ace Hotel and a Red Hook roastery—with a stand-alone cafe in the West Village, its ninth worldwide. The flagship will feature a brew bar reminiscent of the West Coast original's Annex classroom. There, coffee purists can find single-origin espresso from a La Marzocco GS3 machine and slow brews prepared via java-geek specialty drips like Chemex pour-overs, ceramic filter-cone Bee House drippers or a siphon vacuum brewer. The café also offers the chain's full line of 20 seasonal coffees, plus pastries from Momofuku Milk Bar, Ovenly and Doughnut Plant. Stumptown's capped baristas host meet-the-roaster events, daily cuppings and brewing demonstrations in the 1,700-square-foot space, handsomely outfitted with walnut herringbone floors, marble surfaces and 17-foot-high ceilings. 30 W 8th St at MacDougal St (347-414-7802)

Table Green Café Battery Park visitors can refuel on organic treats at this kiosk from Chelsea Market'sGreen Table. Quench your thirst with Crop to Cup coffee, herb-infused lemonade or Hudson Valley fruit smoothies. Also on offer: house-made pastries (muffins, cookies, brownies) and icy delights by Brooklyn's Blue Marble Ice Cream. Battery Park, enter at Battery Pl and State St (212-741-6619)

Sponsored listing
El Original
New York was flooded with queso during the great Tex-Mex surge of 2015, thanks in part to this cavernous Hell's Kitchen eatery from blogger and Homesick Texan author Lisa Fain, along with co-owners native Texan Michael Ginsberg and Michael Barett (the Tippler). Fain cut ties with the restaurant in late 2015, and the owners have since brought in a new executive chef Miguel Franco to serve up his take on the Southern comfort fare. Across a 7,500-square-foot stretch of barn-wood wainscoting, twinkling strung lights and pedal-steel guitar licks, the kitchen dispatches Tex-Mex classics like slow-stewed beef frito pie, a giant chimichanga (fried burrito) and a new short-rib burger topped with spicy chile, refried beans, queso and a fried egg.   
Venue says: "¡ Cinco de Mayo ! Holy Hand Grenade starts at 5:30p & Hot Hand Band starts at 9:00p. Music & Tequila & Tacos 'til LATE"