Heads up! We're working hard to be accurate – but these are unusual times, so please always check before heading out.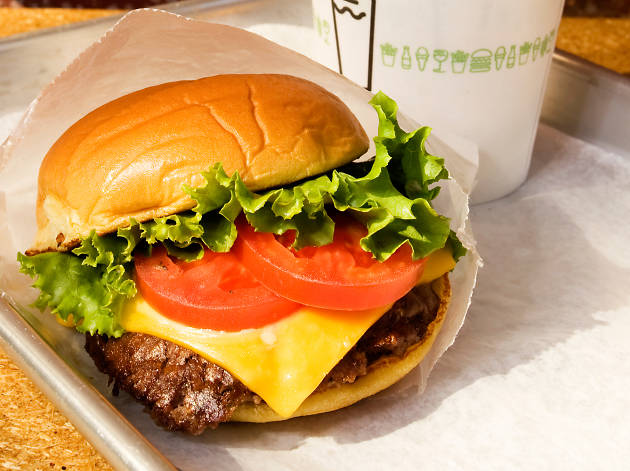 Every Shake Shack menu item ranked
We break down the menu of this burger giant to bring you the best of the best
While Shake Shack has become an international burger powerhouse, let's not forget it all started in NYC right in Madison Square Park. The fast-food chain is still a cult favorite for loyal New Yorkers looking for the best cheap burgers in town or a next-level milkshake. Hell, we're even fans of their Chicago-style hot dogs. There's so much to choose from, so we went ahead and ranked their entire menu to make your next visit a little easier.
RECOMMENDED: Full guide to the best restaurants in NYC
Shake Shack rankings
While many run to the ShackBurger, the Smoke Shack is where it's at. Smoky bacon sings with the smashed beef patty, while spicy and tangly pickled peppers cut through all that richness. It's a pretty perfect burger.
It's not uncommon to find us lined up at Shake Shack just waiting for something sweet. A scoop of their velvety, dense frozen custard will convince you that their ice cream skills match their ability to flip burgers.
A later addition to the menu, the fried chicken sandwich never disappoints: juicy white meat in a crisp crust over lettuce, pickles and a tangy buttermilk dressing.
This is a no brainer. Their crinkle fries are lovely, so why not make them even better by smothering them with cheese. The even stick in a little wooden fork to keep your fingers clean.
Baby, you're so classic. This beauty features a smashed Pat LaFreida patty, American cheese, lettuce, tomato and special sauce all on a potato roll. It's an uncomplicated burger that we could eat every day. The only question is: Do you want a single or a double?
After waxing poetic about the custard, it's no surpirse we're fans of their concretes, which take scoops of frozen custard and blends it with toppings like pie or chocolate chunks into a thick creation that'll end your binge on a sweet note.
The Shack Stack creates a monster hybrid of the ShackBurger and the 'Shroom Burger, which means it's all of the wonder of their classic burger plus a deep fried portobello mushroom filled with cheese. The result is a perfect blend of textures all packed with umami richness.
There are a few key qualities of a good fry: crunchy exterior, creamy interior and sturdy enough for dipping. These crinkle fries meet all the marks, so there is never a reason not to get an order.
Shake Shack started as a hot dog cart in Madison Square Park, so it's no surprise that their Chicago-style dogs can stand up to their burgers. They've got all the topping with relish, onion, cucumber, pickle, tomato, pickled pepper, celery salt and mustard.
A crispy, fried portobello mushroom filled with melted muenster and cheddar cheeses makes for the perfect replacement for a burger so you can still go with your vegetarian friends.
Wash down everything else on this list with vanilla, chocolate, caramel, black & white, strawberry, peanut butter or coffee shake. You can even get it malted if you're feeling wild.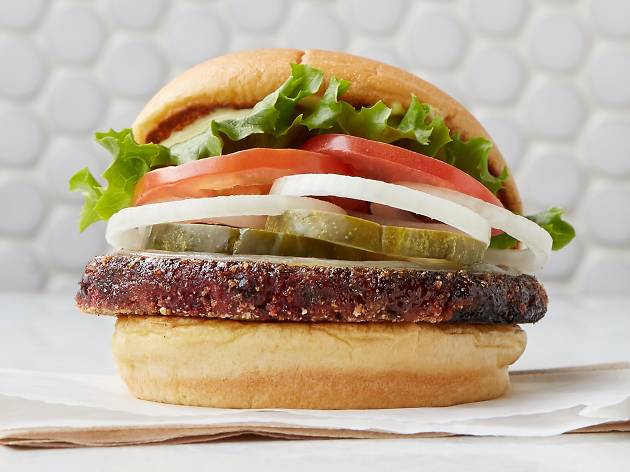 Photograph: Courtesy Christine Han
A black bean burger laced with ground beets makes for a sweet patty topped with sharp cheese and the typical fixings if you're feeling like getting in your veggies and being healthyish.
Looking for more burgers?
Sun's out, bun's out, since we're talking the best burgers you can get in Gotham.