The spiciest dishes in NYC
We sent a daring writer out to sample the spiciest dishes in NYC. If you can't stand the heat, they're not for you.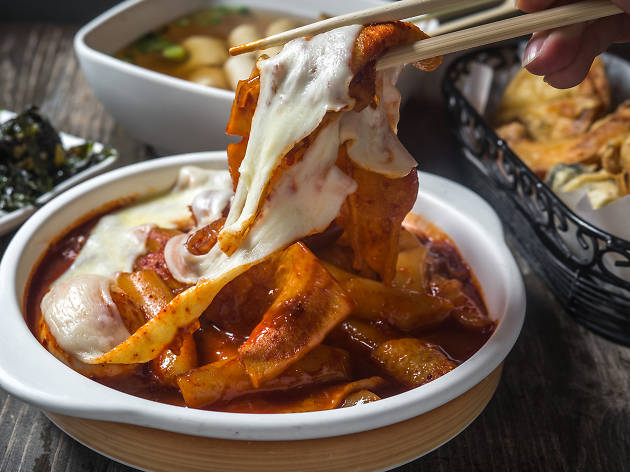 Searching for the spiciest dishes in New York and facing a few near-death experiences, I think there may be a caveat about eating spice in moderation. For what it's worth, I can handle my spice: You'll notice some trendy spicy dishes and cuisines missing from this list, and it's because I don't find them that hot. (Sorry—none of the best ramen, folks.) Listed below, from notoriously spicy Thai food to surprisingly spicy soul food, are the dishes that forced me to pause between bites. They made me sweat. They made me question my life choices. If you do go ahead and try them, best of luck to you.
RECOMMENDED: Full guide to the best restaurants in NYC
Looking for spicy Indian food?
From fine-dining temples to grab-and-go food trucks, these are the best Indian restaurants NYC has to offer
Read more
Sponsored listing
Nirvana
The servers and chefs at Nirvana certainly hope to send you to that state with their traditional Indian cuisine. The list of starters includes the ubiquitous vegetable samosas ($6), garlic naan ($6) and lamb potato croquettes ($10). For the entrees, opt for favorites like lamb vindaloo ($21), saag paneer ($15), chicken tikka masala ($19) or a spicy fish curry ($23), or try some of the more inventive options on the dinner menu, like lobster tikka masala ($30) or venison chops with a dark rum reduction and cumin potatoes ($35). You might also want a side or lamb ($21), goat ($21), shrimp ($21) or chicken ($20) biryani to soak up all the rich sauce. Cool off your palate with a sweet mango lassi ($4.95) or masala chaas, a spiced buttermilk drink ($3.95). Still craving something sweet? The dessert menu includes a caramelized carrot and cream pudding, sweet cottage cheese dumplings and a basmati rice pudding with almonds, raisins and rosewater (each $5).
Venue says: "Authentic Indian food in Murray Hill. Don't miss our popular dish, Biriyani! Call us today to make a reservation 212-983-0000."