The best ice cream sandwiches in NYC
Love ice cream? Love sandwiches? Combine the two and check out where to find the best ice cream sandwich in NYC.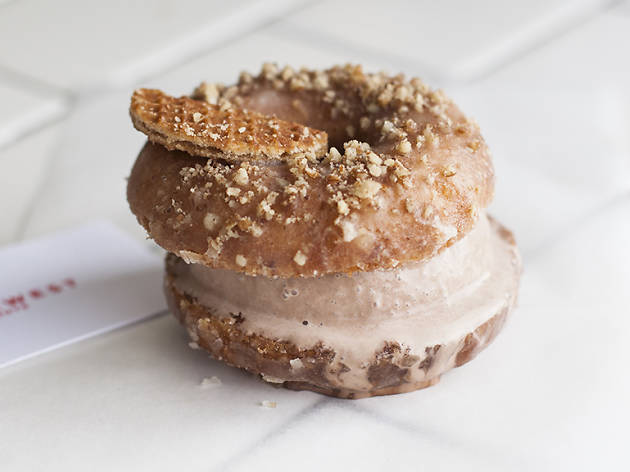 New Yorkers love sandwiches but when the temperatures coast past 80 degrees, we have to forgo our beloved burgers and pastrami for a sammie of a colder sort: the ice cream sandwich. At some of New York's best ice cream parlors and dessert places, you can find frozen scoops bookended between macarons, doughnuts and warm brioche. Here you go, sweet tooths—these are the best ice cream sandwiches in NYC.
RECOMMENDED: Full list of the best ice cream in NYC
Best ice cream sandwiches in NYC
1
This ever-experimental LES ice cream shop isn't afraid to go way out there with its premium treats, available in such intriguing flavors as Tea Dance (Nilgiri tea leaf, lemon charcoal and salted caramel) and Tico Time (pink guava with chili-lime plantain chips). In a genius collaboration with Hell's Kitchen doughnut shop Underwest, the shop stuffs its Food Baby scoop (concord grape ice cream with raspberry coulis and rainbow sprinkles) between a split vanilla-and-lavender–glazed doughnut. $6
Read more
2
Three and a quarter-inch chocolate chip walnut cookies bookend rich vanilla ice cream at Julian Plyter and Kareem Hamady's Lower East Side shop dedicated solely to perfecting the cookies-on-ice cream medium. Having a party? Order a minimum of 12 sammies and get them delivered right to your door. $5
Read more
3
Scott Levine adds a summertime ice cream number to his repertoire of shamelessly splashy doughnut creations served beneath the Westside Highway Car Wash. The rounds split open and are filled with the good stuff from Il Laboratorio del Gelato. $6.75
Read more
4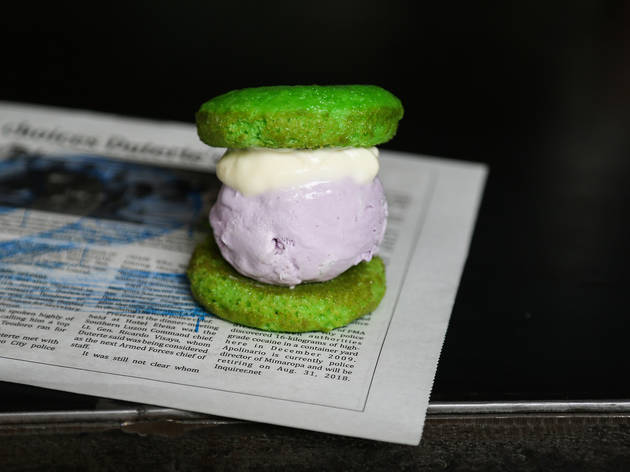 2nd City
This casual fusion spot serves Filipino-accented bites in a casual taqueria-style setting, reflecting the Asian heritage and Cali upbringing of chef/owner Jordan Andino. Savory plates such as tuna poke bowls and pork belly bao are favorite menu items, but the spot's ube macapuno (purple yam and coconut) ice cream receives the bulks of eaters' ardor. Try it in the "Tap That U-Bae," sandwiched between two rounds of fluffy matcha-coconut sponge cake. $7.95
5
This small-batch Alphabet City ice creamery hits all the right notes with its comforting, nostalgia-inducing flavors such as the Brady Bunch (with banana pudding and vanilla sandwich cookies) and Southern Hospitality (pecan ice cream with praline and chunks of pecan pie). Its most decadent dessert is the Daddy Mac, your choice of ice cream stuffed between two fresh homemade regular or red-velvet waffles. Daintier eaters, take heart: a half-sized version, the Baby Mac, is also available. $9
Read more
6
The master chocolatier knows his way around a chocolate chip cookie: huge, perfectly crispy-chewy and studded with an outrageous quantity of bittersweet chocolate chunks, it's one of the best in the city. It's even better when it's filled to order with house-made gelato (flavors vary and include standard chocolate and vanilla, as well as strawberry and roasted banana) and topped with yet another cookie. $5.50
Read more
8
The Brazilian-inspired sweet shop offers a literal bread sandwich that uses half-pressed brioche shells from Bien Cuit to encase the signature organic milk gelato. Customize with a traditional orange-blossom or chocolate-chocolate-nib-flavored bun, served hot while the filling inside remains icy cold. $8
Read more
9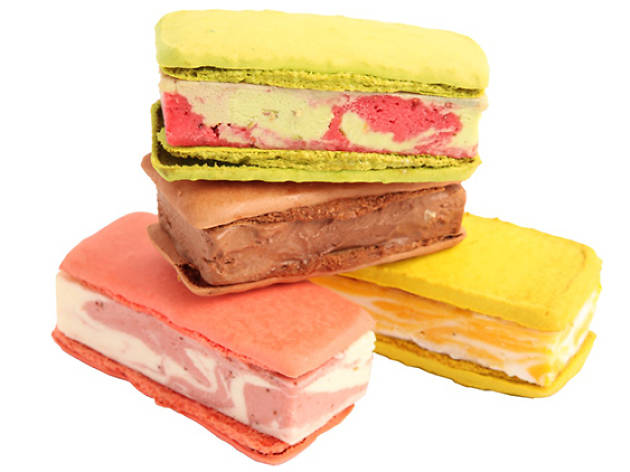 Francois Payard
Put your pinkies in the air for the patisserie's whimsical Gallic mash-up that eschews cookies for light, airy macarons. Each rectangular confection comprises an evenly marble-like swirl of housemade ice cream and sorbet—think pistachio-raspberry, strawberry cheesecake and salted caramel. $5
10
This cozy East Village scoop shops dispenses good vibes alongside creamy cups and cones in clean, rich flavors including roasted pistachio and peppermint chip. Customers can't get enough of the custom ice-cream sandwiches, featuring a scoop of any flavor that's smushed between two gooey house-baked chocolate-chunk cookies, then and rolled in cheerful rainbow sprinkles. $7.75
Read more
11
The pleasures at this rustic Roman pizzeria don't stop at the pizza oven, with plenty of fresh insalate (farro with asparagus and favas, mushrooms with kale and thyme) and antipasti (ricotta toasts, tomato croquettes) to supplement your pie. Don't sleep on dessert, either: Pastry chef Jessica Weiss's ethereal tiramisu ice-cream sandwich is an ingenious mash up of two classics, featuring creamy mascarpone-coffee ice cream nestled between two soft, spongy vanilla wafers. $9
Book now
Read more
Looking for more sweets?
Whether you're looking for the city's finest croissant, baguette or macaron, these are New York's best French bakeries
Read more
Related video
First look at the Museum of Ice Cream in NYC
Watch what happens when kids try hipster ice cream flavors
Sponsored listing
Dog and Bone
The name of this Kips Bay eatery refers to both its menu of artisanal hot dogs and its four-legged manager, Winston the English bulldog. Other canines are also welcome to dine with their owners on Dog and Bone's outdoor patio, though the food is meant for humans only. Choose between nine different sausages, including a white cheddar–stuffed bratwurst, classic kielbasa and vegan option (all $11 at lunch, $12 at dinner). The restaurant also has a few signature dogs, like the the California Dreamin' chorizo dog topped with pico de gallo and avocado ($13). Other entrees include bangers and mash with onion gravy ($17), a portobello panini with whipped goat cheese ($13) and the D&B Burger with pickled onions, cheddar and special sauce ($15). Finish the meal with a sweet treat: Boozy bread pudding with roasted apples might hit the spot.
Venue says: "IT'S ALL ABOUT THE DOGS! Try the best Artisanal Hot Dog's in town. We offer Lunch, Brunch, Dinner, Happy Hour AND Late Nite Bites!"