The best donuts in NYC
Where to find the best donuts in NYC, from glazed and sugar-dusted to classic crullers and Italian bombolini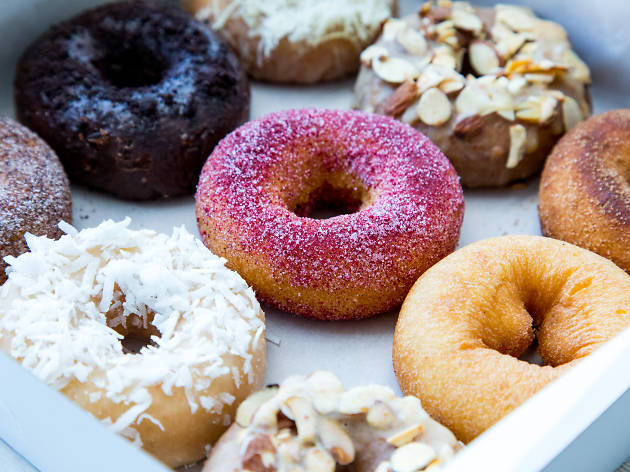 If you've been hunting through the city's best bakeries and coffee shops for the best donuts in NYC, look no further. We've compiled a handy list of where to find the city's most exemplary fried rings, from halva-capped rounds doled out of a West Side Highway car wash to brioche-based treats from the brick-and-mortar offshoot of a beloved online bakery. Feast your eyes on some of the best breakfasts, er, best desserts in NYC.
RECOMMENDED: Full guide to best restaurants in NYC
Check out the best donut shops across America
After a great donut shop? We've got the best donut shops in America, for glazed, sprinkled and jelly-stuffed goodness.
Sponsored listing
Forks jab and knives stab; spoons are the gentlest of utensils, so Spoon Table and Bar is aptly named. A cozy little nook nuzzled onto a desolate block abutting K-Town, Spoon is a surprisingly delightful New American eatery, featuring unfussy, seasonal comfort food. The host's greeting could use a little work, but the otherwise cheery, brightly smiling staff makes up for any irritation immediately. The room is spare but lively, a convivial energy warming the elemental decor. Concrete floors and raw timber columns complement blonde wood table tops and white-washed walls, all illuminated by some of the most flattering lighting possible from woven cylindrical fixtures. The effect is like looking through a real-life blur filter, creating flawless complexions with zero unsightly shadows. The ambiance combined with the restaurant's modest prices, danceable retro soundtrack and plates conducive to sharing makes it a great date spot. Start off with a little pickle plate full of sprightly preserved vegetables to get your appetite up and running ($10), or picnicky snack of creamy deviled eggs spiked with bacon and chives ($8). Salads are categorized as entrees for a reason: they'd be difficult to polish off on your own as a starter, so either order them to split or add a grilled protein to make them a main. Heartier options include rustic skillets like four-cheese mac, meatballs with garlic bread and a homey pot pie (each $15). The mains are slightly elevated in culinary finesse, cos
Venue says Comfort food. Warming adult bevvies. Caffeine by Stumptown. Book your next private party here or expert off-premise catering. B/L/D/Brunch!