The best outdoor brunch in NYC
Eat your favorite mid-morning meal al fresco at these restaurants serving the best outdoor brunch NYC has to offer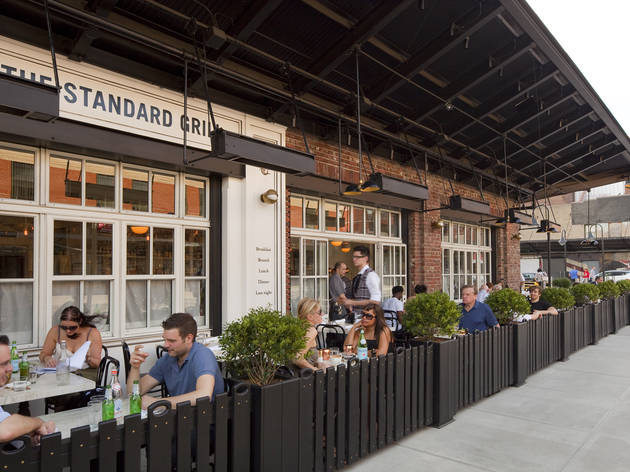 Best outdoor brunch in NYC
Looking for more to do outdoors?
Your guide to getting outdoors to the best beaches, pools, parks, outdoor bars and restaurants, and events in New York
Read more
Sponsored listing
Bus Stop Café
By name alone, Bus Stop Cafe evokes a no-frills neighborhood greasy spoon; a place that's full of commuters hastily grabbing a quick bite that's dependably just fine before hustling to catch a bus (or a train or a plane or a cab). That vignette does not capture the Parisian-bistro essence of Bus Stop Cafe, which likely gets its name from being located near a, you guessed it, bus stop in the heart of the West Village. The hefty, wide-ranging menu—which includes an entire page of served-all-day breakfast options like warm banana-walnut pancakes ($12), a jalepeño-avocado omelette ($13.75) and a fully loaded bagel-and-lox sandwich ($13.75)—is where Bus Stop's diner likeness starts and ends. The ample sidewalk seating hugs the perimeter of the quaint, dimly lit corner restaurant's street-facing walls. The rustic wooden two-tops are each bedecked with a small vase and flower, and the waitstaff's informed but not overbearing friendliness elicits the feeling of idling at a European bistro; it's a perfect place to have an intimidate date, dine alone as you read or simple watch passersby while sipping a glass of vino ($9 to $10.75). For dinner, appetizers run the gamut from savory beef nachos ($13.75) to a cocktail of fresh, succulent shrimp ($12.75 for four pieces), while homemade soups (4.75 to $5.75, or complimentary with an entrée) like chicken or French onion are simple and comforting. All regular-menu entrées, like a prime-cut sirloin steak with fresh vegetables and potatoes, a
"HAPPY HOUR: Mon-Fri 12-7, $5.00 House Wine & Selective Beers. Mon & Tue ALL wine bottles 1/2 OFF. Call for delivery 212-206-1100"