Where to shop for Black Friday 2015 sales in NYC
Get up early to shop these Black Friday sales in NYC—some deals even begin on Thanksgiving Day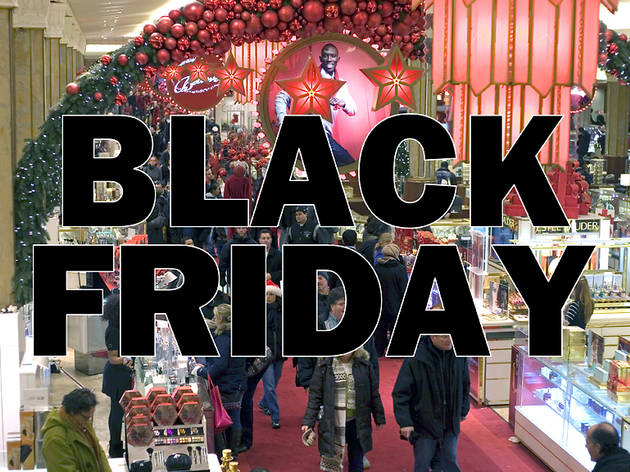 Get the scoop on the best deals in the city with our Black Friday 2015 sales guide. Get yourself to the best shops in NYC and snag discounts at department stores, home decor stores and other venues. Jump-start your holiday shopping and keep checking back until Thanksgiving Day for last-minute sales information.
RECOMMENDED: Full guide to Thanksgiving in NYC
Black Friday 2015 in NYC
Bundle up for winter after saving money at this chain's Black Friday sale. Plus, 10 lucky shoppers (and five of their friends) will receive free clothing for a whole year as part of the company's "Coming Home" sweepstakes. The first 100 people in line on Black Friday will receive a game card for a chance to win. In addition, Aero is offering 60 percent off the entire store on November 27 and a gift with a purchase through December 25.
Read more
You can ditch your all-black New York uniform (if you want), thanks to this Barcelona-based chain's Black Friday sale. With the company offering 40 percent off all merchandise online and in stores, head to any New York location to scoop up eclectic wares. There are locations throughout the city; visit desigual.com.
Read more
Set your alarm because the deals start as early as 6am at this department store. Expect plenty of savings and holiday offerings, like 50 percent off women's fall boots, 35 percent off dresses and denim, and leggings for $40 to $50.
Read more
Fashion-forward Black Friday shoppers should flock to this favorite boutique for as much as 25 percent off full-priced outerwear.
Read more
Both guys and gals can score 50 percent off clothing and accessories. Standouts include a Mawd wool coat for $259 (instead of $519), Scallop lace dresses for $174 (usually $349) and a Leemer striped leather satchel for $197 (once $395).
Read more
This Japanese clothing chain can keep you warm all winter long with its affordable cashmere sweaters and coats. But price tags on the company's winter duds are whittled down to almost nothing on Black Friday. Everything in store will be less than $50 (excluding a few outerwear items), such as $49 for cashmere items and $1 for hats and scarves.
Read more