A complete guide to the Hamilton lottery
Take your shot at winning $10 tickets in the digital lottery for Hamilton on Broadway, in Chicago and beyond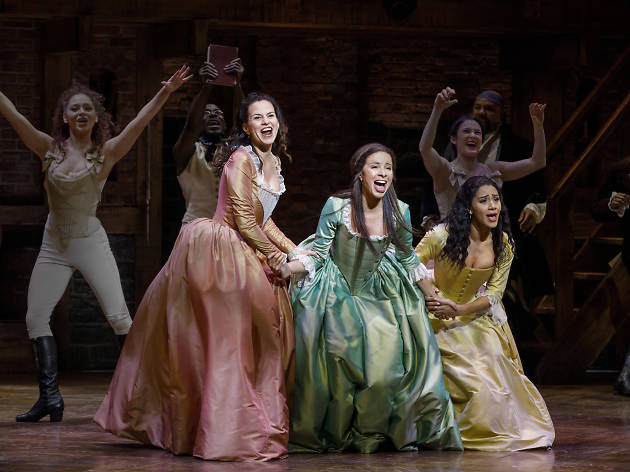 Lin-Manuel Miranda's Hamilton is not just one of the best Broadway shows of our time, with 11 Tony Awards to its name: It's a bona fide crossover cultural phenomenon. But since everyone wants to be in the room where it happens, cheap tickets are nearly impossible to score. Here's how you can get them with just $10, a dream and a whole lot of patience.
THE TEN-DOLLAR FOUNDING FATHER
At each performance of Hamilton on Broadway, 46 seats in the first and second rows are distributed through a digital lottery. In Chicago, 44 seats are distributed that way. In both cases, those seats cost just $10. Approximately 40 $10 lottery tickets are also available for each of the musical's two national tours.
I WAS POOR, 
I KNEW IT WAS THE ONLY WAY TO RISE UP!
For many people, this digital lottery may be the only way to see Hamilton. The show's average ticket price on Broadway hovers just under $300, and premium seats cost $849—but even those tickets are almost all sold out, and on the resale market the prices can be even higher.
BUT YOU DON'T GET A WIN UNLESS YOU PLAY IN THE GAME
To enter the Hamilton lottery, go to the Broadway lottery page or the Chicago lottery page. For national-tour performances, find your city on the general lottery landing page. Timing is key: Each lottery opens at 11am two calendar days before the day of show (whether it's a matinee or an evening show), and closes at 9am on the day before the show. You can only enter once per performance, but on dates with two performances you are allowed to enter for both of them. (Note that these deadlines have changed several times since the lottery debuted in 2016.)
GRAB A FRIEND, THAT'S YOUR SECOND
You can enter the lottery for either one or two seats. Always enter it for two. A friend you bring to Hamilton will be a friend for life.
I'M NOT THROWING AWAY MY SHOT
The lottery is held shortly after the window closes for entries at 9am on the day before the show. Notifications are sent at approximately 11am. If you win, take a moment to freak out, but then act fast! You only have until 4pm to confirm your purchase and pay for your tickets. If you don't do it within that five-hour window, you waste your shot.
SCHUYLER'S SEAT WAS UP FOR GRABS, SO I TOOK IT
Sorry, but no: Winning tickets are nontransferable. If you can't use your tickets, no one else can.
WEAPON IN MY HAND, A COMMAND
Your smart phone can make the whole process even easier, thanks to the free Hamilton App, which streamlines the submission process by saving the personal details on your lottery entry. As a bonus, the app has perks like Hamilton trivia and Hamilton karaoke. (If you don't like using apps, or have trouble seeing details on small screens, you can also take advantage of autofill if you use the Chrome browser.)
JUST YOU WAIT, JUST YOU WAIT…
We're not going to sugarcoat this: Your chances of winning the Hamilton lottery are slender. In 2016, Broadway Direct estimated that there were 10,000 entries for each performance. If that's still roughly accurate, then your odds of winning—since most people enter for pairs—are about 1 in 400. Get used to finding "Lottery Results: Try Again" emails in your inbox.
THERE'S HOPE FOR OUR ASS, AFTER ALL!
If at first you don't succeed, try again and again and again and again. Although 1-in-400 odds aren't great, statistics tells us that if you enter for every performance, eight times a week, then you have about an 88% chance of winning at some point in the next two years.
YOU COULD NEVER BE SATISFIED.
 GOD, I HOPE YOU'RE SATISFIED
Good luck.
Hamilton stories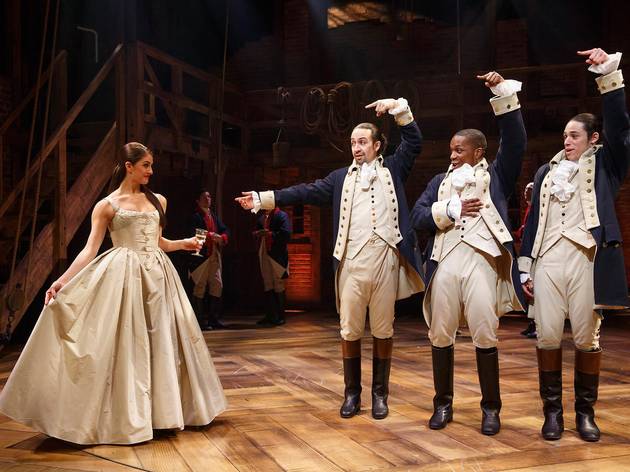 Buy
Archive Hamilton lottery stories