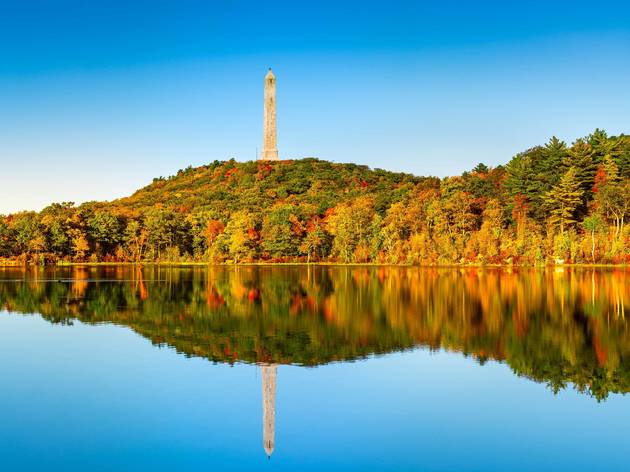 The best scenic drives in New York
You don't need a flight to see what beauty surrounds NYC—just hop in your car for the best scenic drives in New York
Sometimes you just gotta jump in the car and ride. New York City is surrounded by beautiful country lanes and scenic highways worth discovering. If you have a car or can rent one, these scenic drives in New York will induce you to roll down your window and drive at a Sunday-driver pace. From Long Island to Upstate, New York's lakes, oceans, mountains and rivers are yours to behold. You just have to know where to look. That's where we come in. We've rounded up 10 of the best scenic drives around NYC to help plan your weekend getaway.
Note: If you plan to get out of the car, wear a mask and practice social distancing. Call ahead to see if nearby businesses are open.
RECOMMENDED: The best places to go camping near NYC
Best scenic drives in New York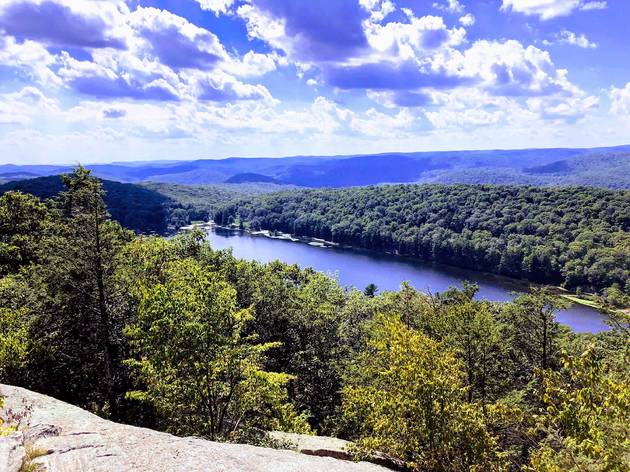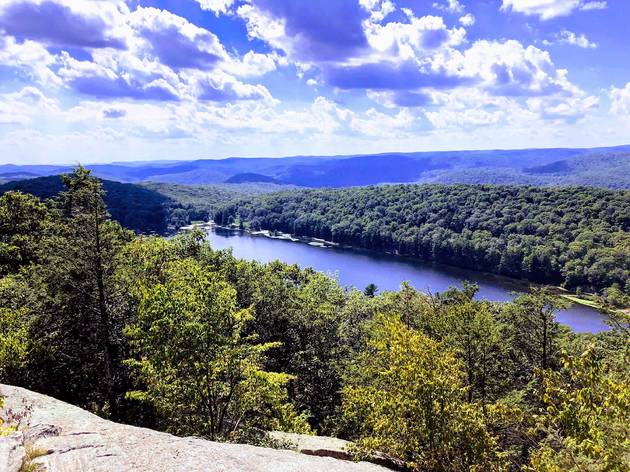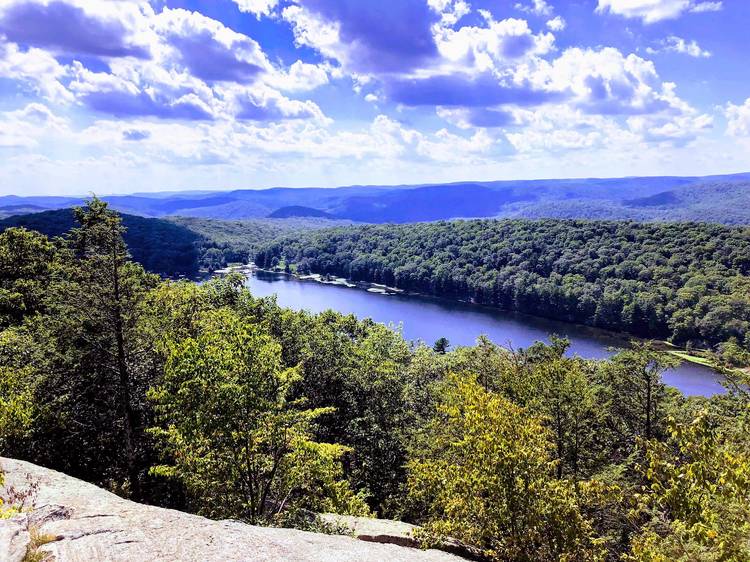 Photograph: Shutterstock
Seven Lakes Drive through Harriman State Park
Seven Lakes Drive is an 18-mile parkway in the Hudson Valley that mostly lies within Bear Mountain and Harriman state parks. As the name suggests, the drive passes by seven lakes: Lake Sebago and Lake Kanawauke in the towns of Haverstraw and Tuxedo; Lake Skannatati and Lake Askoti in Tuxedo; Lake Tiorati in Tuxedo and Woodbury; Silver Mine Lake in Woodbury; and Queensboro Lake in Highlands. The parkway winds around these lakes giving beautiful glimpses of the landscape, wildlife and more as you drive north toward Bear Mountain.

1.2 hours from NYC
Start: Sloatsburg, off State Route 17
End: Seven Lakes Drive at US 6 between Doodletown and Fort Clinton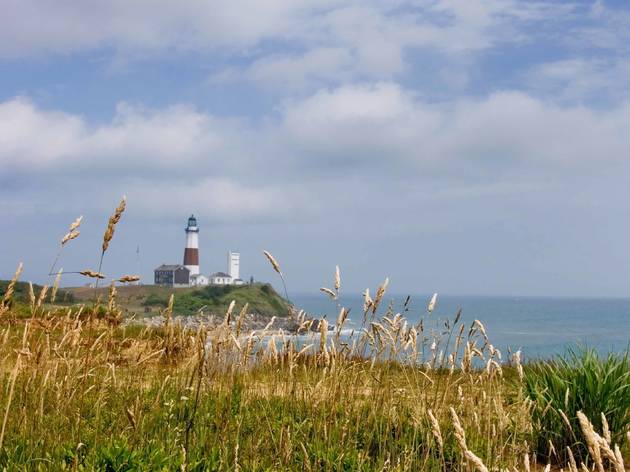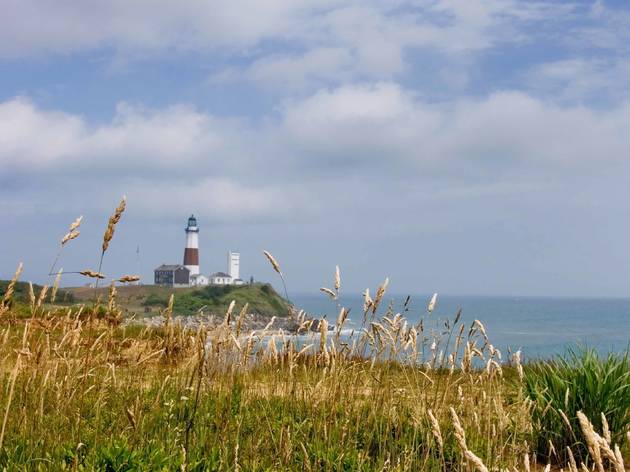 Photograph: Shutterstock
Long Island's South Fork, 27 East
If you're looking for the rustic beauty of farmland but also want views of the ocean and quaint shops that line villages, you can have it all if you head to Long Island's South Fork along NY-27 East. Once you get off Sunrise Highway, you'll find yourself in the Hamptons. Even if you can't afford to stay over, a day-trip is well-worth the drive. Montauk Highway (27 East) extends to the east all the way to the Montauk Lighthouse with the option to hop off at any point and explore various villages and hamlets (Southampton, Water Mill, Bridgehampton, Wainscott, East Hampton, and Sag Harbor) and their backroads that wind through farmland and pass massive estates.
Under 2 hrs from NYC
Start: Montauk Highway in Southampton
End: Montauk Highway in Montauk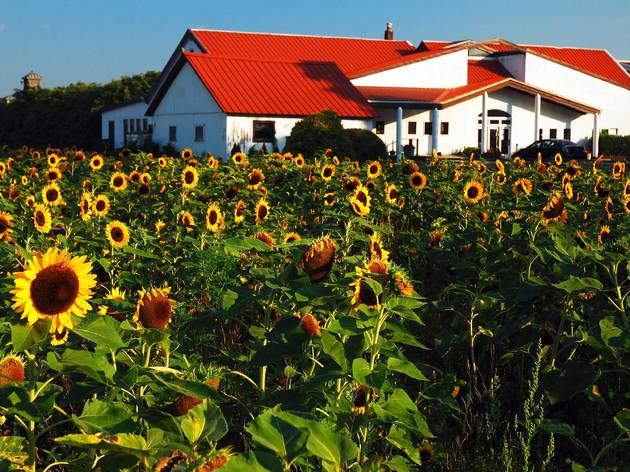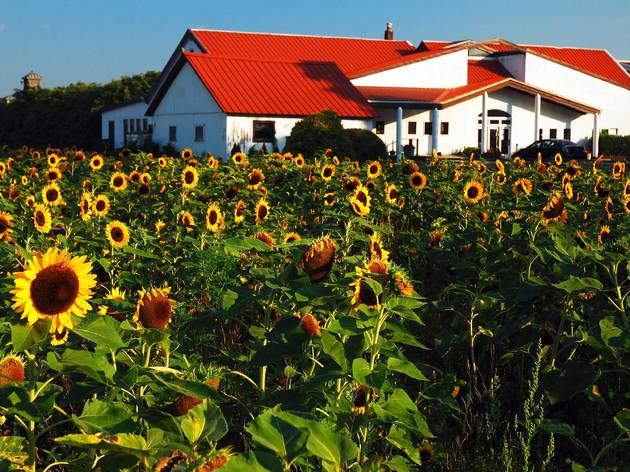 Photograph: Shutterstock
Long Island's North Fork Trail Scenic Byway
If you want to skip the Hamptons polish for the easygoing rustic charm of North Fork, take the North Fork Trail from Southold to Orient Point via Route 25. The 36-miles of roads wind through charming hamlets, dozens of wineries, expansive farms and wetlands with chances to stop and get a view of the ocean. In both the summer and fall, you can stop on the side of the road to pick up fresh fruits and vegetables farmed right on the island.
2 hrs from NYC
Start: Route 25 in Southold
End: Route 25 in Orient Point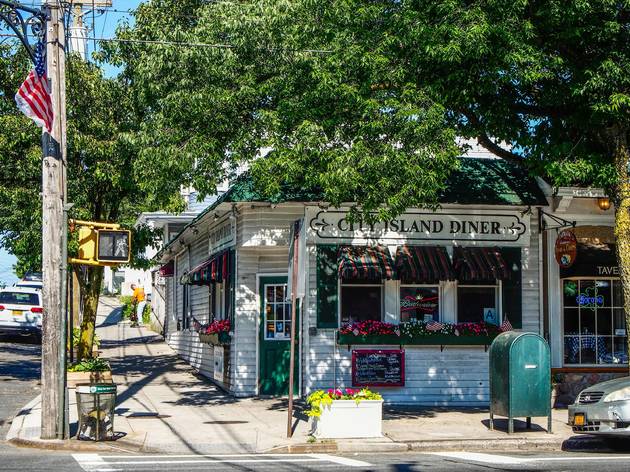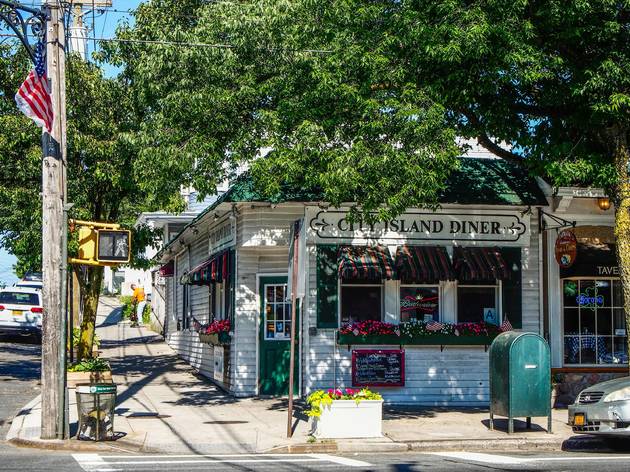 Photograph: Shutterstock
It's not well known that the city has a New England-y fishing village in its limits, but head to City Island in the Bronx to see it yourself. Get off I-95 at exit 8B onto City Island Road and you'll be there in just a few minutes. The island is only 1.5-miles long and whether you drive or walk, there's a quaint town to discover with beautiful views of Long Island Sound.
35 mins from midtown
Start: City Island Road at I-95 in the Bronx
End: City Island Road at Belden Point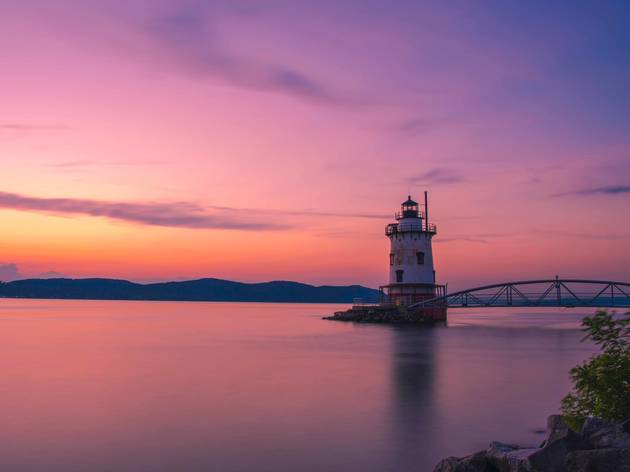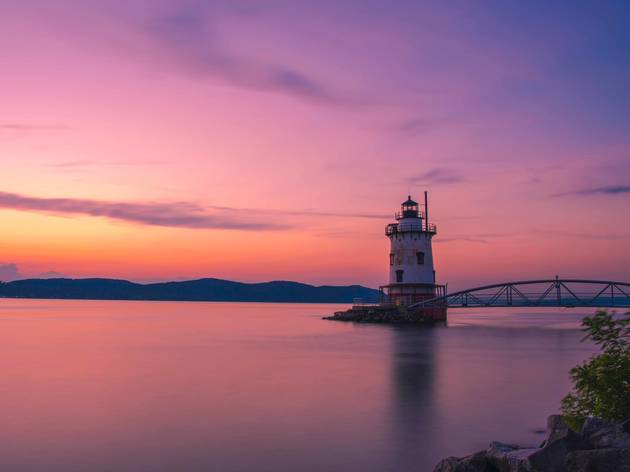 Photograph: Shutterstock
Sleepy Hollow, yes, the one from that creepy tale of the Headless Horseman, actually offers a beautiful view as you drive into it. Take Route 9 to see forest, wildflowers, rustic churches and quaint storefronts. Just off the route, you can find the Rockefeller Estate, Kykuit, as well as the Sleepy Hollow Cemetery, where famous people are buried including Washington Irving, who wrote "The Legend of Sleepy Hollow." Don't leave without crossing today's version of the headless horseman bridge.
1 hr from NYC
Start: Saw Mill River Road in Tarrytown
End: Bedford Road at North Broadway in Sleepy Hollow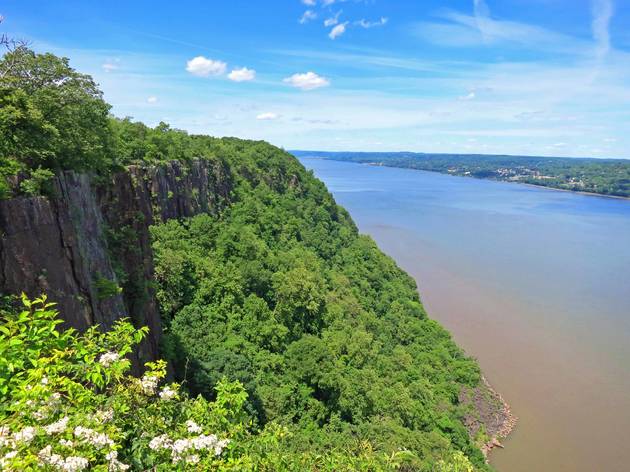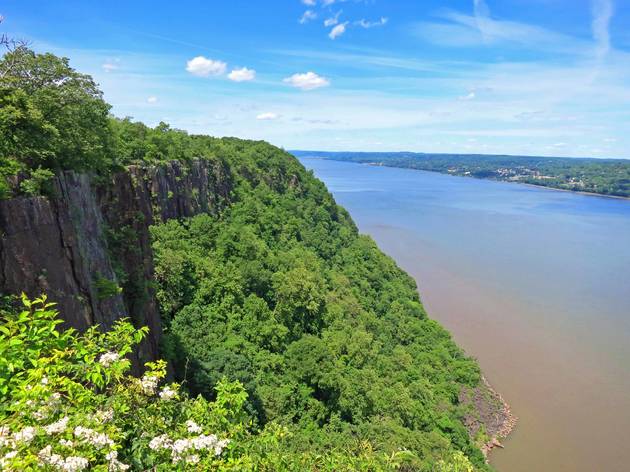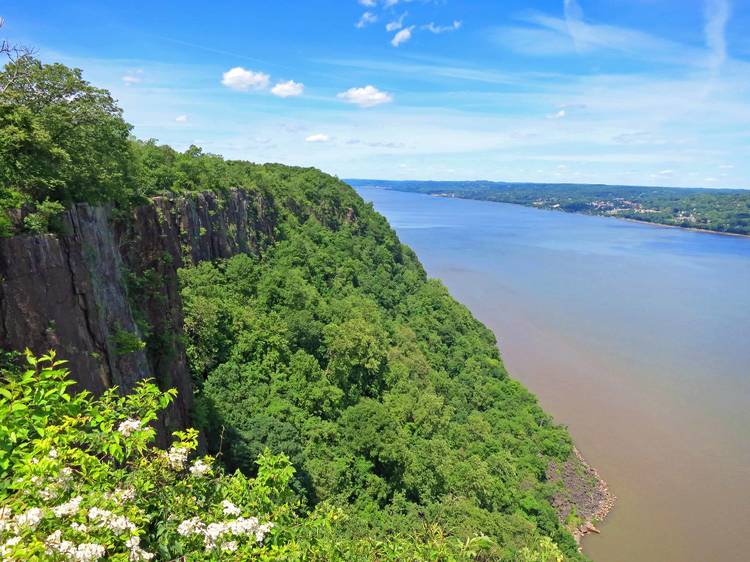 Photograph: Shutterstock
Palisades Parkway to Bear Mountain
No matter what season it is, a drive on the Palisades Parkway offers incredible views of the Hudson River Valley. The drive stretches 42 miles from the George Washington Bridge to Bear Mountain Bridge and shows off the Palisades cliffs and the river below. Pack a picnic lunch and drive to a few points along the way, including Roosevelt Lookout and the Englewood Picnic Area.
Right outside Manhattan, views can be found up to 1 hr away
Start: George Washington Bridge
End: Bear Mountain Bridge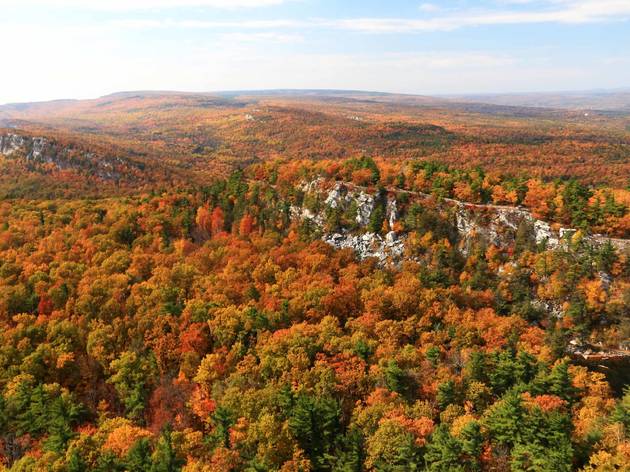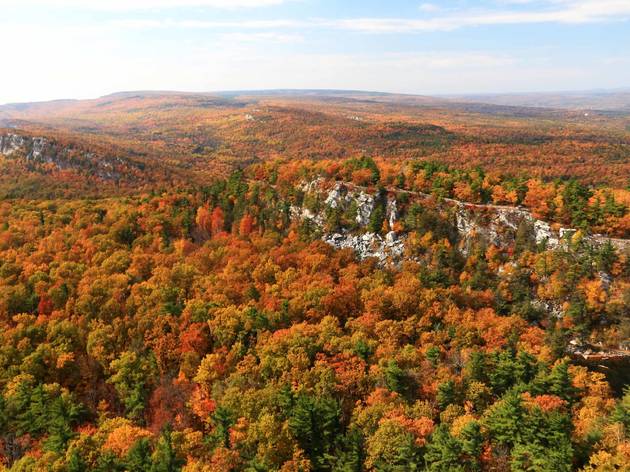 Photograph: Shutterstock
Shawangunk Mountains Scenic Byway
This 88-mile stretch passes by farmland, 30,000 acres of nature preserves and historic Dutch settlements flanked by the beautiful Catskills mountains. It begins about 90 miles north of NYC and winds around the Rondout and Wallkill valleys. The views alone should sustain your cravings for nature for awhile.
About 2 hrs from NYC
Start: New York State Thruway (I-87) north's exit 17
End: The route forms a circle around the gunks, so there's no real end!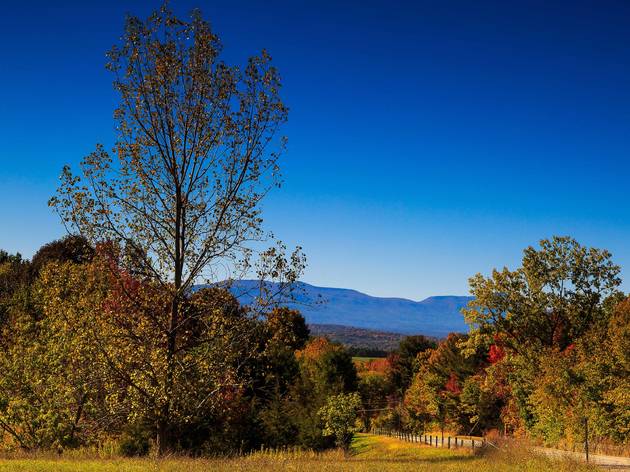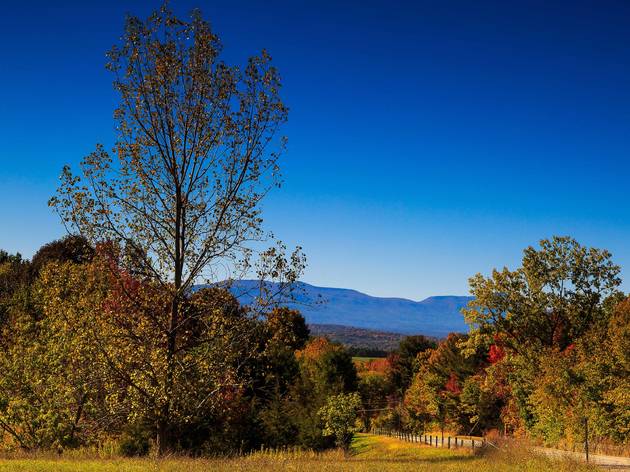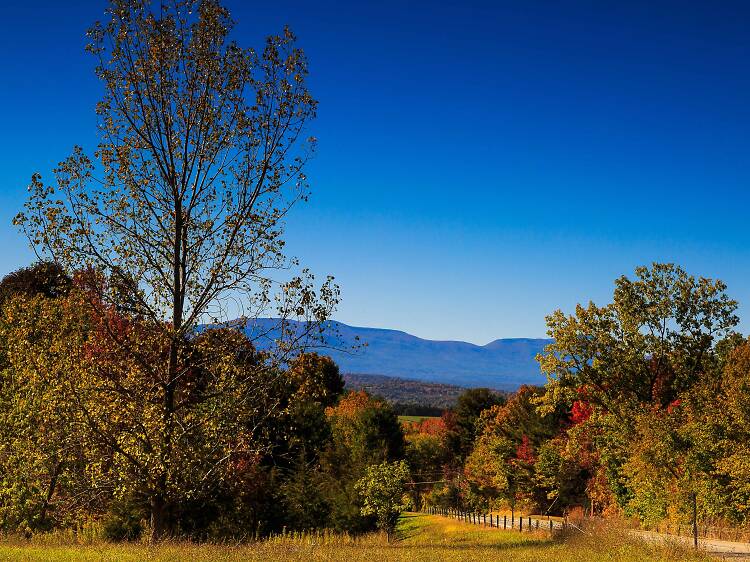 Photograph: Shutterstock
Catskill Mountains Scenic Byway
Follow this 52-mile stretch that takes you through Slide Mountain Wilderness, Indian Head Wilderness, Big Indian Wilderness, Shandaken Wild Forest, and Hunter-west Kill Wilderness. Look out your windows to see climbing mountains, shining water, rolling farmland and quaint villages. For an especially breathtaking route, take Route 214 to 23A to 32 and then to 20 for inspiring cascading waterfalls, streams, idyllic countryside and leafy forest.
2 hr 20 min outside of NYC
Start: NY-28 in Phoenicia
End: NY-28 in Andes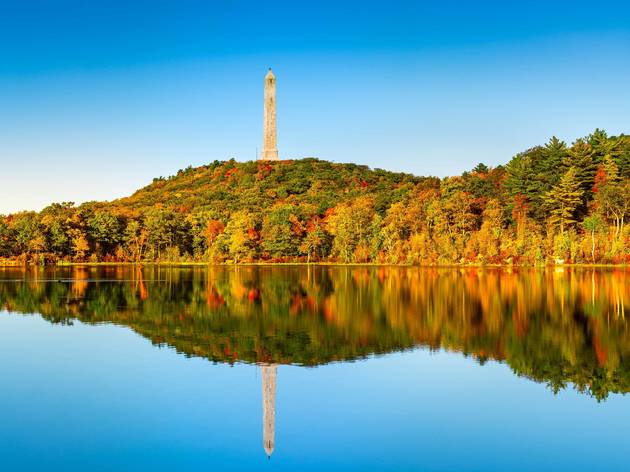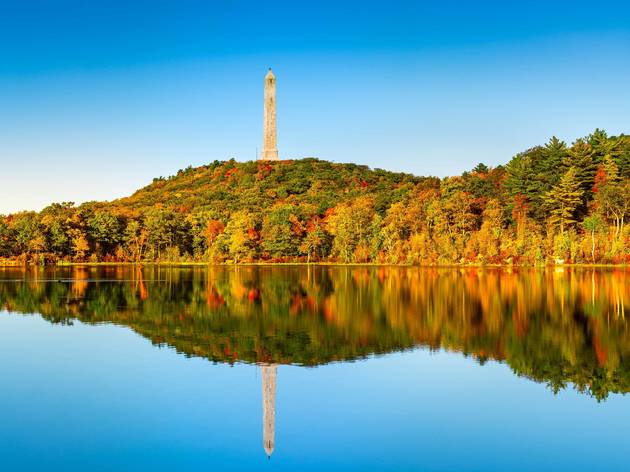 Photograph: Shutterstock
This route takes you alongside the Delaware River and around the Kittatinny Ridge, which is part of the Appalachian Trail. Myscenicdrives.com takes motorists to the Kittatinny Point Visitors Center then through Worthington State Fortest, followed by Turtle Beach and Millbrook. You'll also be able to stop in High Point State Park and end in Newton.
2 hrs from NYC
Start: Point Jervis, NY
End: Point Jervis, NY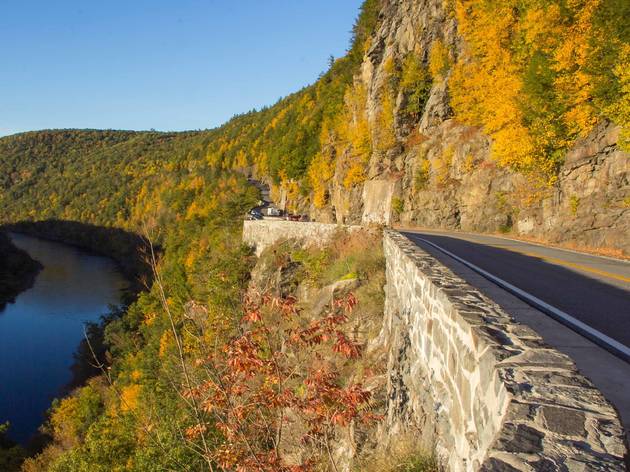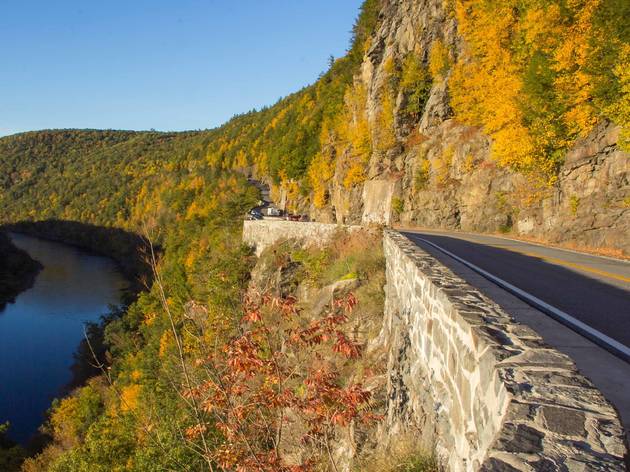 Photograph: Shutterstock
Upper Delaware Scenic Byway
The Upper Delaware Scenic Byway (NYS Route 97) includes access to the Tusten Mountain Trail, the French Woods State Forest Preserve, the Elks Brox Memorial Park, the Crystal Lake State Reservation and the Bouchoux Trail and more with the ability to stop in small towns along the way. The 70-mile route runs along the New York bank of the Upper Delaware River, which offers glimpses of cliffs and wildlife, and is nestled between the Catskills and the Poconos, so you know it's got the views.
2 hrs from NYC
Start: NY-97 in Port Jervis, NY
End: The Village of Hancock in Pensylvania
Best selling Time Out Offers