The best things to do in Chinatown, NYC
The best things to do in Chinatown, NYC include dining at eateries with authentic grub, getting your aura read and more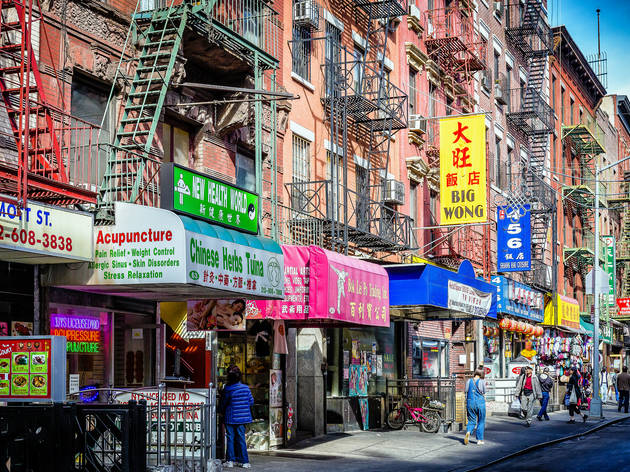 By

Time Out New York contributors and Jennifer Picht
|
Searching for the best things to do in Chinatown, NYC? We're lucky to live in a city brimming with culture and diversity, especially in bustling neighborhoods like this downtown nabe. Chinatown offers the same pork buns, bubble tea and ceramics from the East, but without a pricey plane ticket. Wander down a lesser-known street for dirt-cheap fried dumplings and some of the best dim sum in the city before hopping into a dimly lit, chemistry-themed bar serving cocktails made with fresh ingredients. Before you leave, hit one of the best gift shops in NYC for hand-painted pots and kitschy baby bok choy pins. Aside from local eateries, bars and shops, head to the neighborhood during special holiday events such as Chinese New Year. Feel like rocking out? Head to one of the best karaoke bars in Chinatown to have your diva moment.
RECOMMENDED: The full Chinatown NYC guide
Best things to do in Chinatown, NYC
The budget-friendly dim sum spot has served delicious bite-size Chinese grub since 1920­. Fill up on roast pork buns, shrimp rice rolls and pan-fried noodles.
By combining the powers of mysticism and the digital age using a special camera and a handheld energy reader, this Chinatown occult shop takes phantasmagoric, personalized aura photographs of folks who want to learn about the energy they keep and the vibes they give.
Every inch of this block-spanning mart is packed with Chinese staples: Lacquered roasted ducks hang in the butcher shop; neat rows of egg tarts fill the bakery displays; and prepared-food stations hawk pay-per-pound delicacies like shredded pig's ear, stewed tendon and gamy beef tongue.
Museums, Special interest
Since 2012, this truly hidden museum has been displaying the seemingly ordinary as extraordinary in a tiny abandoned Tribeca elevator shaft. Oddities and quirky objects like a collection of cornflakes (yes, as in the cereal) and "not bombs" (items like a Taco Bell wrapper and a dildo with an LED light that were once mistaken for bombs) are displayed on the brightly lit shelves. The exhibits are eclectic to say the least, and the museum itself certainly leaves visitors with plenty of questions, both regarding their relationship to objects and to the nature of art.
This dive is located up a narrow set of stairs (big shock) above a bus pickup point in Chinatown. Most people would agree that this no-frills place is the best option for those on a budget, since you don't have to pay for a private room. We encourage you to sing in front of the usually supportive crowd and just let loose while sipping brews on tap.
Things to do, Classes and workshops
If you want to get serious about watercolors, then the guys here can help. Michiyo offers weeklong courses at the New York Academy of Art for $425 if you're ready to really commit to being a starving artist.
Moon cakes—the Chinese answer to the holiday fruitcake—are traditionally enjoyed during China's Mid-Autumn Festival, but this bare-bones bakery doles out the special-occasion sweet year-round. Owner Tak Law—a Hong Kong native—fills the mini cakes with dense lotus-seed paste, lending them a light nuttiness. The cakes are punctuated with a rich, cooked-through duck egg yolk that adds a nice salt (and, when cut in half, resembles a moon).
Shopping, Specialist food and drink
Owner Lorna Lai knows her teas the way a sommelier knows terroir. Curious sippers peruse the well-stocked shelves of the Hong Kong native's nook, which boasts more than a thousand jarred loose-leaf varieties from around the world, available by the ounce, Lai's house-made herbal blends are standouts, in exotic flavors like holy basil and bilberry.
Get ready for one of the best NYC events in February: Chinese New Year! NYC will be chock-full of dragon dances, vibrant floats and yummy vendor foods during the annual celebration.
Looking for more spots to eat in Chinatown?
New York's best Chinatown restaurants are more than dim sum and Peking duck