Heads up! We're working hard to be accurate – but these are unusual times, so please always check before heading out.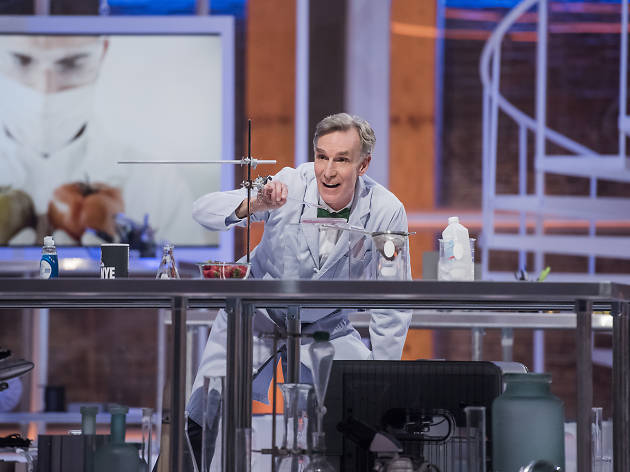 Bill Nye returns with a new Netflix show
The Science Guy is back with a new series, Bill Nye Saves the World, and ways for New Yorkers to save the environment
The TV scientist who made learning fun for a generation of kids returns this spring with a new Netflix series, Bill Nye Saves the World. Before its Friday April 21 premiere and a special sneak preview at the Paley Center for Media, the iconic Science Guy schools us about how New Yorkers can make a difference, what challenges the climate faces and his favorite earth-friendly New York attractions.
Tell me about the new show.
The mission is to save the world, to revolutionize, change the course of human history—in a half hour. How hard could it be? We want to approach issues facing our society from the scientific point of view. We're living in an extraordinary time where there's a nominal feeling that if you believe something hard enough, it's every bit as good as evidence. And the claim in science is that, really, that's not true.
What's the biggest challenge facing science today?
What I'm worried about is scientific illiteracy. If you like to worry about things, this is a great time.
What needs to be done?
Take in as much information as you can. Evaluate it for yourself. What we want is not for people to get the facts of science but to get the process.
You're a New Yorker. What are some of your favorite science resources in the city?
If you want to learn more about science and technology, go to the American Museum of Natural History. That's the best [money] you'll ever spend!
How can New Yorkers live more sustainably?
It's very important not to throw away your water bottles. Recycle as much as you can. But we need big things. Big wind turbines. Big photovoltaic systems. Big energy storage systems like batteries or hydroelectric dams. Big stuff! And that comes from voting.
How urgent is the climate situation?
I'm a single-issue voter: climate change. The evidence is overwhelming, the opportunities are enormous. We'd have domestic jobs, we would get off fossil fuel burning. We would be world leaders, the way many people around the world expect the United States to be. When we go to climate conferences, people just wring their hands: What happened to you guys? The sooner we get to work, the better.
How could climate change affect New York?
You know about the BIG U, a system of seawalls [designed by architecture firm Bjarke Ingels Group]? Estimates vary, but $4 billion was lost in [Superstorm] Sandy. Those kind of investments are going to be very important. If you have congressional representatives and the head of the Environmental Protection Agency claiming there's nothing to be worried about, we're headed for trouble.
Trying to figure out what to do on Earth Day?
Go green with these events for Earth Day. NYC celebrates with concerts, park clean-ups and more.