Ultimate Brooklyn Flea in NYC guide
Brooklyn Flea—the mac daddy of outdoor bazaars—has a new warm-weather home at Hester Street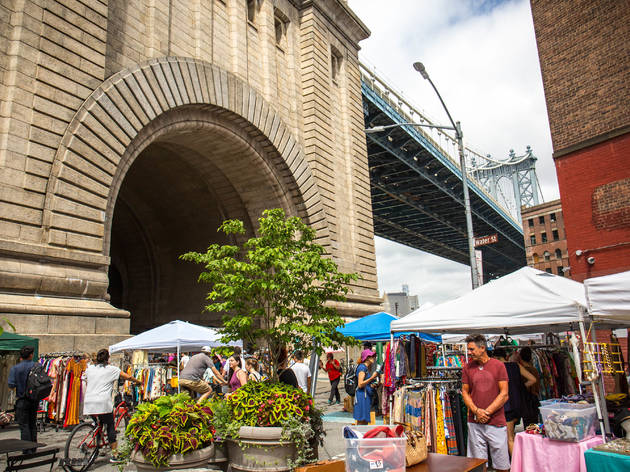 The Brooklyn Flea is undoubtedly one of the most popular flea markets to hit in NYC if you're looking for the best selection of throwback wares and records, which you certainly wouldn't find in just any vintage clothing store or record store in the city. The food selection is also top-notch since the creators also operate one of the city's best food markets: Smorgasburg.
Here's what you need to know about Brooklyn Flea for 2021.
What's new at Brooklyn Flea?
Big news—Brooklyn Flea just launched the new Hester Flea this summer, which pops up on Saturdays at Hester and Essex streets, from 11am to 6pm. Here, you can peruse a selection of goods by 15 or so vendors.
What can I buy at Brooklyn Flea?
For midcentury Dutch furniture, visit Van der Most Modern. Dan's Parents' House hawks tchotchkes and oddities, like a bucket of eyeballs (not real ones, silly!). Savannah Hope sells ceramics from yesteryear, and Joan Van Hees is your vintage go-to: Her stash of throwback apparel is the most reasonably priced ($10 to $200), too.
What is there to eat at Brooklyn Flea?
The Flea doesn't offer as many bites as Smorgasburg, but when the shopping fatigue sets in, there are a few food vendors selling their drool-worthy munchies at the Dumbo location. Saturday flea-goers can walk a couple blocks down to East River State Park to satiate their hunger at Smorgasburg. Past highlights: pork buns from C Bao, Indian grub from Dosa Royale, shaved iced by People's Pops and pizza from Wood Fired Edibles.
Where is Brooklyn Flea?
Brooklyn Flea is also back in Williamsburg every Saturday on Kent Avenue at North 6th Street from 10am to 5pm and in Chelsea all weekend from 8am to 5pm at 29 West 25th Street.
FYI: You can still experience the Flea's town-square vibe at its alfresco Dumbo location on Sundays. The market moved farther down the waterfront to the cobblestone streets of Pearl Plaza in 2016, which brought in a ton of foot traffic. This European-style iteration continues to spotlight roughly 65 to 70 vendors that display their goods beneath the Manhattan Bridge
Know before you go
Aside from hitting the snooze button, what's the first thing you do in the morning? Peep your Insta feed, duh. Checking Brooklyn Flea's page (@bkflea) is exactly what cofounder Eric Demby suggests you do: The feed posts about the cool events, from concerts and apparel customization, going down at the flea.
Brooklyn Flea in NYC guide
Archive Brooklyn Flea coverage