Ultimate Guide to Smorgasburg 2019
Smorgasburg 2019: here's everything you need to know about the ninth season of Brooklyn's favorite food festival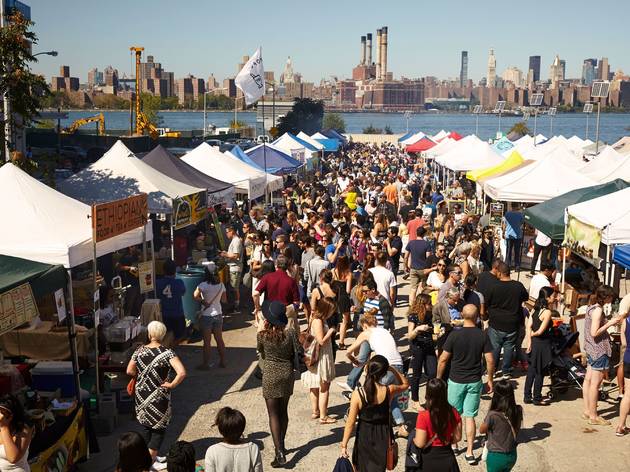 New Yorkers love eating outside, whether it's at one of the city's best outdoor brunch spots, elevated rooftop bars or open-air food flea markets like Brooklyn's famed Smorgasburg. A favorite amongst locals and tourists alike, Smorg features nearly 100 vendors selling seriously delicious and graciously cheap snacks. This is your handy guide to everything Smorgasburg 2019 has to offer.
What is Smorgasburg?
Smorgasburg is an annual food flea market put on by Brooklyn Flea founders Eric Demby and Jonathan Butler featuring up to 100 vendors in various locations in Brooklyn and Manhattan.
When is Smorgasburg?
Smorgasburg is every Saturday and Sunday from 11am–6pm from April through November, rain or shine. And on Fridays, from 11:30am - 7pm.
Where is Smorgasburg?
Smorgasburg is at Williamsburg's East River Park (Kent Ave and North 7th Street) on Saturdays and at Prospect Park's Breeze Hill on Sundays. And, starting April 12th, every friday there will be a 25-vendor food fair held near the Oculus at the Westfield World Trade in FiDi.
Smorgasburg 2019
The complete list of Smorgasburg 2019 outdoor vendors
Smorgasburg is back with a spanking new outdoor line-up, opening for the spring/summer season on April 6th. We can't believe it's already been nine—nine! seasons of Franken-foods. In addition to Smorgasburg's Williamsburg East River State Park location (Saturdays) and Breeze Hill in Prospect Park (Sundays), this year you can also expect a new Friday food market near the Oculus at Westfield World Trade Center. What to see our hit-list? Check it out here.    Fluffies soufflé pancakes Photograph: Courtesy Brooklyn Flea       Lobster sticky rice platter from Jing Fong Photograph: Courtesy Brooklyn Flea     Amazeballs (Saturday + Sunday) The Better Pop (Saturday only) The Blue Chicken (Saturday + Sunday) Borrachito (Saturday + Sunday)  Chofi Familia (Saturday Only)  Crack'd (Saturday + Sunday)  Fluffies (Saturday + Sunday)   Gourmet by Nuno (Saturday + Sunday)  Jing Fong (Saturday + Sunday) Kochin (Saturday + Sunday)  La Tropikitchen (Saturday + Sunday)  Millers and Makers (Saturday + Sunday)  Muzzles (Saturday only) Nansense (Saturday + Sunday)  Petisco Brazuca (Saturday + Sunday) The Pizza Cupcake (Saturday + Sunday) Sons of Thunder (Saturday + Sunday)    Tojo's Kitchen (Saturday + Sunday)  Smør (Saturday + Sunday)  Vayalo Cocina (Saturday + Sunday)  Wonton Tiva (Saturday only) Yumpling (Saturday + Sunday)    Kombucha pops via The Better Pop Photograph: Courtesy Brooklyn Flea    
The best franken-foods at Smorgasburg's 2019 outdoor line-up
Smorgasburg is back with a spanking new outdoor line-up, opening for the spring/summer season on April 6th. We can't believe it's already been nine--nine! seasons of Franken-foods. In addition to Smorgasburg's Williamsburg East River State Park (Saturdays) location and Breeze Hill in Prospect Park (Sundays), this year you can expect a new Friday food market near the Oculus at Westfield World Trade Center. Thanks to a sneak-preview, we're sharing our favorite new vendors to look out for:  Vendy-award-winning veggie korma at Nansense (Saturday + Sunday): Named "Rookie of the Year" at the 2018 Vendys (the Oscars for food trucks) expect Nansense's Afghan comfort food staples like mantu (Afghan dumplings) and veggie or chicken korma.  Vietnamese flan coffee jelly treats at Kochin (Saturday + Sunday): Inspired by afterschool snacking on flan doused in coffee in their native Vietnam, Kochin is a modern day interpretation of the French-Vietnamese treat. The massive dessert features flan, caramelized bananas, coffee ice cream and jellies, as well as a pipette filled with Vietnamese coffee. Pairing their backgrounds in food science and fashion, this dessert is aesthetically pleasing and honestly delicious, but you'll definitely need a friend to help you finish the heaping sweet.    Mantu at Nansense Photograph: Courtesy Nikki Gomez       Muzzles' german dumpling sandwiches Photograph: Courtesy Brooklyn Flea     Traditional german dumplings-turned-sandwiches at M
Archive Smorgasburg content