Heads up! We're working hard to be accurate – but these are unusual times, so please always check before heading out.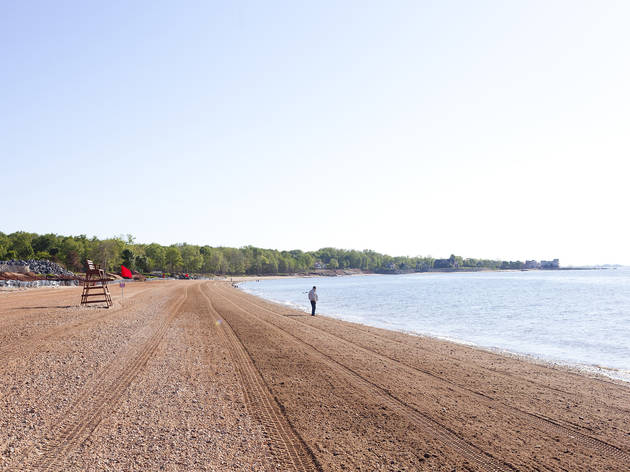 1/19
Photograph: Agnes Thor
Wolfe's Pond In the deep south of Staten Island, this lush, more-than-300-acre green space was formed by glacial movement 20,000 years ago, and boasts enough plant and animal life to make you feel like you're in Jurassic Park. Passing through the bucolic neighborhood of Prince's Bay en route to the entrance begins to calm the mind, and as you continue farther south, narrow woodland trails, which can be hiked or biked, disappear invitingly into the dense foliage on either side of the street. The virtually empty beach—bordered by a playground, a tennis court and a Battle of the Bulge monument—features fine red, clay-based sand and has lifeguards on weekends and holidays through Labor Day. The shore gives way to the glassy, blue surface of freshwater inlet Raritan Bay, where 19th-century fishermen and oystermen made their living. Stand still long enough at its Japanese-honeysuckle-ringed edge, and you'll hear yellowthroat birds warble, see a turtle slip beneath the water's surface, and view a stalking heron snatch a bass for lunch. Getting there: Even though it's at the southern end of the island, the trip doesn't involve buses (hallelujah). From the Staten Island Ferry, take the 30-minute journey on the Staten Island Rail to Prince's Bay, walk south on Seguine Avenue, turn left onto Hylan Boulevard and continue to Cornelia Avenue. Cornelia Ave at Hylan Blvd, Staten Island (nyc.gov/parks)—Christopher RossMouse over the image and click the right arrow to continue through the slide show.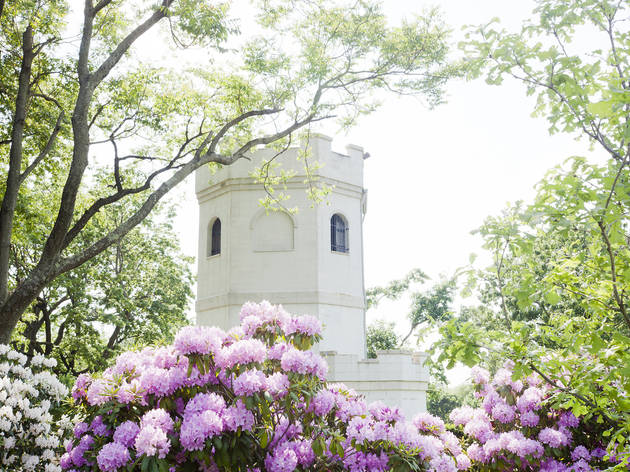 2/19
Photograph: Agnes Thor
Snug Harbor The variety of attractions at this historically rich 19th-century estate—museums, performing-arts venues, a botanical garden, a greenhouse,  and a fruit-and-veg farm—makes this a perfect destination for day-trippers. A weekday visit will increase your chances of experiencing two magical hideaways undisturbed: Weave through a labyrinth of bushes behind a diminutive castle to see the Connie Gretz Secret Garden, a brick-walled alcove under a thick tree canopy inspired by Frances Hodgson Burnett's beloved 1911 novel. Just steps away, you'll find the peaceful New York Chinese Scholar's Garden, featuring Chinese poetry and calligraphy on the walls of eight pavilions, as well as a koi pond, waterfalls and large rock formations. Getting there: From the Staten Island Ferry, connect to the S40 bus at the terminal's gate D for a ten-minute ride to Richmond Terrace at Snug Harbor Road. 1000 Richmond Terr between Snug Harbor Rd and Tysen St, Staten Island (718-448-2500, snug-harbor.org). $5, seniors and students $4, children under 12 free.—Alexandra Kadlec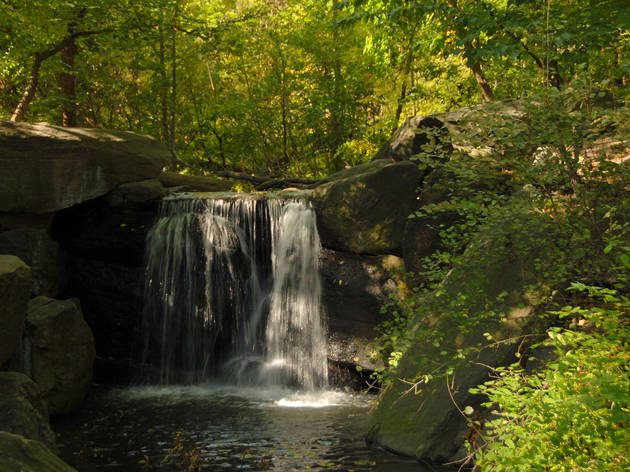 3/19
Photograph: The Central Park Conservancy
Central Park Though the park welcomes as many as 250,000 visitors on a summer Sunday, peace seekers can find serenity in the 40-acre North Woods, on the west side between 101st and 110th Streets. Wander and take in the wilderness—towering trees, chipmunks and mallards—along winding trails, with nary a passerby or trash can in sight. The dense, verdant canopy even hides the surrounding buildings. When you've tired yourself out, plop down alongside the picturesque Loch (midpark between 102nd and 103rd Sts), a narrow stream dotted with three waterfalls. As you savor the woodsy smells, and the sound of birds chirping and water cascading, you'll feel like you're in your own tranquil forest—which is exactly what the park's creators wanted: Frederick Law Olmsted and Calvert Vaux designed the area to replicate the Adirondack Mountains. If you're seeking an even more reclusive urban oasis, try the Hallett Nature Sanctuary, a preserve open to the public June 17, 24, July 15 and August 12 at 1pm. Check out the free 20-person tours (east side between 60th and 62nd Sts; next tours July 14 and August 17 at noon; visit centralparknyc.org for reservations). Getting there: Take the 6 train to 103rd St. Enter at Fifth Ave and 102nd St—Marley Lynch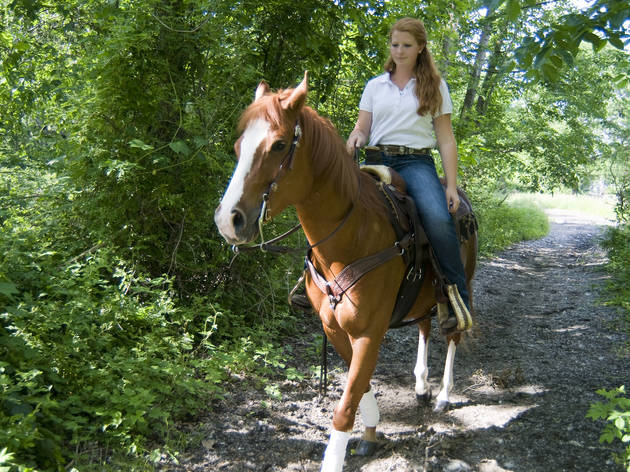 4/19
Photograph: Alex Strada
Bronx Equestrian Center At the edge of Pelham Bay Park, just across the Pelham Bridge, you'll find this rustic stable that's home to almost 70 horses and ponies—plus a few cats and a couple of bunnies. A guide will set you up with a mount based on your skill level (no experience necessary). Climb into the saddle, and your horse will follow your guide without you having to do much besides hold the reins. The hour-long amble follows the Pelham Bay Park Bridle Path, commissioned by Robert Moses in 1937 (see, the guy wasn't all bad). The hoof-marked route winds beneath towering trees, past lush marshes and under a rusting railroad bridge. Sure, you'll glimpse the occasional apartment building through the leaves; but surrounded by green and lulled by the rhythm of the horse's motion, you'll swear you've traveled much farther north than Eastchester Bay. If you come during the week, you may get the ride and the guide to yourself; on weekends, outings tend to be more crowded. No reservations are necessary unless you're coming in a group of ten or more. If you want to learn how to move faster than a walk, make an appointment for a lesson ($40/half hour, $65/hr). Getting there: Ride the 6 train to Pelham Bay Park, 50 minutes from midtown, then take the Bx29 bus one stop; the center is right across the street. 9 Shore Rd between City Island Rd and Orchard Beach Rd, Bronx (718-885-0551, bronxequestriancenter.com). $35/hr.—Jenna Scherer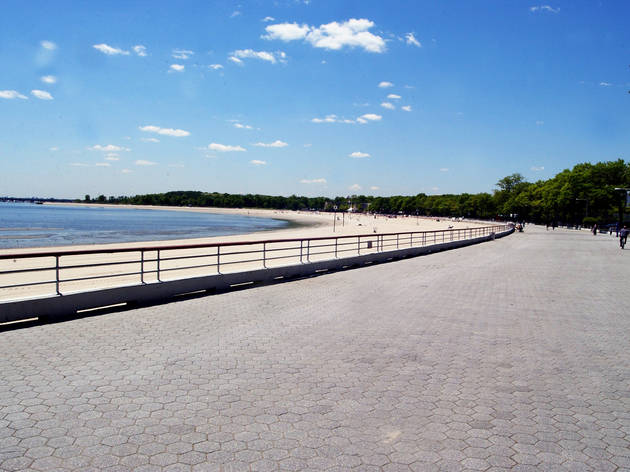 5/19
Photograph: Malcolm Pinckney/NYC Parks
Orchard Beach Pelham Bay Park's oceanfront is an ideal setting for any group that can't decide between lazing and exploring. Those yearning to sun themselves in peace on the curved, mile-long stretch's smooth, white sand should make for the designated quiet areas (where there's no swimming allowed) at either end of the beach. The adventurous can voyage into the surrounding greenery with the assistance of the Rangers manning the on-site nature center on weekends: They offer free scheduled programs such as fishing (visit nycgovparks.org/programs/rangers for more information), nature walks and canoeing. To get away from the madding crowd, hike the nature trails on Hunter Island and Twin Island (maps are available at the nature center and via pelhambaypark.org), which begin at the north end of the beach. The isles' terrain is the southernmost outcropping of the New England coast; the moss-covered rocky shoreline is like a piece of Maine, complete with views of passing sailboats, right in the Bronx. Getting there: The beach is only a five-minute bus ride from the end of the 6 line; look for signs for Orchard Beach buses as you exit Pelham Bay Park station. Park Dr at Orchard Beach Rd, Bronx (718-885-2275, nyc.gov/parks)—Lauren Piro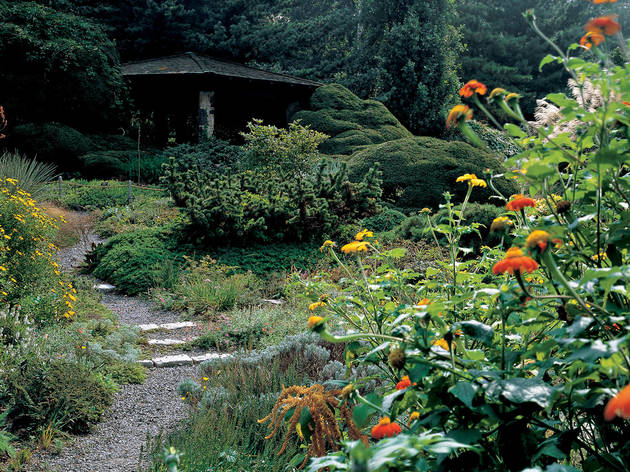 6/19
Photograph: Mick Hales
Wave Hill The stately 170-year-old mansion on this family-owned estate on the banks of the Hudson reopens after a two-year, $9.7 million overhaul. Check out the restored architectural details, from the wooden front door to ornamental moldings, as well as the expanded café, serving food ($5–$15), wine and beer ($8–$10) on an adjacent terrace with a view of the Palisades. Wave Hill's carefully landscaped grounds hold the greatest allure, with roses, a fragrant herb garden, century-old cherry trees, and an aquatic area with frogs and goldfish. For an easy after-work trip, attend Sunset Wednesdays (July 7–Aug 13), when the grounds stay open until 8:30pm. Musicians play while people loll on the expansive Great Lawn with a glass of wine or a box dinner from the café, watching the light fade. To find some privacy, amble toward the Wild Garden, where the greenery is less meticulously structured and narrow paths wind around a shady gazebo. Seek out the small bench nearby, with a mosaic of flower petals laid in brickwork on the ground; it's a cozy nook for reading, scribbling or a long chat. Getting there: Wave Hill provides a free shuttle bus from the Riverdale Metro-North station (25 minutes from Grand Central), or from the 242nd St–Van Cortlandt Park 1 train stop. W 249th St at Independence Ave, Bronx (718-549-3200, wavehill.org). $8, seniors and students $4, children $2, children under 6 free.­—Hana R. Alberts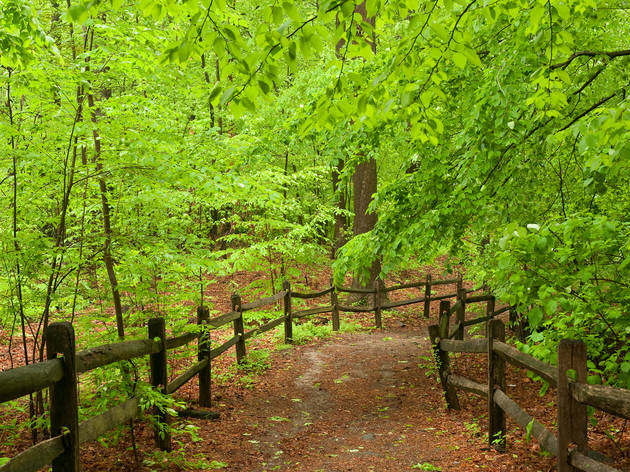 7/19
Photograph: Ivo M. Vermeulen/Courtesy The New York Botanical Garden
Thain Family Forest in the New York Botanical Garden Even if you're the kind of person who gets lost in the Manhattan grid, you'll be able to find your way in this 50-acre native-forest remnant, dating to the 17th century. Maps of the area are at every trailhead, and well-placed colored arrows guide those without a sense of direction (like us). The former Stone Mill dam site boasts a magnificent waterfall: Take Bridge Trail for an up-close look, peering underneath the bridge to see trees gnawed by a colony of beavers, or get an aerial vantage point from Mill View Trail. On the northern and southern ends of the forest is Spicebush Trail, shaded by enormous trees, from which you can glimpse the Bronx River. Keep an eye out for pileated woodpeckers, which are the size of crows and have distinctive red plumage on their heads. Lazybones can simply unwind on the recently restored benches along the forest's trails, which have been sawed from Thain timber—there's no easier way to become one with nature than by planting your ass on it. Getting there: The Metro-North Harlem line travels from Grand Central to the Botanical Garden stop in 20 minutes (one-way $4–$6.25). Otherwise, the Bedford Park Blvd station (B, D, 4) is 30 minutes from midtown; from there it's a 20-minute walk or seven-minute ride on the Bx26 bus to the entrance. 2900 Southern Blvd at Bronx Park Rd, Bronx (718-817-8700, nybg.org). $20–$25.—Kenny Herzog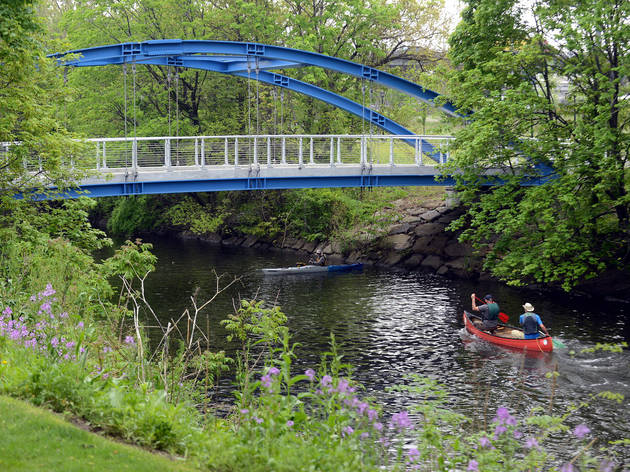 8/19
Photograph: Malcolm Pinckney
The Bronx River Thanks to massive restoration efforts, this 23-mile-long pastoral artery can stop onlookers in their tracks—or inspire them to travel its length. There are six public launch spots for canoes and kayaks—if you have your own vessel, you need just a $25 permit. Otherwise, the Bronx River Alliance hosts free community rowing every week from Hunts Point Riverside Park (Lafayette Ave at Edgewater Rd, Bronx; rockingtheboat.org; Sat noon, through Aug 30) and offers paddling outings between spring and fall, departing from Hunts Point Riverside Park (Lafayette Ave at Edgewater Rd, Bronx; bronxriver.org; various dates and time; free–$25, registration required). Hunts Point Riverside Park connects with the ever-growing Bronx River Greenway, which currently stretches from Muskrat Cove Park at 233rd Street, through Shoelace park, past the New York Botanical Garden's northern end, to east Bronx's Woodlawn neighborhood. The Greenway's many pleasant scenes include the twin spans of the Duncomb Arched Bridges, whose reflections in the water are particularly picturesque. And just north of the Botanical Garden, between Allerton and Burke Avenues, summer leisure seekers can disappear inside the Bronx River Forest, one of NYC's last hardwood forests and functioning floodplains, which herons, muskrats and turtles have been known to call home. Getting there: Reach Hunts Point Riverside Park via the 6 to the Hunts Point Ave station. All trips are about 30 minutes from midtown.—Kenny Herzog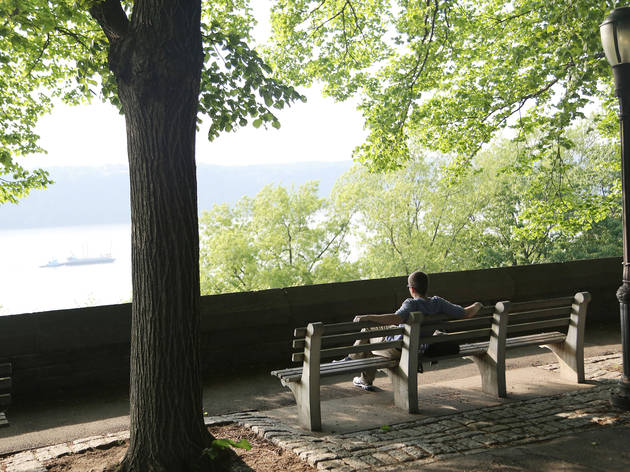 9/19
Photograph: Whitney Lawson
Fort Tryon Park Spanning 67 acres and teeming with gardens, grassy alcoves and trails perfect for mini hikes, this secluded park feels a world away from Manhattan's hustle. Save an afternoon, if not an entire day, for your visit—a leisurely pace is best for taking in the fresh air, the colorful blooms of peonies, poppies and hydrangeas, and sweeping views of the Hudson River. If you're in search of solitude, escape to Linden Terrace—a spacious, bench-lined setting shaded by towering, leafy trees (welcome replacements for skyscrapers)—with nothing more than a book and your thoughts. Otherwise, bring some friends for a picnic on Billings Lawn and, at the north end of the park, a tour of the Cloisters(metmuseum.org; suggested donation $25, seniors $17, students $12, children under 12 free), the branch of the Metropolitan Museum that houses an impressive collection of medieval European religious and domestic art and architecture. Getting there: Take the A train to 190th St, approximately 40 minutes from midtown. Margaret Corbin Circle, Fort Washington Ave at Cabrini Blvd (212-795-1388, forttryonparktrust.org)—Alexandra Kadlec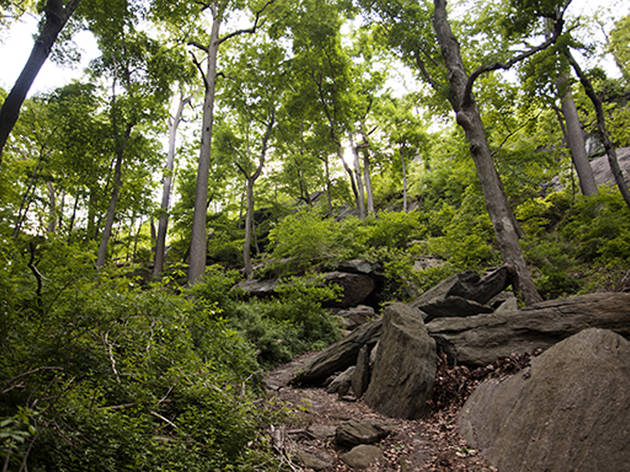 10/19
Photograph: Jennifer Arnow
Inwood Hill Park For an otherworldly trek, visit this leafy forest and wend through a maze of partially marked, slowly sloping paths (find outlines of the trails at mappery.com/inwood-hill-park-trail-map). The dense foliage and beautiful sky-high trees—which rise to a height of more than 100 feet and create a full canopy—make it easy to forget you're still in the 212 area code (in fact, it can feel almost creepily secluded, so we recommend going with friends). Hike to the top of the hill in the park's northwest corner; perched above the Henry Hudson Parkway, you'll find an overlook where you can gaze upon the Palisades and, aside from the George Washington Bridge, see barely any trace of city life. Try to locate the park's small shelters—natural rock formations that the Lenape used as shelters before the arrival of the Dutch—by taking the path along the field near West 218 Street. To recuperate post-hike, stop for a cup of Counter Culture coffee ($2–$4.50) or a selection from the extensive craft-beer list ($5–$18) at Indian Road Café(600 W 218th St at Indian Rd; 212-942-7451, indianroadcafe.com). Getting there: To visit the overlook and caves in the nothern section of the park, take the A to 207th St–Inwood or the 1 to 215th St; to explore the southern portion, take the A to Dyckman St. Each trip is approximately 40 minutes from midtown. Enter at Indian Rd and 218th St (nyc.gov/parks)—Nadia Chaudhury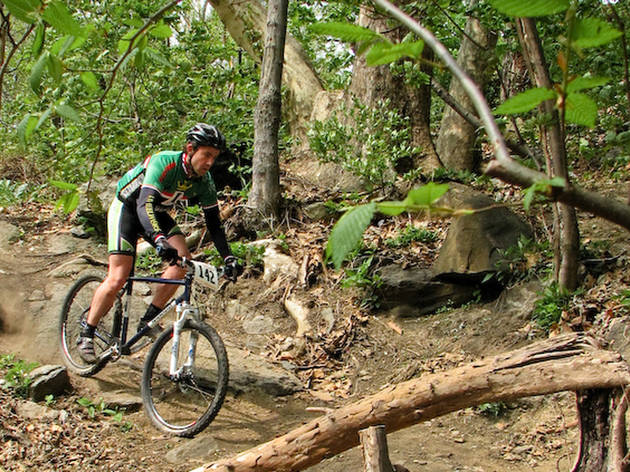 11/19
Photograph: NYCMTB jvw997
Highbridge Park What should an outdoorsy New Yorker do on a gorgeous day? Head to an exceptional spot for mountain biking and BMXing. The bikeless or fixie riders can rent appropriate wheels from Tread Bike Shop, three blocks from the park (250 Dyckman St between Payson and Seaman Aves; 212-544-7055, treadbikeshop.com; $8/hr, day $30, overnight $40). The New York City Mountain Bike Association (nycmtb.com), which builds and maintains the trails, offers detailed maps, descriptions and guidance for noobs on its website (its beginner sessions on the last Saturday of each month continue throughout summer months). The NYCMTB recommends newcomers start with the pump track at 193rd Street and Amsterdam Avenue's extension; the idea is to use an upper-body pumping motion to propel yourself around the dirt-mound course. From there, greenhorns can pedal on the Speedway trail underneath shadows cast by towering cliffs, while experts can seek out the Rough Ryder Trail (named for a roller coaster once active on the site), which offers sterling Harlem River views in addition to a ride through Hessian Hill, an American Revolution battleground. Getting there: Take the 1 train to Dyckman St for the trails; from there it's a short cycle along Fort George Hill to the trailhead. Alight the 1 train at 191st St for the pump track. Both journeys take about 30 minutes from midtown. Enter at 191st St at Amsterdam Ave (212-639-9675, nyc.gov/parks)—Kenny Herzog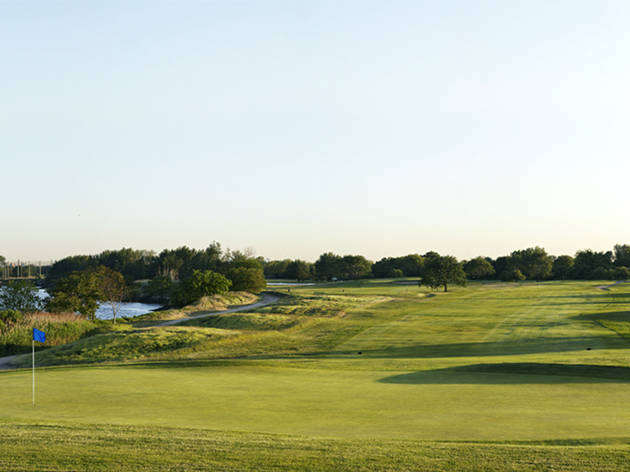 12/19
Marine Park Golf Course Perhaps surprisingly, NYC has an impressive variety of golfing options. This beautiful 18-hole waterfront is great for beginners (there's an irons-only driving range, and chipping and putting greens to practice on) and for nature lovers. Its links-course design, a wide-open, tree-sparse style often found in England, offers stellar views of a sapphire stretch of Jamaica Bay, especially the postcard-worthy vistas from the eighth hole.  Although more people are reaching this far-flung corner of Brooklyn lately,  it's still not too crowded, which means less time waiting to tee off. The per-round cost is among the most affordable in the city, and clubs are available for rent (it's best to reserve both a week in advance). Getting there: Hop on the 2 train to Flatbush Ave–Brooklyn College, about 30 minutes from Atlantic Ave–Barclays Ctr. Walk to Avenue H and Flatbush Avenue for the Q35 bus. The 15-minute ride lets you off right across from the entrance. 2880 Flatbush Ave between Belt Pkwy and Hendrickson Pl, Marine Park, Brooklyn (718-252-4625, golfmarinepark.com). $30–$52, club rental $25.—Stephen Klinck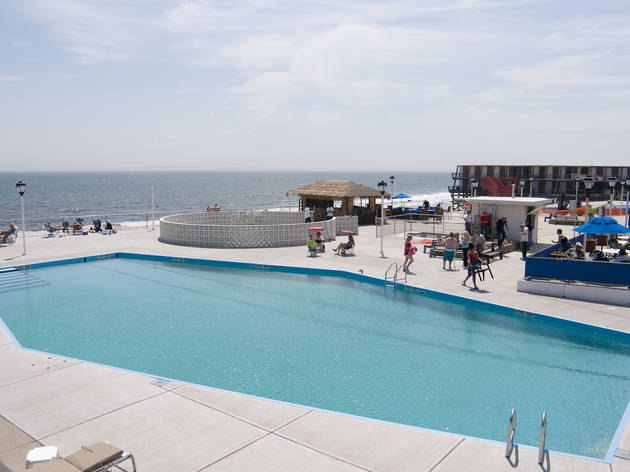 13/19
Photograph: Alex Strada
Silver Gull Beach Club Founded in 1963, this private seaside destination maintains a sleepy, retro vibe (captured in the 1984 film The Flamingo Kid, which featured a wide-eyed Matt Dillon) and has attracted generations of blue-collar clientele from Brooklyn and Queens. Although ravaged by Hurricane Sandy, it's finished extensive repairs just in time for the 2013 summer season. Situated on 16 acres just yards from the ocean and flanked by rows of double-decker cabanas (10-by-14-foot rooms that can be rented for the season), the spot boasts enough recreational facilities to keep you entertained from sunrise to sunset. Munch on seafood and burgers in the on-site restaurant, sip piña coladas at the outdoor tiki bar next to one of the four pools, or play basketball, tennis or bocce on one of the 10 sports courts. But for all the amenities, the club's greatest feature is location: a 30-minute drive from the city will put you on a sandy white beach, waves crashing at your feet and seagulls cawing in the salty air, with nary a skyscraper or rumbling subway car in sight or within earshot. Getting there: If you don't want to spring for a cab, take the Q35 bus from Brooklyn to Rockaway Park, transfer to the Q22 to Rockaway Point Boulevard and walk about a mile west to Beach 193rd Street. 1 Beach 193rd St between Range Rd and the ocean, Breezy Point, Queens (718-634-1500, nysilvergull.com). Day rate $30, season pass $4,000 (includes daycamp).—Christopher Ross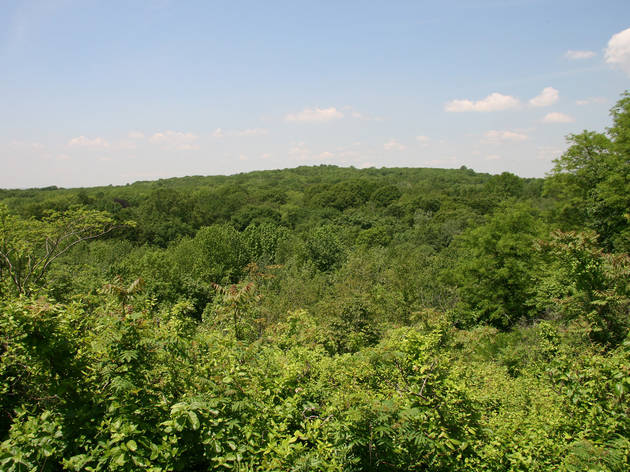 14/19
Photograph: Dorothy Reilly
Staten Island Greenbelt This 2,800-acre nature preserve offers approximately 35 miles of hiking trails—all you need to do is get there, which can be an expedition in itself. If you have access to a car, head straight for the Nature Center(700 Rockland Ave at Brielle Ave, Staten Island; 718-351-3450, sigreenbelt.org/nature-center; Apr–Nov Tue–Sun 10am–5pm, Nov–Mar Wed–Sun 11am–5pm), where you can pick up maps and plan your route with guidance from staff. The four main trails intersect often with roads and golf courses, so a sense of remoteness is hard to come by, but there are stretches where the sounds of passing cars are replaced by birdcalls and all you can see is green. Walk through Buck's Hollow, an isolated area near the Nature Center where you can find the remains of the stone Heyerdahl House from the 1800s. Or take a 15-minute jaunt up Moses' Mountain, a 260-foot-high man-made hill named after Robert Moses—on a very clear day, you can see across the canopy of trees to Sandy Hook in New Jersey. Bring a pair of binoculars if you're ascending the slope, and remember to carry insect repellent, food and stock up on water at the Nature Center, as there's nowhere to refuel in the park. Getting there: By public transport it's a roughly 80-minute journey from the Staten Island Ferry: Take the S62 bus from the terminal and transfer to the S57, disembarking at Brielle and Rockland Avenues.—Sarah Theeboom
15/19
Photograph: Wikimedia Commons/ Jim Henderson
Floyd Bennett Field Skip the lengthy jaunts upstate and camp at this former airport field. The wooded grounds offer around 40 six-person sites, each with a picnic table, a fire pit for roasting s'mores (wood is provided) and access to no-flush toilets (naturally, there are also insects—remember the repellent). Stop by the William Fitts Ryan Visitor Center at the park entrance to pick up a map, pointing out runways and nature paths to explore by foot or on bikes, which can be rented from the Aviator Sports and Events Center (3159 Flatbush Ave between Aviation Rd and Belt Pkwy, Sheepshead Bay, Brooklyn; 718-758-7500, aviatorsports.com; $10/hr beginning at the end of June). Head northeast to the mixed woodlands of the North Forty Natural Area and peep wetland birds and turtles. Or visit Hangar B, southeast of the campsites, to see volunteers working on old planes—including models from World War II and a Wright-brothers replica—as part of the Historic Aircraft Restoration Project (Tue, Thu, Sat 9am–3pm). Plus, if you set an early alarm, you can watch a glorious sunrise over the Jamaica Bay Wildlife Refuge. Getting there: Take the 2 train to Flatbush Ave–Brooklyn College, 30 minutes from Atlantic Ave–Barclays Ctr, then get on the Q35 bus from Avenue H and Flatbush Avenue to the Ryan Visitor Center. Enter at Aviation Rd and Flatbush Ave, Sheepshead Bay, Brooklyn (718-338-3799, nps.gov/gate). Per site: one night $20. Make reservations via recreation.gov.—Nadia Chaudhury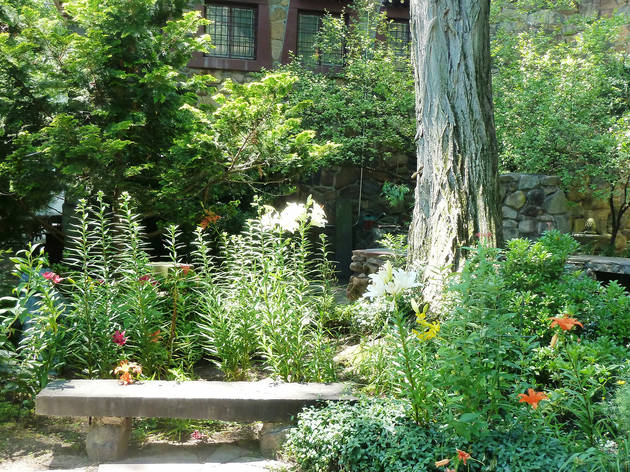 16/19
Photograph: courtesy Jacques Marchais Museum of Tibetan Art
The Jacques Marchais Museum of Tibetan Art In 1991, when the Dalai Lama visited this institution of exquisite devotional art set high on Lighthouse Hill, he described the establishment of the collection in the 1900s as "quite remarkable." The building is designed to evoke a little Himalayan monastery, and as soon as you pass through the creaky door into the walled grounds, the suddenly small scale of your surroundings feels very Alice in Wonderland. Its pretty garden features a lily pond, Tibetan prayer flags and a large, delicately carved statue of the Buddha. Plan a visit to coincide with tai chi (Fri 11am, Sat 4pm) and meditation (Sat 11:30am) classes in the peaceful environs of the garden and museum, respectively. The museum itself houses sculpture, furniture and ritual objects, including a symbolic sand mandala made by Tibetan monks. A friendly guide leads fascinating tours Wednesdays, Fridays and Saturdays, and film screenings (Sun 2pm) and occasional chamber-music concerts are also offered. Unless you're fasting, pack a snack, as there's no café on site. Getting there: Reaching the museum without a sherpa is an expedition, but a scenic one; from the Staten Island Ferry, hop on the S74 bus, get off at Lighthouse Avenue and walk up the steepish hill—about an hour of traveling from the ferry. 338 Lighthouse Ave at Richmond Rd, Staten Island (718-987-3500, tibetanmuseum.org). Wed–Sun 1–5pm; $6, seniors and students $4, children under 6 free.—Sophie Harris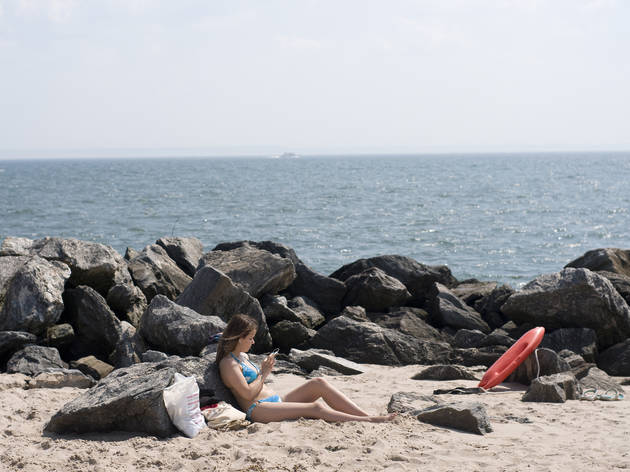 17/19
Photograph: Alex Strada
Manhattan Beach Plan a day with a group at this crescent-shaped sandy stretch. It may not have the thrill of the amusements at its shoremate Coney Island, but it doesn't have the crowds either. Without a subway stop, and with a virtual blanket ban on parking on the surrounding streets during summer weekends and holidays, the clientele is mostly neighborhood families, who cluster near the surf on the eastern edge. Spread out your blankets between the two rock jetties on the opposite end and start to pick teams: The hinterland offers ample space for kickball, softball, flag football or any other ball game, without the risk of invading other beachgoers' space. The 16-acre park that abuts the shore also has tennis courts (for permits call 718-965-8914) and basketball courts: The four on the northern end even have full nets on two rims, transparent backboards and freshly painted lines. If you're dedicated enough to tote your own grill, there are no-permit-required barbecue areas between the promenade and parking lot, and plenty of shaded picnic tables. And while the concession stand is nothing to write home about, it does sell draft and canned Budweiser and Heineken ($4–$5). Getting there: Take the Q to Brighton Beach, about 40 minutes from Atlantic Ave–Barclays Ctr, then transfer to the B1 bus. Oriental Blvd between Mackenzie St and Ocean Ave, Brighton Beach, Brooklyn (nyc.gov/parks)—Nadia Chaudhury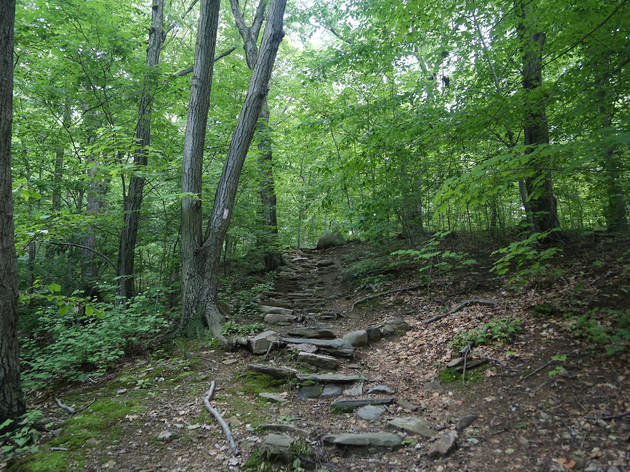 18/19
Photograph: Whitney Lawson
Van Cortlandt Park This sprawling Bronx green space offers many different getaways all summer long. Where else in NYC can you hit off a tee on America's oldest public golf course, or take Fido for a jaunt through stone vestiges of old railroad spurs and past stables? The main draw, though, is the more than 15 miles of mapped hiking routes (guides are available at the nature center, located midpark; in mailboxes scattered around the grounds; or at vcpark.org). Take the John Muir Trail (enter at Broadway at Mosholu Ave, or Van Cortlandt Park East at Oneida Ave) to 52 stone steps that lead to the Old Croton Aqueduct Trail and a rushing waterfall within the park (the route goes all the way to Croton Dam near Dutchess County). If you're feeling more romantic, bring your S.O. to the small wooden bridge over the wetlands along John Kieran Trail (use the golf course entrance at Van Cortlandt Park South at Bailey Avenue, virtually alongside the NYS Thruway) and enjoy a free outdoor concert from native songbirds. If that's not intimate enough, you can find pin-drop silence in the rocky acreage of Northwest Forest (entry is at the western edge of Broadway and Mosholu Avenue, and there is both a parking lot and a bus stop by the Riverdale Equestrian Centre's stables) and Croton Woods (off the John Muir Trail), a rare oak-tree-and-tulip forest. Getting there: Hop the 4 train to Mosholu Pkwy to reach the John Muir Trail; take the 1 train for both the John Kiernan Trail and Northwest Forest, to 238th St or 242nd St–Van Cortlandt Park, respectively; each is approximately a 40-minute ride from midtown.Van Cortlandt Park South between Broadway and Jerome Ave (212-639-9675, nyc.gov/parks)—Kenny Herzog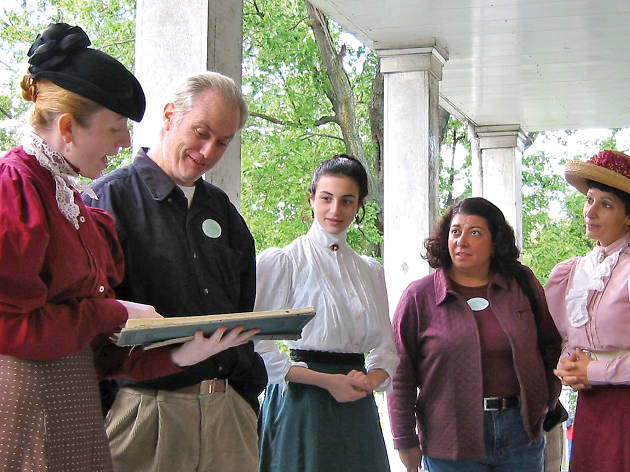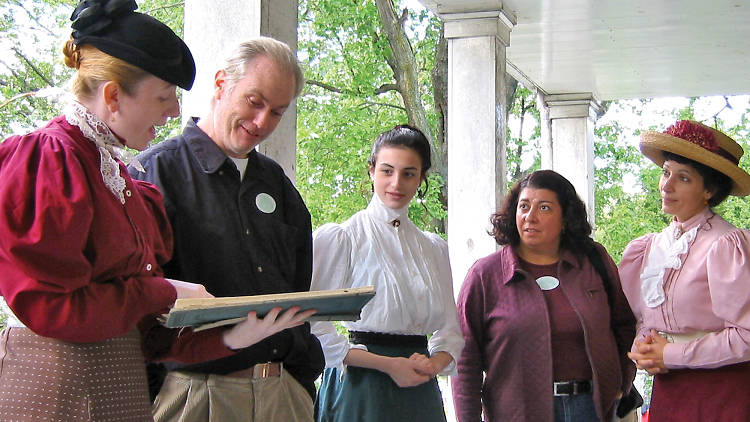 19/19
Historic Richmond Town Leave your smartphone at home and find respite from modern distractions at this quaint, sleepy village. The time capsule of 30 restored structures (such as homes and a grand courthouse) from the 17th to early 20th centuries was initiated by Depression-era preservationists. That includes a luncheonette whose advertising promises double-decker coneys, and a tavern with fiendishly difficult puzzles and a tabletop variation on bowling that replaces a ball with a spinning top. A ticket includes a guided walking tour (Wed–Fri 2:30pm; Sat, Sun 2, 3:30pm) through several of the buildings, such as Stephen D. Stephens's General Store and the Voorlezer's House, the oldest standing former schoolhouse in the United States, built around 1695. Afterward, meander along the grounds' central row of houses, spotting details like hitching posts topped with horses' heads. And stop by the Staten Island Historical Museum, which details important developments in the borough's past, like the influx of German immigrants and, consequently, lager. A temporary exhibit, "Bringing Up Baby: Children's Furniture and Family Life," pairs hilarious black-and-white portraits of kids with insights into generational attitudes gleaned from artifacts. Witness changes in baby-carriage design as a child became less something to show off and more someone to bond with (remember that the next time you stroll through Park Slope). Getting there: From the Staten Island Ferry, take the S74 bus to Arthur Kill Rd—Cemetery Gate, a 40-minute journey. 441 Clarke Ave at St. Patricks Pl, Staten Island (718-351-1611, historicrichmondtown.org). Wed–Sun 1–5pm; $8.—Alexandra Kadlec
Get away from it all at these relaxing, secluded spots in NYC
There's no need to leave the five boroughs to get away from it all. New York's parks and gardens offer cheap, easy trips to hidden spots of natural beauty.
Sometimes, you just don't have the time, money or energy for a getaway. Thankfully, there are bucolic refuges in Brooklyn, Queens, the Bronx and Staten Island. Hell, there's even places in Manhattan's perpetually mobbed Central Park to escape your fellow denizens. Pick up a friend or a book, and go reclaim some peace of mind.
RECOMMENDED: Full list of staycation ideas