Heads up! We're working hard to be accurate – but these are unusual times, so please always check before heading out.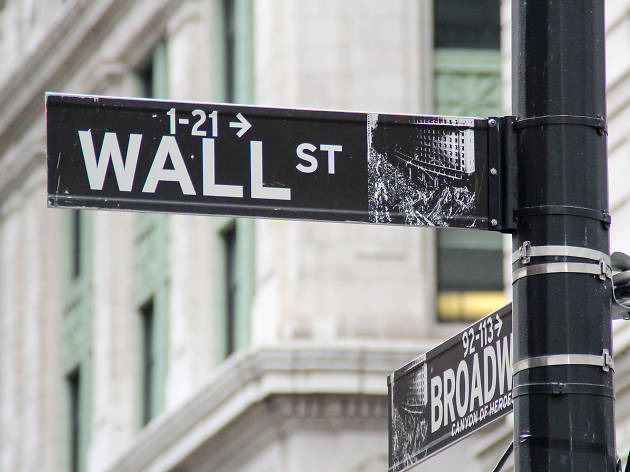 The stories behind the most interesting street names in NYC
They're not all just numbers—these interesting street names in NYC have very interesting backstories
Do you know the stories behind the most interesting street names in NYC? Yes, most of the streets in Manhattan, NY, are numbered, but there are a few streets that are off the grid and named accordingly. As it happens, these names are packed with history and local flavor (even including pineapple). Want to learn about what's beneath your feet on your way to the top New York attractions or best restaurants? Here are the most interesting backstories of street names in NYC.
Most interesting street names in NYC
Though misspellings do exist in prominent New York street names (see the Verrazano–Narrows Bridge, which fails to include both zs in Italian explorer Giovanni da Verrazzano's name), this is not that. It's actually the namesake of Abraham Gouverneur, a 15th-century French immigrant turned big-time New York political activist.
The road to paradise? Sadly, no. This parkway only runs from Beechhurst to Jamaica, Queens. So why does it have such a promising name? In 1905, the Utopia Land Company purchased the area to build cooperative homes for Jewish families from the LES but ran out of money shortly thereafter. 30 years later, when much of this area was still farmland, developers began building in the neighborhood without a name—just Utopia.
Desbrosses Street in Tribeca was once a station along the first aboveground train in New York City, the IRT Ninth Avenue Line. Before the MTA, all trains in New York were private entities, with varying levels of success. The best lines were purchased and placed under a single banner (MTA), but this single-track cable car (1873 to 1940) didn't make the cut. It was closed in part because the 90-degree turn at 9th Avenue and 110th Street caused so many fatalities that it earned the nickname Suicide Curve.
Pearl Street is an actual gem. While most of the Financial District downtown is a mix of modern steel and glass, much of this street still looks as it did in the 19th century. Many of the structures along it were built between 1836 and 1840 during reconstruction after the Great Fire of New York in 1835. Moreover, the '60s-era Pearl Diner can transport you to the more recent days of Mad Men with an easy cheeseburger under its red neon diner sign.
In the way-back Dutch days of New Amsterdam, this strip of land was called Maagde Paatje (which means "maiden path") and was merely a footpath along a babbling brook. It earned the name Maiden Lane because this small, pebble-laden stream was a popular spot for women to socialize and wash clothing. Fun fact for Hamilton nerds: Thomas Jefferson rented a house at 57 Maiden Lane in 1790 when he moved to New York from, uh, France to serve as George Washington's Secretary of State (this was back when NYC was the capital city).
The Fruit Street Sitting area situated along the East River in Brooklyn Heights pays homage to the many surrounding streets named for nature's candy—including Cranberry and Orange streets. There is some disagreement as to why these Big Apple streets bear such fruity names, but it's been said that the Hicks brothers, a pair of aristocratic fruit sellers, named these roadways to promote the produce they hocked.
While Bleecker Street once sheltered the warm center of American bohemia, it has always born the name of a prominent banker, Anthony Lispenard Bleecker, who would be best described by contemporary terms as "yuppie scum." In other words, he would probably not have welcomed the hordes of punks who later descended on Bleecker Street and defined his namesake street (and by extension, his legacy).
As it happens, Wall Street was founded on oppressive action. Dutch settlers had, after making a peace treaty with the Native Americans in Manhattan, snuck back onto the island and massacred as many as they could find. To protect their main interest (the port), the Dutch settlers erected a double palisade (an actual wall) along what is now Wall Street. A few Native Americans had survived the slaughter and were understandably angry. But not to worry—Wall Street has been an emblem of equality and justice ever since (just kidding).
More about NYC
For famous cocktails like Martinis and Manhattans, head to these iconic NYC bars to sip on a piece of US history