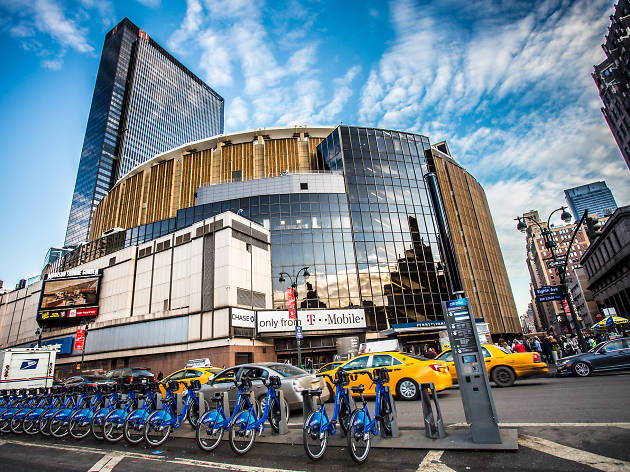 Nine of the coolest polling places in New York City
Waiting in line to cast your ballot isn't boring at these nine voting sites across NYC.
Waiting in line to cast your ballot can be a long and boring experience with most of us heading to schools, churches and YMCA buildings, but some lucky New Yorkers get to vote in the coolest polling sites in NYC.
Instead of checking the boxes in a library, those who live in the voting districts of some historic places, museums, and amazing NYC attractions actually can vote there. If you're curious, the city has a map of polling sites you can check out here.
Scroll down to see the most unique and coolest polling places in NYC.
RECOMMENDED: 10 local illustrators perfectly capture how New Yorkers feel about the upcoming election
The coolest voting sites in NYC
Once one of Brooklyn's most elegant movie theaters, the Loew's Kings Theatre is actually a polling place this year. Voters get to cast their ballots underneath the stunning vaulted ceiling and take their selfies in front of the historic marquee. It originally opened in Flatbush as a movie and live performance space in 1929. When multiplex cinemas became popular in the 1950s, the theater lost traction with audiences. It eventually closed in 1977 and the stunning interior fell into disrepair. After an elaborate $95 million restoration, the 3,074-seat theater reopened in 2015 in all its original glory. Classic acts and rising stars alike perform at the ornate theater.
Some lucky Queens residents get to vote at this 39-acre serene space. They'll get to pass the two blue atlas cedars that flank the gate at the garden's Main Street, and perhaps even purchase tickets to see its variety of horticultural sights, including a Fragrance Walk, Cleansing Biotope and Wetland and Woodland Garden.
The iconic concert venue and sports area announced in August that it is serving as a polling site for over 60,000 voters this year. The famous arena is a 20,000-seat venue and home to New York basketball and ice hockey teams the Knicks and the Rangers, but also is a favorite spot for college basketball tournaments (The Big East), professional boxing, MMA fighting and as a destination for WWE. Non-sports fans, however, mainly know the Garden as the best spot in town to catch touring international sensations like Adele, Beyonce and Aziz Ansari and countless other amazing concerts.
In September, the Barclays Center announced that it too would be a polling site. It is the borough's largest voting space and is providing thousands of voters with a centrally-located polling site. The 19,000-seat venue opened in September 2012 and brought with it the Brooklyn Nets, the borough's first major pro sports team since the Dodgers left in 1957. Besides the NBA, the venue hosts concerts by superstars such as Rihanna and (part owner) Jay-Z, sports tourneys including the Atlantic 10 Men's Basketball Championship and family-friendly events like the Ringling Bros. and Barnum & Bailey circus.
Some voters will get to go inside the Theater for New City (even though theaters are closed right now) to cast their ballots. The East Village venue is one of the city's leading Off-Broadway spots for political and community-centric programming with four theaters across 30,000 square feet. It's housed in the former First Avenue Retail Market, which was created in 1938 by Fiorello LaGuardia to take pushcart peddlers off the streets.
Voters around Brooklyn Borough Hall, where the Brooklyn Borough President works, get to perform their civic duty in what is the former city hall of the City of Brooklyn. Built in 1848, Brooklyn Borough Hall is a city landmark and on the National Register of Historic Places. It's pretty cool that some New Yorkers will get to vote inside a place where government is actively happening and has been for more than a century.
Imagine going to vote and being able to check out some of Brooklyn Museum's exhibitions before you leave (Of course, you'd have to get tickets). Some voters will get to do this and we're totes jealous. The museum, found on the edge of the sprawling Prospect Park, has a large holding of Egyptian art as well as the famous feminist piece, The Dinner Party, by Judy Chicago. Works by such Impressionists masters as Cézanne, Monet and Degas are also included in the collection along with with prime examples of Early American Art, period rooms and so much more.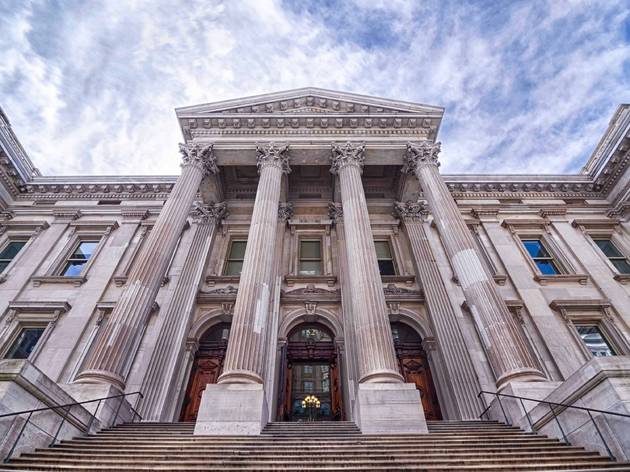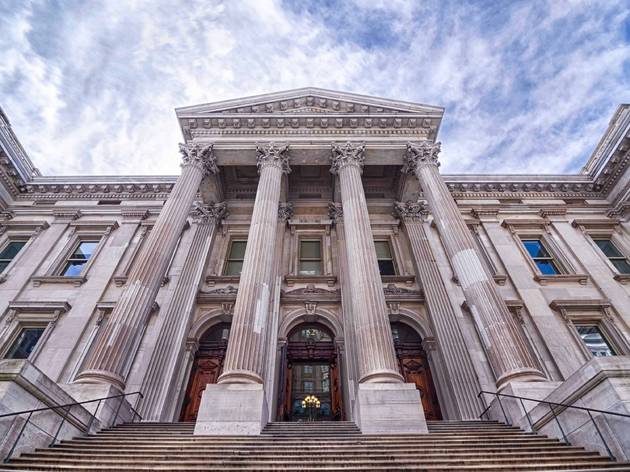 Photograph: Shutterstock
The Tweed Courthouse is a historic courthouse building on Chambers Street and is named after William M. "Boss" Tweed, the infamous leader of the corrupt Tammany Hall political machine in the mid-19th century. (Boss Tweed was actually convicted here in 1873 in an unfinished courtroom.) It is the second-oldest city government building in the borough, after City Hall, and is on the National Register of Historic Places and its facade and interior are both New York City designated landmarks. Today, it's where the city's Department of Education is located.
This Upper East Side Episcopal Church is also a polling site, like many other churches and places of worship across the city. This building, however, is a gorgeous place to cast your ballot. Founded in 1865 by American Civil War veterans, it was meant to memorialize soldiers who had died in that war. With 1,000 members in 1900, it moved from its original site on Fifth Avenue and 46th Street to Fifth Avenue and 90th Street. It's an inspiring place to vote, plus it was featured in the 1997 film The Devil's Advocate with Keanu Reeves.
More on the 2020 election
Best selling Time Out Offers