Things to do in New York this Friday
It's time to punch out, wind down and start your weekend off right with the best things to do in New York this Friday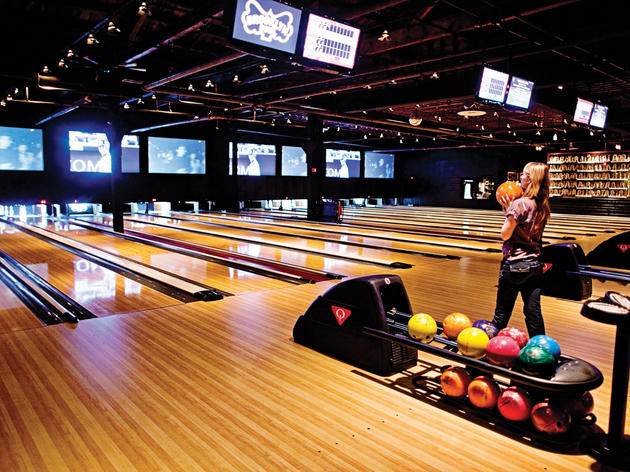 Don't blow your weekend by spending Friday night on the couch—there are too many incredible things to do in New York this Friday. Whether you want to rage at one of the best parties in NYC or if you're interested in checking out free comedy shows, you have unlimited options. That's why we decided to make the planning process easier for you by selecting the very best events that are guaranteed to show you a good time. Forget road trips, the best way to spend your Friday night is right here in NYC.
RECOMMENDED: Full guide to things to do in NYC this weekend
Featured things to do this Friday
1
The crucial local free-jazz fest presents its 22nd annual installment, featuring Vision mainstays such drummer Andrew Cyrille, saxophonists David Murray and Joe McPhee, and improv visionary Cooper-Moore, who'll be receiving a lifetime achievement award. In addition to six nights of music, the festival presents films, panel discussions and more; see artsforart.org for more details.
Read more
2
Tom and Betsy Salamon's unique adventure—part interactive theater, part scavenger hunt, part walking tour—draws participants into an amusing web of puzzles and intrigue. You can choose between the three-hour New York tour, which takes participants through various historical and diverse neighborhoods of lower Manhattan, or the two-hour Village tour, which travels through quirky Greenwich Village on Saturdays. Groups of as many as ten are booked every half hour.     
Read more
3
OutdoorFest, a ten-day lineup of activities, classes and volunteering opportunities, aims to get New York apartment dwellers to engage with the natural environment around the five boroughs. Look up the full schedule to save your spot for mountain biking, outdoor yoga, backcountry cooking, fly fishing, hiking, running and, naturally, beer drinking—can't miss that.
Read more
4
Tictail and Absolut Art team up for this rad Lower East Side tour, which displays the work of female artists on local businesses. Though self-led tours of the pieces are available for visitors of Tictail, you can head to guided tours on May 20–21 to learn more about the creators. 
Read more
5
Bennett has opened for her father, the iconic pop singer Tony Bennett, on many occasions in the past decade. At the Carlyle, she branches out on her own to share the fruits of her family tree, in a set of Great American Songbook standards.
Read more
6
Let the outdoor megaparty season begin! The annual Randalls Island event is the one local fest where you can catch hip-hop chart toppers, tastemaker-approved buzz bands, left-field pop heroes and, yes, dance-commanding EDM overlords. 
Book now
Read more
7
More than two dozen Broadway productions flaunt their wares in a free outdoor concert in Shubert Alley. Participating shows include the new musicals Dear Evan Hansen, Bandstand, Groundhog Day, Come from Away, Anastasia and Natasha, Pierre & the Great Comet of 1812.
Read more
9
It shouldn't come as a surprise that Bruce Hornsby's music keeps being re-cool-ified. Hornsby is the very exemplar of dad-rock: 99 percent of the young population has been blasted with the piano man's work on a family road trip at some point. So it stands to reason that Tupac should have a mellow moment sampling "That's Just the Way It Is" and that, more recently, indie-rock mountain man Justin Vernon would invite Hornsby to perform the album of the same name at his music fest, Eaux Claires. But Hornsby is no one-trick pony. He has also made bluegrass records, gigged with a jazz band and even toured as part of the Grateful Dead. He and his band take the stage behind his rootsy 2016 effort, Rehab Reunion.
Read more
Show more
Popular things to do this Friday
Free things to do this Friday
Movies to see this Friday
Jane Jacobs's clash with NYC urban planner Robert Moses makes for a great drama
Read more
Richard Gere triumphs in the role of his career, as a scrappy Manhattan schmoozer
Read more
British filmaker Terence Davies, turns his attention to the poet Emily Dickinson
Read more
The story of a college-bound teen and her father who wants to cut corners for her
Read more
Today's Beauty and the Beast is a lavish pull-out-all-the-stops musical
Read more
You can't re-create your past, but you can relive it in your head over and over again
Read more
Show more
Concerts to see this Friday
Sponsored listing
Mudville 9
Come for the beer (they've got a 99-label strong collection that includes brews like Chimay and Duvel) and stay for the chicken? The "Wing Ding" special promises two hours of unlimited, wings, fries and booze for just $22. It's a fine distraction…assuming the 15 flat-screens don't do the trick.
Venue says: "Over 150 craft beers on tap, new beers every week. Happy Hour Beer & Bites $6. Lunch pre-fix menu $16"