Things to do in New York this Friday
It's time to punch out, wind down and start your weekend off right with the best things to do in New York this Friday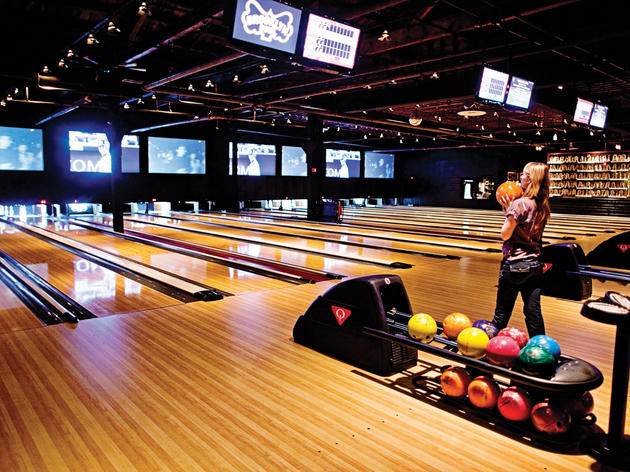 Don't blow your weekend by spending Friday night on the couch—there are too many incredible things to do in New York this Friday. Whether you want to rage at one of the best parties in NYC or if you're interested in checking out free comedy shows, you have unlimited options. That's why we decided to make the planning process easier for you by selecting the very best events that are guaranteed to show you a good time. Forget road trips, the best way to spend your Friday night is right here in NYC.
RECOMMENDED: Full guide to things to do in NYC this weekend
Featured things to do this Friday
Popular things to do this Friday
Free things to do this Friday
Artist Grand Lindahl invites you to laugh, drink and draw at his monthly show. While comedians tell stories, audience members draw what they hear with paper and crayon. Plus, a guest artist graces each show (like New Yorker cartoonist Erik Bergstrom) to talk about their work and play a game, like an impromptu caption contest. That dreamer creative locked deep inside can live again for one sweet night. 
Read more
Halyard's brings you jokes from a bunch of very funny ladies at this free weekly show with hosts Naomi Karavani, Melissa Stokoski, Shelby Taylor and Erica Spera and live music. Plenty of brews, bar snacks and a pool table await you.
Read more
Movies to see this Friday
Dreamlike and terrifying, Nicolas Pesce's debut suggests a filmmaker who knows his horror classics intimately.
Read more
Anna Biller's sexploitation drama updates dusty Playboy-era gender politics
Read more
Casey Affleck stars in a tremendously moving portrait of grief and loss
Read more
J.K. Rowling launches her latest excursion into wizardry
Read more
Mel Gibson is back with his most Mellish movie yet: a gory WWII battlefield drama marked by issues of faith and sacrifice. It's perfectly suited to his often-overlooked directorial strengths.
Read more
Show more
Concerts to see this Friday
On the afternoon of the Trump inauguration, theater stars unite in the inaugural edition of a monthly concert series to benefit human-rights organizations. Scheduled performers include Betty Buckley, Sharon Gless, Andrea Martin, Jessie Mueller, Bebe Neuwirth, Rosie O'Donnell, Rosie Perez, Billy Porter, Chita Rivera and Brian Stokes Mitchell.
Book now
Read more
Can't make it down to Washington to protest Trump on Inauguration Day? Mark the occasion instead at this show devoted to disestablishmentarian music, ranging from Broadway musicals to Bob Dylan, Phil Ochs and U2. Performers include Chuck Cooper, Brian Charles Rooney, Maxine Linehan, Douglas Ladnier, Ashton Corey and Michael Romeo Ruocco.
Book now
Read more
Late-blooming roots-rock auteur Alejandro Escovedo, who spent the '70s and '80s playing punk and hard-edged country-rock with Rank and File, the Nuns and True Believers, is making some of the darkest, most personally charged music of his career. Here, the Austin songsmith plays behind his newest LP, last year's Burn Something Beautiful.
Book now
Read more
A boundary-breaking performer who has made memorable appearances in Showgasm and as Catlyn Jenner in Katdashians! The Musical!, Smith takes the Duplex stage for a stunning solo show that mixes comedy, gospel, cabaret and personal storytelling. Like a superbeing created by Sandra Bernhard and Justin Vivian Bond, Smith shakes the audience to the core with their dry wit, warm positivity and sultry charms.
Read more
Rob Middleton and Glenn Drewes conduct Birdland's resident jazz band, which weds swing-era glitz with a funky modern beat. The popular group tears up a myriad of classic and original tunes of the jazz, funk and Latin varieties.
Read more
On her Bravo sitcom, Odd Mom Out, writer-performer Kargman plays a woman navigating the shallow and turbulent waters of monied Upper East Side society. Now she extends the joke by putting a cabaret spin on heavy-metal songs at one of the neighborhood's swankiest landmarks, accompanied by Marco Paguia on piano and directed by Trip Cullman. While the musical sequences sometimes seem perfunctory, the comedy is sharp.
Read more
English singer-actor Burke makes her U.S. debut in a "cabaret-play" set in the 1930s, featuring songs by Kurt Weill and others. The winning Charlie Alterman costars as her pianist.
Book now
Read more
The guys in Tokyo Police Club—which hails from exotic Canada, not Japan—divided fans when they turned up their radio-ready impulses full-throttle on 2014's Forcefield. But fans of all stripes will find something to like on its Smashing Pumpkins-referencing dual-EP, Melon Collie and the Infinite Radness, which melds those hyper-sugary sensibilities with the band's quirkier roots.
Book now
Read more
Chris Carrabba, the lead singer of Dashboard Confessional, has somehow managed to maintain a whiff of indie cred even while purveying tame pop-rock for mass audiences. The truth about Carrabba is that he's a decent mainstream singer-songwriter with a pleasant voice, whose tunes sound like the AM Gold version of emo. He's reunited the band to release its first new album this year since 2009.
Read more