Heads up! We're working hard to be accurate – but these are unusual times, so please always check before heading out.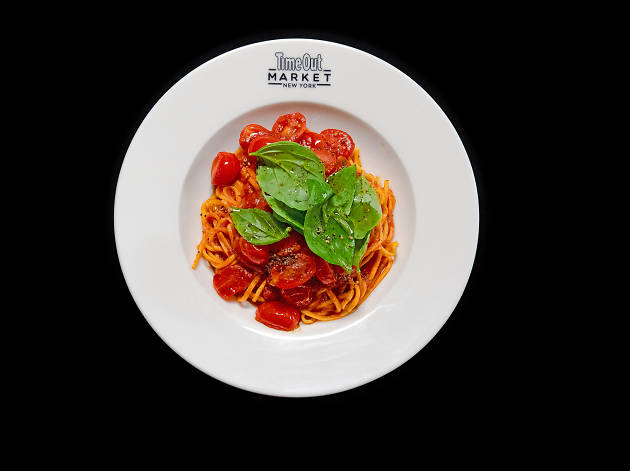 Food Envy: FELICE Pasta Bar's Spaghetti Al Pomodoro E Basilico
We've been eating a lot of food at Time Out Market New York, and now we're dishing on some of our favorite plates
Welcome to Food Envy, where we'll highlight different dishes from Time Out Market New York that we think you're going to love—partly because we do. This week, the popular spaghetti al pomodoro e basilico at FELICE Pasta Bar steals our hearts (and stomachs).
RECOMMENDED: Guide to Time Out Market New York
Often it's the most simple dishes that are the most difficult to execute well. But when you're ordering a burger or even an omelette at a restaurant, you want it expertly executed.
From red sauce joints in Little Italy and Arthur Avenue in the Bronx to lauded Roman restaurants, there's perhaps no other dish that all these Italian restaurants are judged by more than a plate of spaghetti in marinara sauce. After all, it's a crowd pleaser anytime of the year whether for lunch or dinner.
Enter FELICE Pasta Bar's spaghetti al pomodoro e basilico. This dish alone shows why this is one of the best Italian restaurants in New York. Perfectly al dente strands of noodles are covered in not-overly-sweet tomato sauce topped with fragrant basil leaves.
"Spaghetti al pomodoro e basilico is a simple, quintessential Italian dish, probably the first pasta you taste as a child," says Iacopo Falai, FELICE's Culinary Director.
He adds that the pasta dough is made fresh twice a day at FELICE, using a Pasta D'Oro flour from Molino Pasisni, a third generation family in Cesole, Italy.
We could eat comfort food like this every day. It's hefty enough during the colder months to feel like we're wrapped in a warm blanket but still light enough during warmer ones. The pasta dishes across FELICE's sister restaurants, from locations in the Upper East Side to Fidi, are popular for the authentic interpretations for numerous Italian classics. Just give us at bowl of the spaghetti al pomodoro e basilico at Time Out Market New York any day.