The Great Jack O' Lantern Blaze guide
The Great Jack O' Lantern Blaze is the tristate area's most spirited Halloween event with over 7,000 glowing pumpkins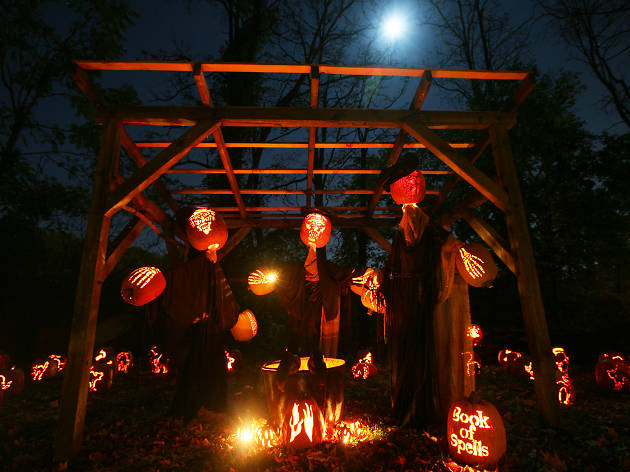 The Great Jack O'Lantern Balze is one of the best things to do in the fall in New York, at which you'll feast your eyes on an army of over 7,000 gleaming pumpkins. This is the tristate area's most spirited Halloween happening, with the most impressive and intricately carved pumpkins glowing along the riverside near Van Cortlandt Manor. And it's one of the best day trips from NYC! Gawking at pretty gourds isn't the only draw. There are also stargazing opportunities inside the Pumpkin Planetarium, flying ghosts and a special appearance by Sleepy Hollow's Headless Horseman. When you go, make sure to take a moment to enjoy the lovely fall foliage upstate.
RECOMMENDED: Full guide to Halloween in NYC
When is The Great Jack O' Lantern Blaze?
The Great Jack O'Lantern Blaze is open on various days throughout the week starting Sept 30 through November 26.
Where is The Great Jack O' Lantern Blaze?
The electrifying affair is located at 525 S Riverside Ave, Croton-On-Hudson, NY.
How do I get to The Great Jack O' Lantern Blaze?
Take the Metro-North Hudson Line from Grand Central Terminal. Take the train to Croton-Harmon station (under an hour from Manhattan). Van Cortlandt Manor is only a five-minute cab ride or a 10-minute walk from the station. Also, just in time for a full season of Jack O' Lantern shenanigans, NY Water Taxi is offering special rides to Sleepy Hollow. On October 15, 22 and 29, you can grab a $25 ferry from Christopher Street or Pier 84 and enjoy spooky themed drinks and the passing fall foliage as you cruise 30 miles up the Hudson River.
How do I get tickets to The Great Jack O' Lantern Blaze?
You can see the full schedule and purchase tickets ($16–$25) here. Note: Advanced tickets are required. Pro tip: This event sells out quickly, so make sure to nab your tickets, like, yesterday.
Great Jack O' Lantern Blaze content
Archive Great Jack O' Lantern Blaze