The best pizza in San Francisco
Follow your nose to these authentic Italian restaurants and pizzerias to try some of the best pizza in San Francisco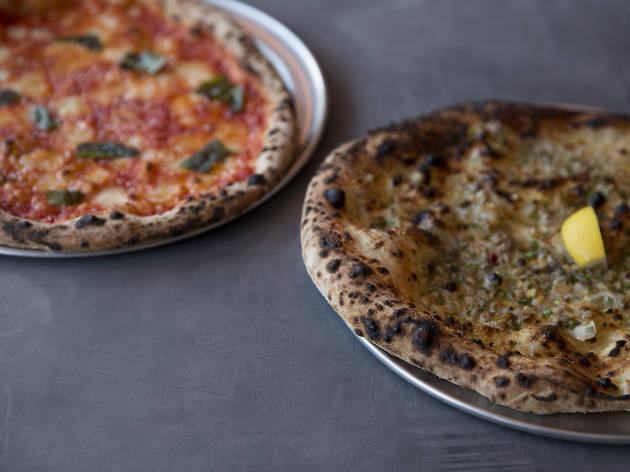 By

Time Out San Francisco editors
|
New York might have pizza on every corner, but San Francisco chefs are putting a new spin on the classic pie. At some of San Francisco's best Italian restaurants chefs agonize over blistered thin-crust bases, or getting the perfect ratio for a certified pizza Napoletana, while others restaurants dish out hearty deep-dish 'za for the whole family. Whether you like it thin or deep-dish, topped with pineapple or pepperoni, you can't go wrong at these top pizza spots in San Francisco.
RECOMMENDED: Best restaurants in San Francisco
Best pizza in San Francisco
Pizzeria Delfina serves some of the best thin-crust pies in town. Primo ingredients such as fior di latte mozzarella, prosciutto di parma and house-made fennel sausage elevate traditional pizzas to the level of haute cuisine. Perennial favorites include Clam Pie, topped with cherrystone clams and hot peppers, and Carbonara, which gives the classic pasta dish a new spin with guanciale (pork cheek salumi), farm egg, pecorino, and scallions.
Pizzas from Flour + Water's Italian wood-fired 900-degree oven take exactly two minutes to cook, and arrive exquisitely thin with perfectly charred and blistered crusts, topped with delicacies like fior di latte, squash blossoms, house-made pork sausage and calabrian chili.
Tony Gemingnani's paean to Napoli comes complete with 13 different kinds of pizza baked in seven different ovens, ranging in temperature from 550 to 1,000 degrees. Plus, Gemingnani has an impeccable pedigree: He's the first American to win the World Champion Pizza Maker title in Naples.
Roman-style pizzas come in classic combinations like margherita with burrata or with more exotic ingredients like clams, chorizo and sofrito at this late-night hot spot (open until 1am on weekends). There's even vegan cheese and sausage for those avoiding meat and dairy.
Pizza master Tony Gemignani doesn't restrict his love for 'za to just Italian pies. Capo's specializes in authentic, Chicago-style pizza served on four types of crusts: deep dish, cast iron pan, stuffed and cracker thin. Try the Italian Stallion, made with mozzarella, fontina, Italian beef, Chicago Italian sausage, horseradish cream sauce, chives, sweet peppers and Romano.
In 2015, Del Popolo upgraded from mobile pizza kitchen to permanent pizza purveyor in lower Nob Hill. Though they can still be found hocking pies out of their repurposed shipping truck, Del Popolo's brick-and-mortar dining room, arranged around a green-tiled kitchen island and massive wood-fired pizza oven, offers something the truck can't: wine.
Little Star has successfully won over its share of thin-crusters with its fresh take on Chicago-style deep-dish pizza, starting with a crunchy cornmeal crust that stands up to robust toppings such as tangy, chunky tomato sauce, salty feta, piquant green olives, red peppers, artichoke hearts and whole-milk mozzarella. The Mediterranean chicken pizza, made with house-baked chicken seasoned with peperoncini juice and garlic, will make you a believer.
Two words: Breakfast pizza. While you can order any of Beretta's perfectly fired thin-crust pizzas from the dinner menu at the weekend brunch, you might as well opt for the carbonara pizza, which comes topped with bacon, two eggs, mozzarella, pecorino and cracked black pepper.
There's plenty of tasty new things at Fiorella, including a new Friday lunch menu and a low ABV cocktail menu (shout out to Karl's Old Fashioned made with Madeira, amaro and Vin Santo wine), but we continue to head there for the wood-fired margherita and the spicy salami pizza. Oh, and the rad wallpaper featuring Too Short, Joe Montana, Alice Waters and more local luminaries.
10
Photograph: Yelp
Soak up late night booze with a quick slice at this Mission mainstay. Order your pizza Neopolitan or Sicilian (deep dish) and choose from a limited but traditional list of toppings, like pepperoni, sausage, mushrooms, anchovies, and green pepper.
Check out the best pizza in America
Who bakes the best pizza in America? For top wafer-thin pies and deep-dish slices, we say it's these pizza restaurants.