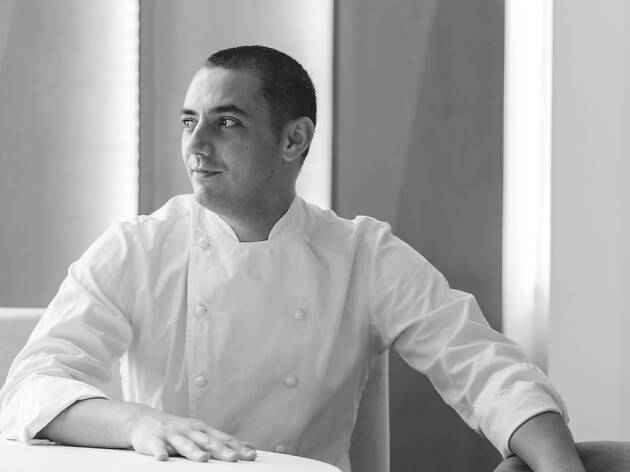 52 Weeks of #ExcitingSG: Week 5 with Julien Royer
Posted: Sunday March 18 2018, 9:38pm
Welcome to Time Out Singapore's 52 Weeks of #ExcitingSG – our commitment to showing you the best of what's going on in the city this week. Every Monday, a guest writer who's "in" with the scene shares a recommendation on what to see, eat, do or buy in the city. This week, we chat with chef Julien Royer of two-Michelin-starred Odette, one of the best, if not the best French fine dining restaurant in Singapore.
1. What gets you excited about Singapore?
Singapore is to me the perfect representation of Southeast Asia – a city with a beautiful melting pot, a crazy mix of influences and nationalities, a buzzing and dynamic place with an extremely competitive dining scene that is constantly evolving.
2. Where's your favourite place – aside from your own restaurant – to dine in the city?
It's quite difficult to list because, as I said, the restaurant scene here is crazy good and competitive but these are some of my favorites places to dine out in town when I get the chance: Brasserie Gavroche for delicious and comfortable French fare, Cure by the talented chef Andre Walsh for a refined yet causal and fun modern European experience by talented chef Andy Walsh and Dehesa on North Canal Road is also one of my favourites because Chef Jean-Philippe is doing a great take on 'cuisine canaille et tripiere', or nose-to-tail dining. I love to go to Lukes Oysters Bar, it's consistently delicious, The Naked Finn for amazing seafood with chef Ken Loon, Candlenut for a unique yet authentic Peranakan experience, Cut, DB Bistro and Bar-Roque Grill. Lastly, I'm a big fan of Din Tai Fung. There are just so many great places in Singapore – we are very fortunate!
3. What do you love about Singapore?
Even though the country's pretty small in terms of the size of the land, there are actually plenty of passionate people in the community that share the same enthusiasm and values of food, which I can learn from. Meeting new people in this city is endlessly rewarding and it's really evident why our country's most valuable resource is its people!
4. What are you doing for this year's World Gourmet Summit?
I will be paying homage to chef Paul Bocuse at Odette on April 12. It's a comprehensive heritage dinner that's an exploration of classic French cuisine.
Chef Julien Royer is part of this year's World Gourmet Summit lineup. The annual food and wine festival returns for its 22nd year from April 2 to 29 and this year's theme, "The Discover WGS", lets diners explore the world's lesser-known cuisines, chefs and restaurants from Asia, Eastern and Central Europe, and America.
For more upcoming cool happenings, check out Time Out Singapore's 52 Weeks of #ExcitingSG challenge. Don't forget to show us how you're living your best Singapore life via the hashtag #ExcitingSG – we might just throw some free passes and VIP tickets to exciting festivals, gigs and events your way!
Share the story