Singapore's controversial no-music rule in F&B establishments was lifted on November 10 last year, following five months of reverberating silence. Yet, there's still an unspoken void in the city, with DJ sets and live music in bars, restaurants and beach clubs still being put on hold. Dance floors of local nightclubs, which were once the envy of other cities around the globe, are still barren; and DJ decks left abandoned. Across Singapore, it's almost as if the city has been stripped of its soul. Once bars pull down their shutters for the night at 10.30pm, the Lion City becomes a ghost of its former self.
Try as you might, it's impossible to break the spirit of Singapore's creatives. Some of the city's brilliant music practitioners have adapted, channelling their love for music into other avenues. The Council, once known for their parties that go on till the break of dawn, have recently paired up with art programming consultancy MAMA MAGNET for multimedia exhibition The Happy House at this year's Singapore Art Week. Its first ever immersive art installation, New Dimensions, is also in the works. Similarly, electronic music duo Benedict & Palmer has dreamt up a beautiful soundscape that accompanies an electrifying light show on one of the city's most iconic cultural institutions. And music collectives Darker Than Wax and Ice Cream Sundays have combined forces to launch a music bar and restaurant venue, Offtrack. Not to mention Esplanade's pilot trial performances that fill its Outdoor Stage with live music.
Beyond the sterilised walls, TraceTogether check-ins and red and white tapes that plaster the city in the name of 'social distancing', there's been a rebirth in the local music scene. Still, many practitioners in the music industry are left frustrated with treatment the nightlife and entertainment industry has been receiving – almost as if it's been left on the back burner. The forgotten child. Among which is Matty Wainwright, the brains behind new Instagram account @savemusicsg which emerged yesterday. Inspired by the #savefnbsg digital campaign of 2020, it's a movement – a plea to the authorities for the return of live music and nightlife to Singapore.
Local musicians, DJs and entertainers like Chris Columbus, Zaran Vachha of Collective Minds and Salome Blaque are behind the movement, all echoing the same sentiments. Zaran has even taken to his stories to plead, "let Singapore dance again."
We speak to Matty on his mission behind #savemusicsg, the impact music and nightlife has on the soul of the city, and what Singaporeans can do to help.
Hi Matty, can you tell us more about yourself and your connection with Singapore's music industry?
Hi Time Out! I was working for Warner Brothers Records in London as Artist Relations Manager in 2008 and was made redundant. The same day that happened, I was booked to DJ at the inaugural Singapore F1 night race. I came, did the gig and decided to stay. In 2013, I made Bali home and spent the next six years DJ-ing and curating music with some of the island's leading venues including Potato Head, before moving back to Singapore in 2018. From there my company The DJ Dispensary has continued to add to our progressive list of clients both locally and internationally and we've thrown some pretty awesome parties along the way.

What was the last gig in Singapore you remember playing?
It was Rumours Beach Club, one of my favourite places in Singapore and a client that is very close to my heart. The date was March 22, 2020. As the sun was setting, I played quite an emotive track ('Clouds Pull' by John Beltran), as you do at sunset. I thought we would be taking a break for a month maximum. It turns out, that was the last record I played in Singapore.
How did you pivot your practice during the pandemic?
Ask any music professional how they have pivoted and other than pivoting their middle finger towards you, they will probably burst out laughing. After more than 20 years of working in music and events, what are you going to pivot to if both of those things are banned? Most end up doing manual labour, delivery, admin – and earning 10 percent of what they were previously making if they're lucky. But that's the only option, unfortunately.

Tell us more about #savemusicsg.
Like a lot of people, I have spent the past two years fighting to get music professionals' voices heard, doing interviews, articles, zoom calls – and it's frankly a waste of time. The only people that can allow music professionals to get back to work are the task force members. Unfortunately, they will not even entertain a discussion on the subject.
So, much like #savefnbsg last year, we have to take the fight to the street and get the general public engaged. People are literally crying out for live entertainment, least of all from a mental health perspective. Part of the problem is that many view music that DJs play as velvet booths, loud trashy music, champagne and 'vice'. What they don't see is that there is a whole host of talents who play music all across the board and is a vital cultural component of our city-state and something that we are actually lauded for worldwide. In their mind, it's not 'the arts' – so it's not essential.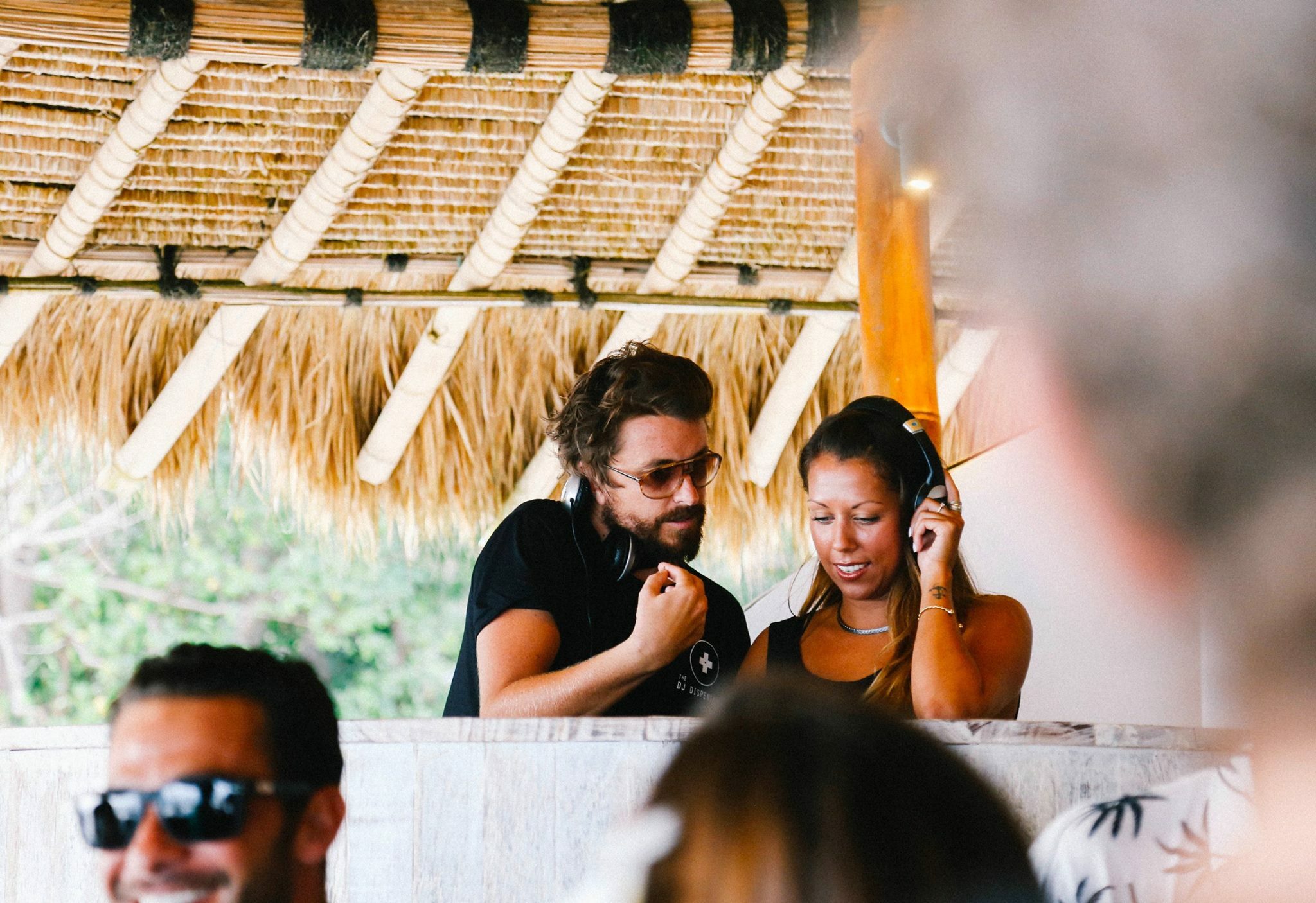 What's the mission you want to accomplish with #savemusicsg?
90 percent of my work in Singapore is DJ-ing at outdoor, beachside, rooftop venues, generally during the day or early evening – and at normal volume levels. Guests, many of which are families with kids, have to be fully vaccinated to enter. They have to check in with Trace Together, are seated at their tables and must follow all government protocols. Yet, somehow, DJs are still deemed too dangerous to work at these venues.
F&B venues are probably the safest places in Singapore to have live entertainment as they have been under the microscope for so long. My mission is to bring this to the attention of the Singapore population and the rest of the world.
What led you to start the movement? Why now?
The music community in Singapore has literally tried everything else and been met with a wall of silence. I just returned from a six-week DJ residency at The Standard in Maldives. I left my wife and newborn baby girl in Singapore for six weeks, which was hard. It was the first time I had played for 589 days. After remembering the freedom that music affords you, coming back to this hypersensitive state, it just feels like we are getting this so terribly and destructively wrong here.

It's a clever nod to the #savefnbsg movement. Why do you think more importance has been placed on salvaging some industries versus others – especially when music and culture are what gives a city its soul?
Oh yeah it's not clever, I totally ripped off #savefnbsg. To be honest, if it ain't broke, don't fix it. I know my mates in F&B are 100 percent fully behind the movement. Having the playlists in dining establishments silenced last year has made a lot of people realise just how important music really is. Of course, for the general public in Singapore, it will never be as important as food. But we have made progress.

Why do you think music is important, even more so during these very chaotic times?
These times in Singapore aren't chaotic. They are pre-approved, carefully managed and structured. Music is vital because it is the absolute antithesis of this – it's freedom, release, passion, joy. If music is banned, then what are we left with?

What do you predict will happen if rules surrounding nightlife and music remain tightly regulated?
I honestly can't think about that right now... it can't continue.

What's your hope for Singapore's music industry moving forward?
Singapore's music industry was motoring in full throttle before March 2020. There's a diverse and niche range of homegrown talents this wonderful island has to offer. Seeing places like Offtrack opening this week fills my heart with such pride, you cannot keep artists and musicians down... we are going nowhere.
How can Singaporeans help amplify the movement?

They can help follow and share the page to get our voices heard. We're also planning a 24-hour live DJ stream once we've grown our support.
RECOMMENDED: How the no-music rule is affecting restaurants and bars in Singapore & We tried a Zouk DJ masterclass – here's what went down