Best of the Singapore food scene 2015
We put our taste buds to the test to dish out the best restaurants and bars that opened this year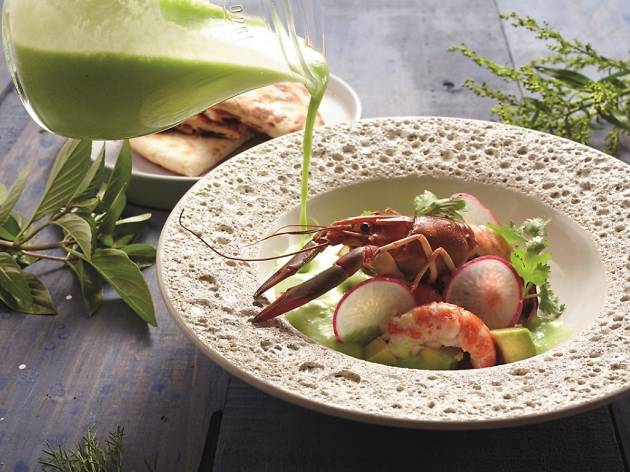 Of the National Gallery Singapore's nine new restaurants and bars, none deserves as much praise as this partnership between The Lo and Behold Group and former JAAN executive chef Julien Royer. Named after his grandmother, who laid the foundations for his love of cooking, the tasting menus mimic the brilliance that scored his former restaurant a ranking in the Asia's 50 Best list, but somehow with more heart.
Read more
Never mind that half of Wolfgang Puck's new restaurant looks out to the underdressed infinity pool posse – the service here is world-class, and the Cali-fusion cuisine well-executed and good-sized. Plus, dishes like his signature beet salad, veal chop and Alaskan halibut laksa are so straightforward and good that even mum and dad will approve.
Read more
In the CBD, no price is too high for a meal. Which is why this Italian restaurant deserves props for keeping its dishes approachably priced for the everyman. In there, treat yourself to the stick-to-the-ribs plates like pork cheek pappardelle and suckling pig porcetta, set in an art deco-cool dining room and dished out with stellar service.
Read more
This is as authentic as Thai cuisine gets. Forget your tepid pad thais and watery tom yums. David Thompson sets up post at the Marina Bay Sands and blows minds with the pain-is-pleasure levels of spice and bold flavour. The improved Asian-tinged cocktails also deserve a special shout out.
Read more
After tasting his brilliance for years, we're incredibly happy for Bacchanalia's head chef Ivan Brehm, who now has a better dining room from which to showcase his talents. And despite his esteemed Fat Duck credentials, local flavours are not too lowly for his signature experimentation, some of which are put together with ingredients he works hard to source from the region.
Read more
The colonial days rarely conjure up good vibes, but The Ritz-Carlton, Millenia Singapore's reworked buffet restaurant certainly does. The new room, outfitted in warmer shades of brown, fills its many walls and space-dividing trellises with reproductions of old postcards, photos and maps – and, yes, the staggering array of food put out by the old Greenhouse is still a mainstay here.
Read more
Find out what else made it into our Best of 2015 list
Well, 2015 whizzed by in a flash. Couldn't keep up with all the new stuff that popped up in Singapore? Don't worry – we've got you covered with our list of the highlights of the year.
Read more