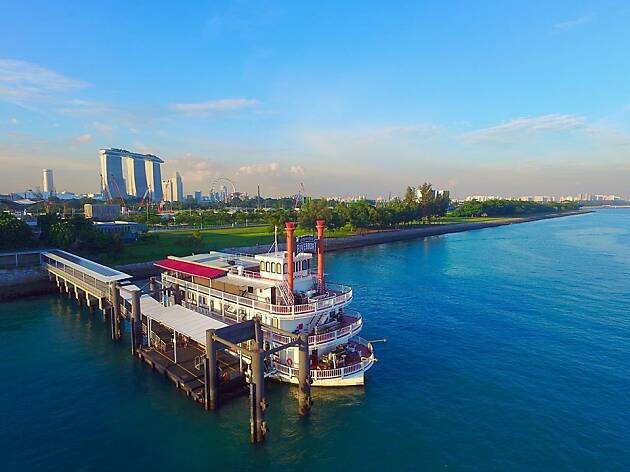 Quirky restaurants that you have to try in Singapore
Spice up your dinner outing with these few unconventional places that bring dining to a whole new level
No, it's not a new budget airline, the eat-in-a-plane experience at Sushi Airways is novel enough – with metal stairs resembling a boarding staircase, a retro chrome-plated interior with actual aircraft galley meal carts and overhead compartments, and waitresses dressed up as flight attendants. With fresh ingredients flown in four times a week from Japan, try their premium assorted sushi platter ($38), Kani Mentai cheese Maki ($30) and Hamachi Kama ($15-$20).
This riverboat comes in the form of a three-decked, non-motorised replica of the Mississippi steam boats of the 1800's which means that yup, it's not going to be sailing anywhere. For a quick escape from the city's hustle and bustle, dine onboard the boat that houses Santa Fe Tex-Mex Grill and Wood & Steel Gastrobar. With the picturesque view of the sea as your companion, tuck into pub grub-style food and if the weather allows, try dining at the rooftop deck to enjoy the cool sea breeze with your meal.
This pop-up restaurant brings you the most outrageous dining experience you will ever get. ANDSOFORTH goes the extra mile by creating an immersive theatrical performance, melding feasts and plays together, spinning it with dramas, secrets and surprises that will leave you star struck. Online reservations have to be made, once that is done everything will be surreptitiously planned with only clues and locations given on the day itself. After the feasts, the diners are bound to secrecy since they are conspirators now and they won't be able to divulge any information or leaks.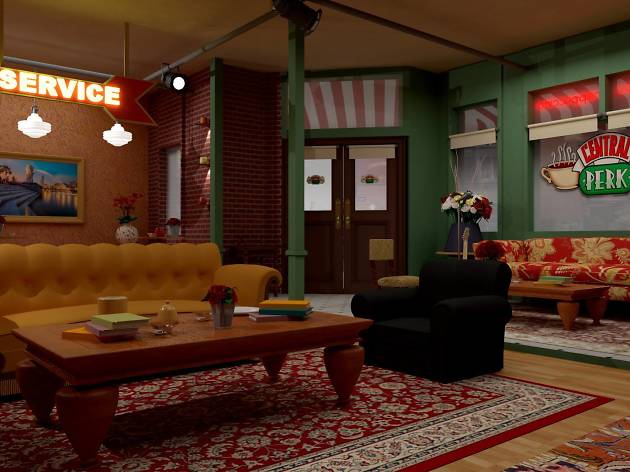 Previously, we mentioned that we'd be getting a FRIENDS-themed café soon. Well, it's official. The new café will house multiple sets modelled after the sitcom, the main one being Central Perk, the cosy coffee shop with a plush couch on which Monica, Rachel, Joey, Chandler, Phoebe and Ross would spend all their time. Iconic furniture from the show, such as the Pacman machine, Monica's kitchen and Joey's handcrafted cabinet, will be on display in the 3,300-square-foot space. The café will serve dishes inspired by the show – think cheesecake from Mama's Little Bakery – cheesecake so good Rachel and Chandler ate it off the floor. There'll also be the Joey Special – a meal made of two pizzas – and the Moist Maker, which is reminiscent of Ross' Thanksgiving sandwich.
Leering at you from the street with its neon pink-lit lobby is three-storey dining and drinking complex Sum Yi Tai. From its ceiling perch, a Chinese dragon in mid-dance dares you to enter. Life-sized vinyl roast ducks hang like just-roasted meat on a side wall of its ground floor tapas bar. A lift ride up takes you to a dining room on second – opening this month and serving lunch sets and the same tapas as the other levels – and a private rooftop bar where you'll have to email your request for access beforehand. Drinks are the highlight here so order up some poison from the Dragon's Cocktail list like the Colonial Influence ($20) with Earl Grey vodka or the Chinese Mojito ($19) with Chrysanthemum rum.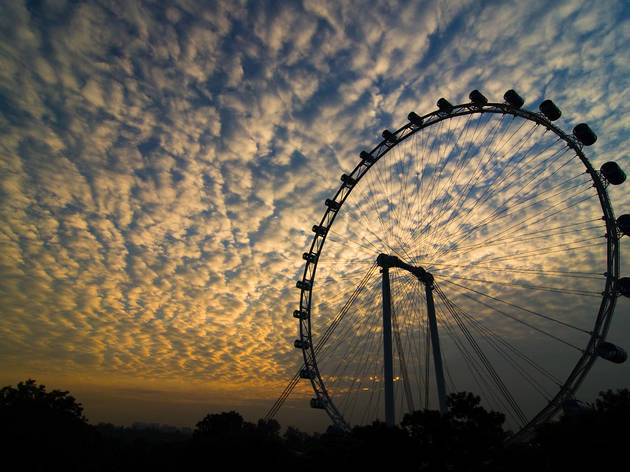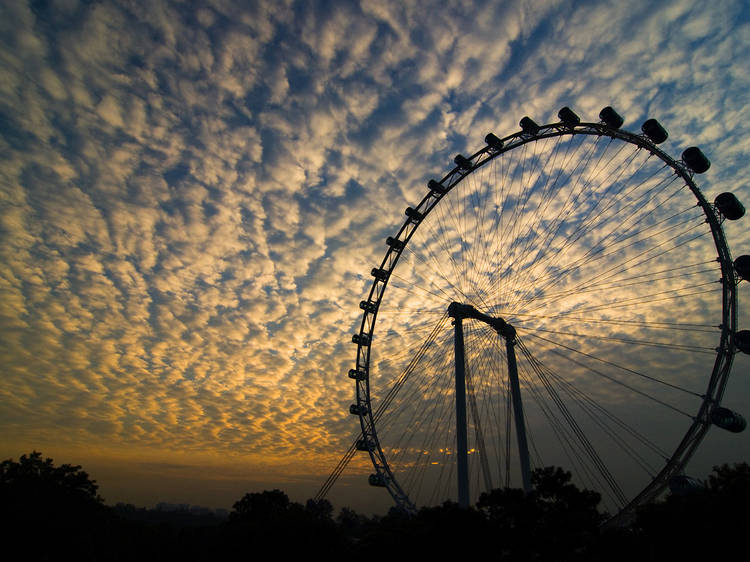 Marina Bay's giant, 42-storey, 165m observation wheel continues to pull a mix of tourists and locals who come for the breathtaking, 360-degree views of the city. You've guessed it- in this dining experience, you will be suspended 165m above ground while you enjoy an extravagant four-course dinner with your loved ones over two full rotations of the wheel while being attended by an in-flight attendant. A date unlike others, feel the world under your feet as you stand watch over the Helix Bridge, The Fullerton, Esplanade Theatre and so much more.
Located on the ground-floor space of a converted 1950s art-deco building, Cups N Canvas offers a bit of a throwback to the past. There's an old Chinese signboard as you enter while elegant porcelain pieces grace the top of the cupboard; then there's also the fact that half of this spacious 50-seater transforms into an art studio and gallery on days when it hosts painting, drawing and printmaking classes with professional artists on its stripped-down industrial side. The food worth trying here is the blanc bacon ($15.90), served with al dente fettucine in cream sauce and the PK sandwich ($9.90), a lightly toasted loaf of ciabatta goodness chock full of duck, Japanese cucumber and crackers in a orange hoisin sauce.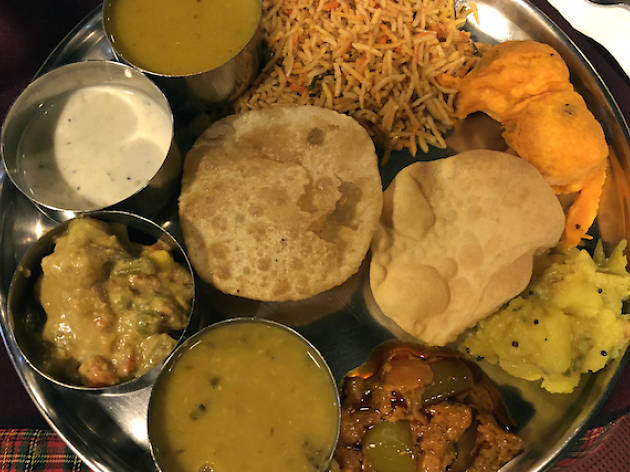 Among Singapore's more unique dining experiences, Annalakshmi is a buffet of all you can eat, for whatever you wish to pay. Its Havelock Road outlet serves a spread of home-style cuisine and is completely volunteer run. Stuff yourself with servings of briyani, poori, appam, vegetable stew, potato palya (dry, spiced potatoes) and cauliflower curry among a slew of other north and south Indian home-cooked dishes and pay whatever amount you want. Sounds too good to be true? Annalakshmi hopes to spread love and benevolence through this act of kindness. At dinner time, you can also order off a menu.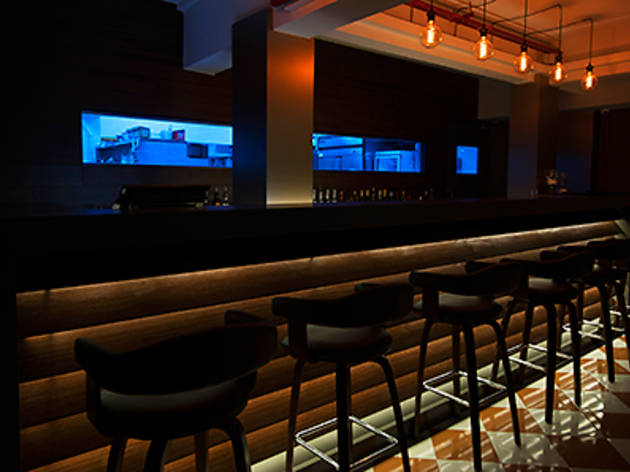 Having a meal in total darkness without knowing what's going into your mouth sounds like a gimmick but once you give in to the experience of dining in the dark, dinner at NOX proves to be a fun and enlightening rollercoaster ride – one that's worth the $88 (for a prix fixe three-course meal comprising four dishes each) you're about to part with. At this reservations-recommended (walk-ins are welcomed as well), two-storey shophouse restaurant on the fringes of Kampong Glam, you start at the fully-lit downstairs bar, where you're served an amuse bouche and given the option of trying one of their fifteen signature cocktails ($20). From there, with hands firmly on the shoulders of your polite, blind or visually-impaired waiter (specially hired and trained by the restaurant), make your way slowly up into the 60-seat upstairs dining room. Our advice is to tune out the soft background music and just focus your naturally heightened senses of taste and smell on the food, you'll get a full range of dishes to taste, many of which are designed to have contrasting flavours.
You might also like...