1/7
Photograph: Daniel Boud
Works by Guy Maestri – Jan Murphy Gallery booth
2/7
Photograph: Daniel Boud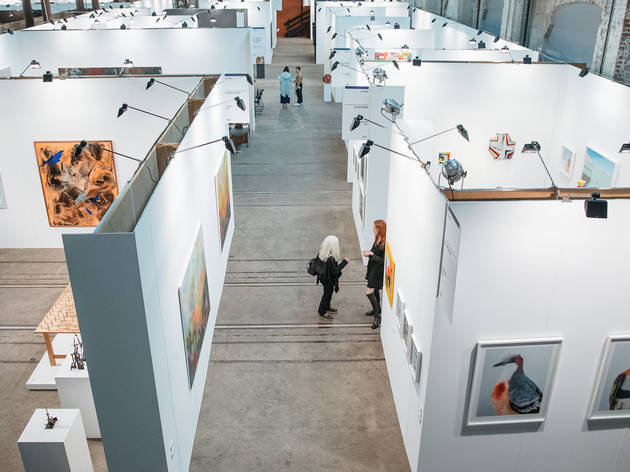 3/7
Photograph: Daniel Boud
4/7
Photograph: Daniel Boud
Works by Virginia Leonard
5/7
Photograph: Daniel Boud
Justin Miller Art booth
6/7
Photograph: Daniel Boud
Justin Miller Art booth
7/7
Photograph: Daniel Boud
blackartprojects booth
Carriageworks becomes a playground for art lovers with this annual four-day art fair and festival featuring talks, performances and installations
The centre of this annual four-day festival is an art fair – a one-stop shop in which 90 commercial galleries and artist-run initiatives from Australia and the world spruik their art-wares; but the business side of Sydney Contemporary is augmented by a program of installations, performances, talks and screenings, with many of the events free to the public.
Bottom line: a few hours spent at Sydney Contemporary will get you a better snapshot of contemporary art right now than anything else you can do in Sydney this year.
At the helm is fair director Barry Keldoulis, working with an advisory council comprised of Sue Cato, Rachel Griffiths, Mark Hughes, John Kaldor AM, Dr Gene Sherman, Lucy Turnbull AO, and Evan Williams.
Galleries showing at SC17 include Justin Miller Art (Syd), Tolarno Galleries (Mel), Pearl Lam (HK), Roslyn Oxley9 Gallery (Syd), Watters Gallery (Syd), Artereal Gallery (Syd), The Commercial (Syd), Utopia Art (Syd), Anna Schwartz Gallery (Mel), Hugo Michell Gallery (Adl), Jan Murphy (Bris), Michael Reid (Syd/Berlin), STARKWHITE (NZ), THIS IS NO FANTASY + Dianne Tanzer Gallery (Mel).
There's also a dedicated 'Future' stream, which features emerging galleries and ARIs, including: 107 (Syd), Art Collective WA (Perth), blackartprojects (Mel), Bowerbank Ninow (Auckland), Galerie Pompom (Syd), Hanging valley (Mel), Interlude Gallery (Syd), MUTT (Santiago, Chile), Nicholas Thompson Gallery (Mel), and Studio A (Syd).
Tickets
Adult 'day passes' start at $25/$30 (advance/on door). At the other end of the spectrum is the VIP Pass ($150) which gets you entry and access to the VIP Lounge for the four fair days (Thu/Fri/Sat/Sun) and the Thursday night opening party, plus two complimentary drinks and a program of tours and talks exclusively for VIP pass-holders.
Opening night
If you're all about the pARTy, grab a ticket to Sydney Contemporary's opening night (Thu Sep 7, 5pm-9pm); for $50 you can enjoy the art, a suite of performances and a complimentary drink.
About that art...
There is all kinds of art at Sydney Contemporary (including the ostensibly unsaleable): prints, collages, drawings, paintings, sculptures, sound and video works, light works...
There are tiny works that would suit the smallest apartment, and there are behemoth works that seem like they should be museum-only. The most expensive work at the fair? Closer to the million mark.
Roughly 25 per cent of the galleries exhibiting at Sydney Contemporary this year are from overseas.
The food
Safe to say, you will need sustenance at some point in your fairventure: make a beeline for the Billy Kwong and Kitchen by Mike pop-ups.
The drinks
Besides foyer bar Cornerstone, there is the Glenfiddich pop-up, serving up drams of the Scottish whisky and showcasing the finalists in the Glenfiddich Artist in Residence competition. Embedded deeper into the fair, suckers for sparkling and wine will find the Petaluma bar.
It's not all about commerce
Sydney Contemporary is not just for collectors – it also has curated sections for voyeurs, including: the ACMI-curated Video Contemporary, featuring a behemoth lineup of short video works, in a dedicated screening room; Installation Contemporary a series of 17 small and large-scale installation works to wonder at and wander around, located throughout the fair – and curated by the Museum of Contemporary Art's Rachel Kent and Megan Robson; Performance Contemporary, a program of live performance curated by Emma Price and featuring Marcus Whale, The Huxleys, Garth Knight, Caroline Garcia and more; and Talk Contemporary, a series of free talks and discussion panels running the gamut from fashion to curating to understanding post-internet art.
First-time collector?
If you're new to the 'collector' game and/or if you are not made of money, make a beeline for Future Contemporary section (featuring Sydney artist-run-initiative 107, and predominantly younger galleries, who are therefore likely to have younger/emerging artists on their books).
You can also hit up the Art Money lounge (beside the box office in the Carriageworks Foyer) to find out about their interest-free loans to pay off your art purchase in increments.
If you're heading to Carriageworks, check out Robyn Stacey's giant walk-in pinhole camera.