Drink Singapore Slings and win a VIP dinner for two plus a $100 bar tab
Singapore's thriving arts and creative scene is coming to Sydney for three days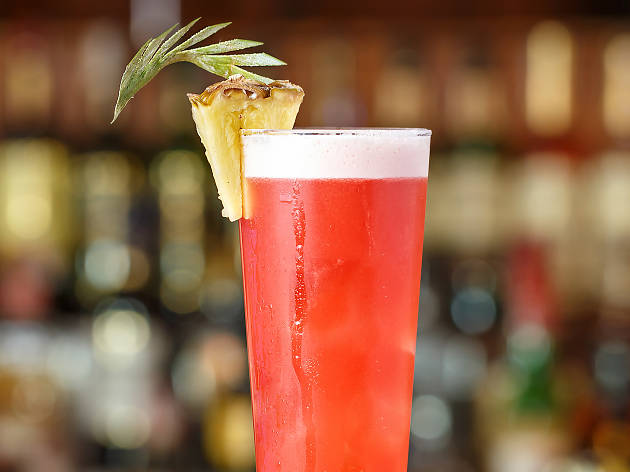 Singapore's thriving arts and creative scene is coming to Sydney for three days in the form of the Singapore: Inside Out (SG:IO) showcase at Kensington Street, Chippendale, November 3-5, 2017. This event will showcase innovative visual arts, performance, music, photography, film, design, cuisine and cocktail making from Singapore.
To get you in the mood, five Sydney venues are crafting their own takes on the classic cocktail invented in Singapore – the Singapore Sling.
Visit Gin Lane, Eastside Grill, the Dock, Pino's Vino e Cucina and Ramblin' Rascal Tavern before October 26 to try their takes on the Singapore Sling, vote on your favourite, and you could win a VIP dinner for two at the Private Kitchen on Kensington Street. You'll also score a $100 bar tab at the winning venue.
The VIP dinner for two will feature a collaboration between chef Stanley Wong from Eastside Grill and Sam Chablani of top Singapore barbecue and grill restaurant, Fat Lulu's. They will prepare a mouthwatering seven-course menu with a focus on charcoal-grilled food and spices. The dinner will be at Kensington Street, Chippendale on November 3 as part of SG:IO.
Combine the action of this event with a unique cuisine offering, and you and a friend are in for one amazing evening.
To win, simply vote below on your favourite version of the Singapore Sling:
- The Singapore Swing from Gin Lane (formerly Bar Chinois, re-opening Oct 14)
- Eastside Sling Shot from Eastside Grill
- The Redfern Roundabout from the Dock
- Six Hours from Pino's Vino e Cucina
- The Sydney Swill Sling from Ramblin' Rascal Tavern
---
COMPETITION CLOSED
Terms and conditions in full. By entering this competition you agree to receive relevant communications from Time Out including news, events, offers and competitions.