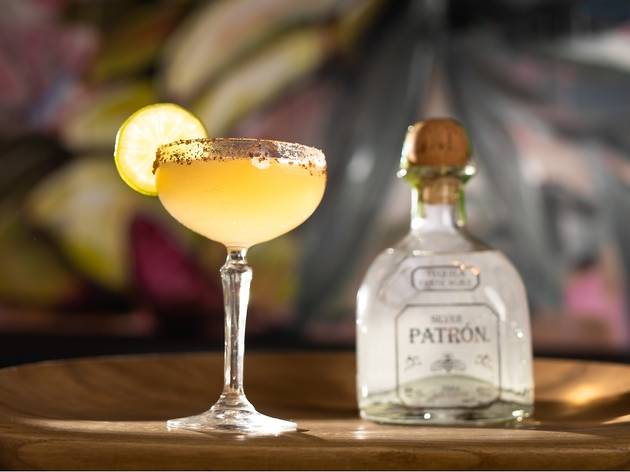 These are the 30 must-try cocktails in YCK Laneways bars
You'll find some of the city's tippity top tipples a stone's throw from each other, in the beating heart of the CBD
YCK Laneways is a new Sydney precinct centred around York, Clarence and Kent Streets. It's one of the most happening patches of pavement in the Harbour City, and also just so happens to be home to some of the very best bars in town. In conjunction with the YCK Laneways Block Party – a six-week entertainment program celebrating the precinct's launch – 15 bars in the area are teaming up with Bombay Sapphire and Patrón to serve up a special collection of cocktails.
Kicking off Wednesday, April 7, you'll be able to slip into the likes of Esteban and Stitch for dynamite twists on the Margarita after work, kick off some merrymaking at Maybe Sammy's stylish new sibling Sammy Junior for a Jasmine Negroni, or finish the night in front of the fire at the Duke of Clarence with a berry and chocolate Gin Sour. All 15 venues will be offering two additional drinks for the duration of the Block Party, concluding Saturday, May 22, which gives you more than enough time to try them all. Here's what's shaking, and where to get it. Cheers!
The 30 cocktails you shouldn't miss in the YCK Laneways
Keen for more deets on the YCK Laneways Block Party?
YCK Laneways is the new city precinct that is home to ten of the best small bars in Sydney, all clustered around York, Clarence and Kent Streets. To celebrate the inauguration of this exciting entertainment zone, a six-week program of events will take place across the bars and laneways that will bring fun, culture and delicious drinks made with Bombay Sapphire gin and Patrón tequila.
Lasting from April 7 to May 22, YCK Laneways Block Party will see more than 75 events happening across ten venues, with the aim of getting Sydneysiders to rediscover the bars of their CBD. From Drag Queen Bingo at the Prince of York to Dungeons and Dragons at Spawn Point; from Nu-Disco at the Barber Shop to Sea Shanties at the Duke of Clarence, YCK Laneways venues and streets will be celebrating good times. Knock off your day in style and go discover events covering everything from tarot and fire dancing to live music, wheelie bin art and DJ sets. Some events are ticketed, but many are free.
The festival culminates in a special live-on-stage event will happen at Barrack Place, with a line-up of DJs, performers, food, drink and more – check out @ycklaneways on Instagram for further announcements.
YCK Laneways Block Party is partly funded by City of Sydney and commercial partners American Express, Bombay Sapphire and Patrón Tequila, and presented in partnership with Time Out. Participating venues in the Block Party are: Since I Left You, Stitch Bar, Grandma's Bar, Prince of York, Uncle Ming's, Papa Gede's, the Barber Shop, Duke of Clarence, Spawn Point and the Lobo.
Find out more about YCK Laneways Block Party here.
Partners