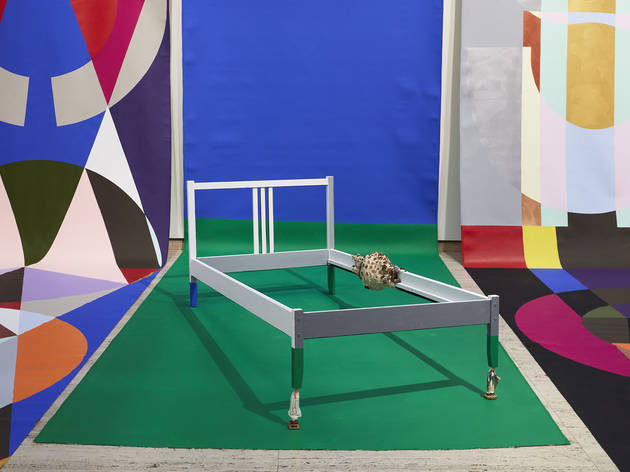 Artsy dating tips to spice up your long-term relationship
Posted: Wednesday September 20 2017, 5:25pm
Welcome to the 37th guest blog post of Time Out Sydney's 52 Weeks of #SydCulture 2017 challenge! September's culture selector is Abdul Abdullah, a four-time Archibald Prize finalist and photomedia artist, and co-host of FBi Radio's Canvas program. Every week in September, Abdul will be telling us what he loved the week before. Think of it as your recommendations for this week, from someone who sees a helluva lot of arts and culture. Over to him.
Dear diary,
There is so much emphasis on young love and first dates, but what about the dates a few years deep into a relationship? What about the older set? What if you have kids? People with kids love dates.
Say you're at a stage in the relationship where you're comfortable in long contemplative, silences. Say you think Freda's is too loud and too dark. Say the idea of jumping from place to place just sounds tiring, and you'd rather luxuriate in the high-ceilinged, air-conditioned comfort of a state institution. Well, the Art Gallery of New South Wales is the place for you.
Step on out of that September sun, check your bags at the cloakroom by the door, give a knowing wink to the security as you pass them, and saunter into the palatial surrounds of our state gallery. To the right you'll find the 'classic' collection of paintings of white people, by white people, for white people. Bloody classic (smiley faces emoji with sunglasses). My favourite painting of white people in this section is 'The sisters' (1904) by Hugh Ramsay. I visit it every time I go to AGNSW. As a painter I get sucked right into the texture on the dresses. Also, learning about white people is fascinating! They love horses.
To the left as you enter you can stop by the information desk and get a ticket for the big prizes down stairs: the Archibald Prize for portraiture, the Wynne Prize (for landscape painting and figurative sculpture) and the Sulman Prize (for genre and mural painting).
If you're checking out the prizes, do yourself a favour and find the corridor where they've hung the Young Archies: a portraiture prize for kids in four age categories between five and 18. If you've got kids yourself, take the opportunity to unfairly compare their skills to the little geniuses hung here. If you're the type that goes to galleries and says "Pfft, I could do that", check out the 5-8 year-old category, and spend some time wallowing in your own ineptitude and inadequacies.
Down another level, in the contemporary section, you'll find a new exhibition by Sydney artist Mikala Dwyer, and a little further in you'll find Something Living: a show of contemporary international figure painting. I was particularly was drawn to Katherine Bernhardt's painting 'Lisa Simpson, watermelon, cantaloupe, cigarettes and chapstick' (2016). I love it. Can you guess how much it's worth?
On the last level down, in the Yiribana gallery, you'll find a really interesting exhibition of Mervyn Bishop's photography. Mervyn is responsible for the iconic image of Gough Whitlam pouring sand into the hand of Vincent Lingiari. Bloody ripper.
Alright, that's a enough for now love-cats, but remember the AGNSW isn't the place for first dates. You need to be going steady, otherwise the experience might reveal too much too soon. Be warned friends. Stay vigilant.
Love,
Abdul xox
While you're here, check our 52 Weeks of #SydCulture challenge, and let us know what you're seeing/loving on Instagram via the hashtag #SydCulture – then get some inspiration from our hit list of the best art to see this month.
Share the story