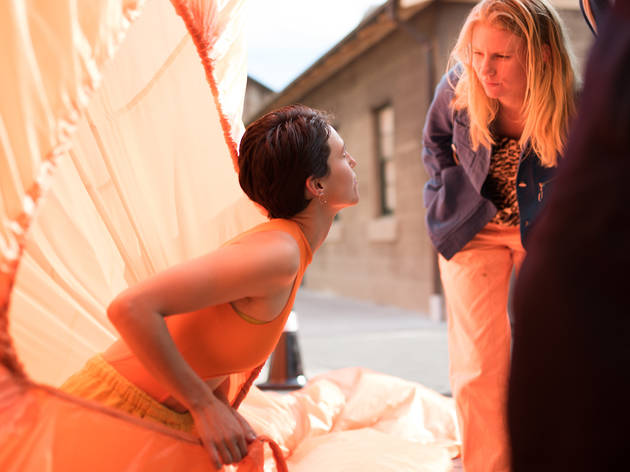 Have an art date at a gallery opening this week
Posted: Friday October 13 2017, 5:52pm
Welcome to the 41st guest blog post of Time Out Sydney's 52 Weeks of #SydCulture 2017 challenge! October's culture selector is Nerida Ross: Arts and Culture EP at FBi Radio, and the producer of Two Up talks and the after pARTY series. Every week in October, Nerida will be telling us what she loved the week before. Think of it as your recommendations for this week, from someone who sees a helluva lot of arts and culture. Over to her.
I like to urge everyone to go to gallery openings. Go by yourself and go early. Give yourself the space to move freely, to get lost in the work or, if you're not feeling it, tap out and try the next one. It's like you're taking yourself on a date – a solo art date!
This week I took myself to the opening of Tokyo Trace 2 by Masaharu Sato at Firstdraft, an artist-run initiative in Woolloomooloo that has a reputation for presenting consistently engaging exhibitions – and having fantastic openings.
When I popped in early I was drawn upstairs by the sound of a piano. It was playing a familiar tune and no one was around. That's where the intrigue began. The twelve screens displayed around the room depicted ordinary scenes of city life: a woman crossing at an intersection; a man eating nigiri. While I watched each video, the image transitioned fluidly between animation and reality, as if I had dipped in and out of a Miyazaki film. If you walked by too quickly, there was a chance that you would have missed the magic.
I spent as long as I could in that room and returned to it after exploring the other exhibitions. The combination of those subtle adjustments to mundane moments, and the tinkling of Debussy's 'Clair de Lune', blurred the boundaries between reality and fiction – and I was hooked.
As part of my newfound appreciation for these independent art dates I took myself off to Underbelly Arts Festival. I first stopped in at Greyness and Infinity, a movement piece involving multiple performers, led by artist Ivey Wawn. The artwork describes itself as making "visible the invisible labour of the microbial". I am utterly bewildered by microbiology, but the performers' slow and thoughtful movements captivated me. The only communication between the dancers was indirect; for example, a performer might ask, "Lucien, could you ask Angela to watch out for the mirror?" They appeared to be working together in the space without any direct communication. I can only assume that's what microbes do. I stayed in this work for longer than I usually feel comfortable sitting in silence.
I finished my Underbelly Arts date at Complaint Department, an artwork by Angela Garrick and Yarran Gatsby. Over the past few months they have collected complaints through a public call out, and in this concert performance a Complaint Department Ensemble of five musicians responded to these through improvised compositions.
As the charmingly relatable complaints appeared on a large screen, the audience chuckled together. They touched on everything from "Eftpos machine surcharges" to "I am extremely annoyed that I can't eat everything I want all the time eternally due to the limits of my body".

It made me reflect that despite my newfound appreciation for the solo art date, art is a naturally social thing, easily shared and consumed as a group. It's why I think these gallery openings work so well: you can be as social or solitary as you want. Either way, go to gallery openings.
Tokyo Trace 2 runs until October 27 at Firstdraft, Woolloomooloo.
Up for an opening? Baden Pailthorpe and Ramesh Mario Nithiyendran both open shows at Sullivan and Strumpf Saturday October 21 from 6pm.
While you're here, check our 52 Weeks of #SydCulture challenge, and let us know what you're seeing/loving on Instagram via the hashtag #SydCulture.
Share the story