The best places to see comedy in Sydney
From stand-up venues to regular nights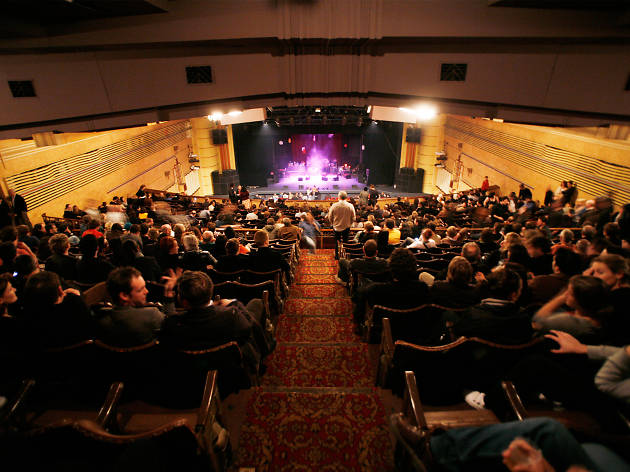 Sure, we all like to laugh – but sometimes you want something more specific. Established acts? Up-and-comers? Open mic? Let us direct you where you wanna go.
Café Lounge packs 'em in every Monday night for cheap pizza, drink specials and short stand-up sets from newcomers and old hands alike.
Read more
The Friend in Hand's Thursday open-mic night is a comedy institution for its welcoming, give-it-a-good-shot attitude. It's also the place of choice for high-profile comics to try out new stuff.
Read more
Alexei Toliopoulos and Nikko Malyon run this room, and emcee the monthly stand-up line-up.
Read more
Sundays at Cafe Lounge are hosted by John Conway, that national man of mystery – and Australia's answer to Fallon, if Jimmy were blonde, drunk and being attacked by bees, and if his guests were mostly made up.
Read more
Climb to the top of the Forresters every Wednesday to find Treehouse Comedy – a stand-up night hosted by local comedians Daniel Muggleton and Geoffrey Windle.
Read more
The Laugh Stand hold the reins of Harold Park's Tuesday-night stand-up menu. Expect to see a mix of comedy vets, young and emerging talent.
Book now
Read more
This weekly night at Redfern's Tudor Hotel features a local emcee and short sets by emerging comics, but also has a bunch of spots for open mic.
Read more
If you like your lols from not-just-straight-white-dudes, hit up this monthly night – it's one of comedian Zoe Coombs Marr's favourites, and she's one of our favourites.
Read more
The rest of what's on
January is our favourite month of the year thanks to Sydney Festival. The three-week celebration of summer in the city includes 150 events across theatre, dance, circus, music and arts. This year is festival director Wesley Enoch's first program and he's brought with him a renewed focus on new Australian work, a deepening of our connections to country and languages, and lots of accessible public art. In fact, there are 73 free events on the program. Enoch is stretching the reach from the CBD to Parramatta, where there'll be circus shows rotating in the big top at Prince Alfred Square. Plus, there are 16 world premiere performances and 14 Australian exclusives. Multipack tickets go on sale from October 27, and single tickets are available from October 31. Take a look at our top ten picks of the program, which all take place between January 7-29.
Read more
What would you do if you found out your dad wrote a porno? Would you ignore its very existence? Would you bring it up with him? Or would you, say, create a podcast with two of your friends and read out chapters to the wider world? Let's just say, Jamie Morton made the right decision. The My Dad Wrote A Porno podcast is like a filthy book club, where listeners get a section of the devilishly funny Belinda Blinked erotic novel dissected by the author's incredulous son and his friends James Cooper and Alice Levine. Jamie's 60-year-old father (who – no joke – penned the book under the moniker Rocky Flintstone) was sincere in his approach to later-in-life self-publication, but the resulting novel is a trainwreck of clumsy and weird descriptions of sexual situations, with a vague plotline about the goings-on in the super sexy world of pots and pans sales. Basically, it's a disaster – but a disaster filled with spit-take worthy prose. Launching in 2015 with readings from Rocky Flintstone's first book, the series has been a runaway success, boasting 50-million-plus downloads worldwide. After the release of Belinda Blinked 2 halfway through last year, the My Dad Wrote A Porno team has decided to take the show on the road with a series of live readings hitting Australia in August. The My Dad Wrote A Porno live show is headed to Sydney Opera House on Saturday August 19, with hosts Morton, Cooper and Levine promising a night of squeamish good fun. Tickets go on sale 10am Monday Febr
Book now
Read more