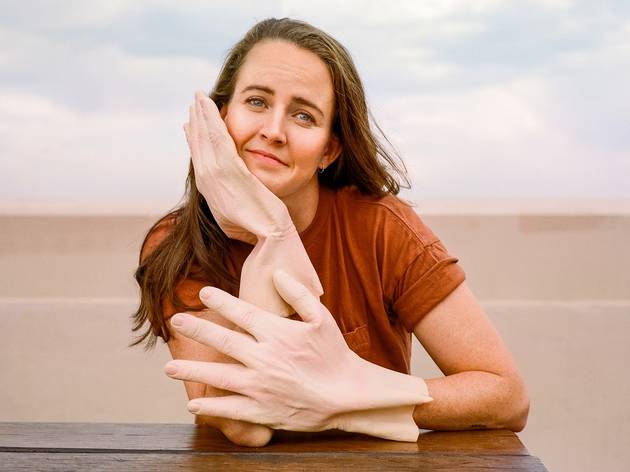 Time Out says
The Giant Dwarf goes rainbow with queer comedy, thought and musical antics
The Giant Dwarf Theatre has teamed up with the team from monthly inclusive comedy night, Two Queers Walk Into A Bar, to turn the stage rainbow with a great big giddy bunch of comedic and musical spectacles. You really don't need to hold out for Mardi Gras to dip your toe into a smorgasbord of entertainment that centres entertainers from LGBTIA+ communities and their allies.
Two Queers Festival brings more than 30 artists and shows to the stage at Giant Dwarf's cosy new comedy club digs in Surry Hills, and if you can't make it IRL, every event is streaming online with the venue's swish four-channel set up. Strap on! There's plenty packing out the program between now and the closing night show on Saturday, November 21 – which features queer hip-hop artist BVT, the queen of techno tease Lou P Scarlett, high voltagae dancer Rhys Lightning and writer/artist/musician/poet/activist Mohammad Awad. From the debut of a new stand-up hour from the eccentric Zoë Coombs Marr (Hello Again, Hi There on Nov 12 and 14) to a special edition of The Kings (Nov 13), a monthly variety show that puts a different kind of drag royalty in the spotlight.
Let's Talk About Queer Sex is a genuinely diverse panel covering everything from the awkward times to the good times (Nov 10) with a smart and sexy panel including trans activist Teddy Cook (ACON), poet and sex worker Tilly Lawless, gender fluid First Nations drag performer Felicia Foxx, and Dr Viv McGregor, who boasts a PhD in Gender and Cultural Studies.
In the crossover that no one asked for but was somehow inevitable, a gang of Sydney's top queer comedians (including Twitter's favourite lesbian Bec Shaw aka @Brocklesnitch) will be doing a live table read of But I'm a Cheerleader, yes, the 1999 cult hit movie starring Natasha Lyonne (Nov 11).
Two Queers Festival is an exciting new development in what the Giant Dwarf does best: putting diverse perspectives on the stage with an accessible entry point. Head here to check out the full program, which runs until November 21.
If you like this, you might like Bloom Festival, Darlinghurst Theatre's queer "carnival of radical delight".
Details