The 100 best horror movies
The best horror films and movies of all time, voted for by over 100 experts including Simon Pegg, Stephen King and Alice Cooper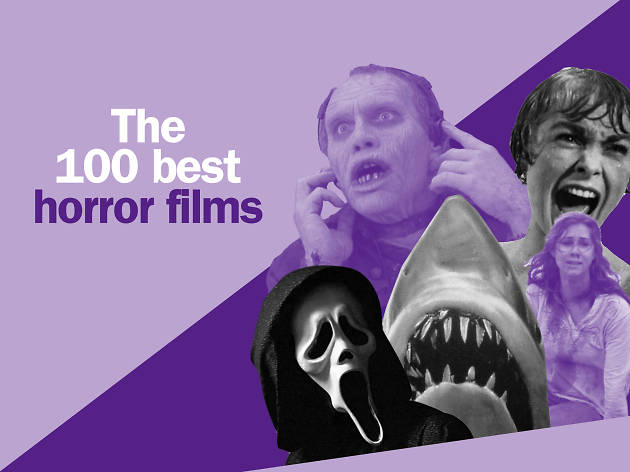 Horror cinema is a monster. Mistreated, misunderstood and subjected to vicious critical attacks, somehow it keeps lumbering forward, leaving a trail of destruction in its wake. For some, horror films are little better than pornography, focused purely on evoking a reaction – be it terror, disquiet or disgust – with little thought for 'higher' aspirations. For others, they're just a bit of fun: a chance to shriek and snigger at someone's second-hand nightmare.
But look again, and the story of horror is also the story of innovation and non-conformity in cinema, a place where dangerous ideas can be expressed, radical techniques can be explored, and filmmakers outside the mainstream can still make a big cultural splash. If cinema itself has an unconscious, a dark little corner from which new ideas emerge, blinking and malformed, it must be horror. The question is – which are the best horror films?
Time Out proudly presents the 100 best horror films, as chosen by those who write in, direct, star in and celebrate the genre. For more, check out our guides to the best comedy, rom coms, family and animated movies.
The 100 best horror films: 100-91
The 100 best horror films: 90-81
The 100 best horror films: 80-71
The 100 best horror films: 70-61
The 100 best horror films: 60-51
The 100 best horror films: 50-41
The 100 best horror films: 40-31
The 100 best horror films: 30-21
The 100 best horror films: 20-11
The 100 best horror films: top ten
Director: Steven Spielberg
Cast: Roy Scheider, Robert Shaw, Richard Dreyfuss
Live every week like it's shark week
'A perfect engine…' These words, used by Richard Dreyfuss's geeky ichthyologist to describe the merciless Great White Shark, could just as easily be used to describe Steven Spielberg's peerless, relentless nature-horror masterpiece. Jaws is a work of almost preternatural precision, a film where everything from the script to the performances to the photography to the special effects are just flawless, working in machine-like harmony to deliver the ultimate audience experience. Is it high art? Perhaps, perhaps not. But it is without doubt one of the pinnacles of cinematic craftsmanship.
Which is even more of a miracle when you consider the odds against it. Spielberg was 26 years old when he was hired, a veteran of a handful of TV shows and one moderately successful movie, The Sugarland Express. The production problems were legendary, the budget ballooning from $4 million to $9 million over months of rewrites, malfunctioning effects and natural disasters. Nonetheless, on release Jaws swiftly became the biggest movie of all time, and the most commercially successful director in the history of cinema was up and running. Tom Huddleston
Director: George A Romero
Cast: Ken Foree, Gaylen Ross, David Emge
Supermarket sweep
Now that's he's become a one-man zombie factory (with steeply diminishing returns), it's hard to remember that George Romero was, at first, dubious about the idea of making a sequel to his 1969 game-changer Night of the Living Dead. But with his most personal project (and, perhaps, his masterpiece), Martin (see No. 87), failing miserably at the box office, Romero decided to bite the bullet – and reinvigorated his career in the process. Though Night changed the face of horror, this is the film he'll be remembered for: the wildest, most deliriously exciting zombie flick of them all, and the movie which pretty much defines the concept of socially aware, politically astute horror cinema. Its influence has been felt in every zombie film since (and even on TV in The Walking Dead), and it remains a near-flawless piece of fist-pumping ultraviolence. Tom Huddleston
Director: John Carpenter
Cast: Donald Pleasence, Jamie Lee Curtis
Is that a carving knife in your pocket or are you just pleased to see me?
Movie snobs always have to point out that Bob Clark's Black Christmas actually birthed the slasher subgenre, but it was the astonishing success of John Carpenter's breakthrough indie ($70 million worldwide on a $300,000 budget) that really set things in motion. But forget all the masked wannabes and knife-wielding suburban loonies that came after, and marvel at the streamlined power of Carpenter's film: the gliding camera, the concealing shadows, the single-minded presence of masked villain Michael Myers, as perfect a killer as the shark in Jaws. Almost four decades later, it's still close to flawless. Tom Huddleston
Director: Roman Polanski
Cast: Mia Farrow, John Cassavetes, Ruth Gordon
The hoof that rocks the cradle
It's hard enough moving into a flat and trying to start a family without having to wrestle with the enveloping suspicion that your new neighbours might be satanists dead-set on parenting a demon child via you. This is the intelligent, subtle face of horror, as Polanski limits the specifics to a minimum and keeps us guessing as to how much is going on merely in the mind of Mia Farrow's character as she comes to believe she's been impregnated by a creepy bunch of well-to-do Manhattanites with a connection to the occult. There are some more explicit key scenes – a potential nighttime rape and a chilling climax – that serve to get right under our skin without making the whole premise seem ridiculous. Farrow and Cassavetes's performances as a couple disintegrating serve Polanski well in his attempt to make the potential alienation of everyday family life feel horrific, and the faux-naive score, evoking lullabies, makes the whole affair feel doubly creepy in the most heady way possible. Dave Calhoun
Director: John Carpenter
Cast: Kurt Russell, Wilford Brimley
Change you can believe in
Time travel has many enticing possibilities, but one of the most enjoyable would be to travel back to 1982 and tell John Carpenter that his new movie would someday score sixth place in a list of the 100 best horror movies – even beating his own iconic Halloween. Like many future horror classics, The Thing was hated on first release, dismissed as an Alien clone more interested in pushing the boundaries of SFX than in character or tension. It was a disastrous flop, and threatened Carpenter's once unassailable reputation as the king of the new horror. It's hard to imagine now: with the benefit of hindsight (and, more importantly, repeat viewings), The Thing has emerged as one of our most potent modern terrors, combining the icy-cold chill of suspicion and uncertainty with those magnificently imaginative, pre-CG effects blowouts. Tom Huddleston
Director: Alfred Hitchcock
Cast: Anthony Perkins, Janet Leigh
What would mother think?
A few years back, David Thomson's book The Moment of Psycho argued that Alfred Hitchcock's blackly comic serial killer masterpiece didn't just change cinema, but society itself. By confronting audiences with everyday horrors; by knowingly manipulating them into sympathising with a murderer; by offering an amoral, adulterous heroine then bumping her off so savagely; by mocking Freudian psychology and the pompous stuffed-shirts who practice it; by pushing an image of America as a trap-laden labyrinth populated by creepy cops and nice-as-pie psychopaths; and by implying that women (brace yourself now) actually use the toilet sometimes, Hitch helped pave the way for all the cultural earthquakes and moral rebalancing acts that the coming decade had to offer. And he did it all with a wink and a smile. Now that's showbusiness. Tom Huddleston
Director: Ridley Scott
Cast: Sigourney Weaver, John Hurt, Ian Holm
The miracle of birth
Talk about above and beyond: Ridley Scott was hired by Twentieth Century Fox to make 'Jaws in space', and came back with one of the most stylish, subversive, downright beautiful films in either the horror or sci-fi genre. The masterstroke, of course, was hiring Swiss madman HR Giger as the film's chief designer – his work brings a slippery, organic grotesquerie to what could've been a straight-up bug hunt (© Aliens). But let's not overlook Dan O'Bannon's script, which builds character without assigning age, race or even gender – plus one of the finest casts ever assembled. Tom Huddleston