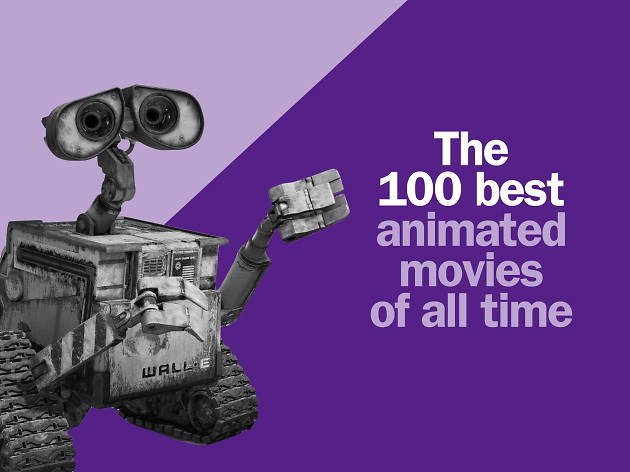 The 100 best animated movies of all time
World-famous animators pick the best animated movies, including Disney and Pixar movies, cult movies, anime and more
Long before your love of comedy or romantic movies took wing, we're betting you were friendly with talking animals. Chances are, the first movie you saw was animated: a Disney movie or a toon about a pig on TV. Animation is where we call come from, as we learn the building blocks of narrative storytelling from the simplest forms.
But the genre has long been a refuge for adults as well. In researching the best animated movies ever made, we encountered plenty of Oscar winners, along with darkly imaginative foreign films from Japan, France and beyond. Our polled experts included Fantastic Mr. Fox' Wes Anderson and Wallace & Gromit's Nick Park. Dive in to our authoritative list and you'll find nostalgia and new horizons alike.
RECOMMENDED: Our list of the 50 best family movies of all time
Best animated movies: 100–91
Best animated movies: 90–81
Best animated movies: 80–71
Best animated movies: 70–61
Best animated movies: 60–51
Best animated movies: 50–41
Best animated movies: 40–31
Best animated movies: 30–21
Best animated movies: 20–11
Pixar's saddest, sweetest, strangest film.
Directors: Pete Docter and Bob Peterson
Best quote: "Adventure is out there!"
Defining moment: An obvious one—the heartbreaking opening sequence tracking Carl and Ellie through their life together.
It's the brief opening chapter of Up that everyone remembers best, and rightly so—even Pixar and director Pete Docter returned to its model for their later film Inside Out. It's in those few minutes that we race through the life of now-elderly Carl, a widower who once dreamed of becoming an explorer before work and family, love and tragedy, took over. Rarely has popular animation displayed such acute sensitivity to the pattern and flow of real life. From there, we're back to the present day as Carl decides to respond to the authorities who are trying to push him off his property by tying a thousand balloons to his home and floating off, with his house, to find the waterfalls in South America that he and his wife had always dreamed of visiting. The rest of the film is inventive, fast and visually extravagant, even if it doesn't quite reach the imaginative heights of Pixar's absolute best (we're not spoiling it).—Dave Calhoun
Pixar was at the height of its powers when it made this Paris-set tale of a rat with immense cooking talent.
Directors: Brad Bird and Jan Pinkava
Best quote: "In many ways, the work of a critic is easy."
Defining moment: Food critic Anton Ego tastes Remy's dish and is plunged into memories of his childhood.
This charming, Paris-set Pixar film from Brad Bird has something of a midcentury Disney air to it in its story of a food-obsessed rat, Remy, who ends up secretly assisting a likable but extremely green newbie chef, Linguini, in a high-class city restaurant. It's a great example (even down to its title, a play on the name of the classic French dish) of Pixar's belief in being able to sweep mass audiences along in popular stories that might sound eccentric but are defined by fascinating characters, true emotions and having something to say about the world around us. Part of this film's charm is the relationship between Remy and Linguini and how it develops to a point where Linguini is forced to remember that his newfound success is entirely founded on the help of his unsung rodent friend. Equally memorable is the character of Anton Ego (Peter O'Toole, in fine voice), a feared, arrogant food critic whose claws retract at the taste of a ratatouille which reminds him of his youth. His subsequent review, a beautiful piece of writing honoring creativity and talent, is surely close to the heart of the Pixar project itself.—Dave Calhoun
A live-action gumshoe must prove that a cartoon rabbit has been wrongly accused of murder.
Director: Robert Zemeckis
Best quote: "I'm not bad—I'm just drawn that way."
Defining moment: Roger falls for the ol' shave-and-a-haircut trick.
A prophetic piece of Hollywood hybridization, Robert Zemeckis's 1988 comedy fused animated gags to live-action shooting—and, more significantly, classic '40s-era toons to a TV-weaned generation of younger viewers. The comedy plays like an irreverent Chinatown, with a hard-bitten private eye, a voluptuous femme fatale (Jessica Rabbit isn't bad, "just drawn that way") and a urban-planning conspiracy that turns out to be true. It still works as a manic piece of fluff, with some truly astounding moments involving real props handled by animated characters. Behind the scenes, an army of computer wizards hammered out some of the first motion-controlled technology, paving the way for Andy Serkis's Gollum many years off.—Joshua Rothkopf