The 20 most anticipated movies of 2016
From remakes to Oscar-bait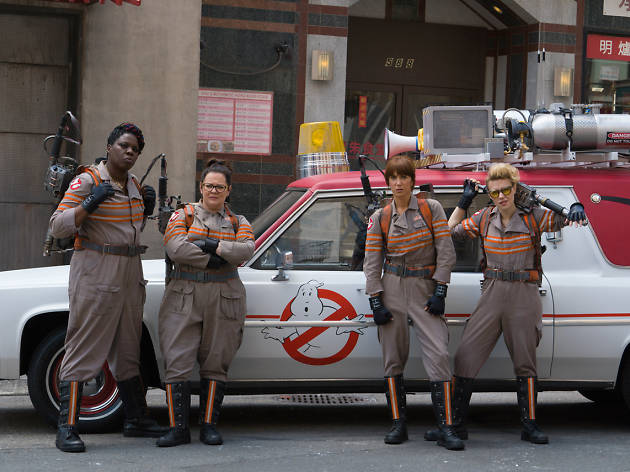 From David Brent to Batman, Red Dog to Derek Zoolander, 2016 delivers up your favourites as well as acclaimed Oscar bait. We may be in a golden age of television, but the big screen still manages to deliver every year. Even if it's mostly delivering reboots
The 20 most anticipated movies of 2016
Mia Wasikowska is back in the role that made her a star, in Disney's eye-popping return to the worlds of Lewis Carroll. Tim Burton is not directing, but that's not necessarily a minus: we're not big fans of his work these last 15 years, and this is one sequel that could surpass the lame-ass original.

Opens May 26.
We're assuming the title is a portmanteau referring to a woman called Lisa (voiced by Jennifer Jason Leigh) who's a bit of an anomaly. Charlie Kaufman (Being John Malkovich) directs a stop-motion animated film about a depressed author (voiced by David Thewlis) who meets the eponymous Lisa on a business trip to Cincinnati. Reviews (including Time Out's) have all been raves.

Opens Feb 4.
Together at last: Clark Kent (Henry Cavill) and Bruce Wayne (Ben Affleck) face off in Zack Snyder's film that tries to do for the DC universe what The Avengers has done for Marvel. Spoiler (not): Wonder Woman (Gal Gadot) also appears – check out the hilarious one-liner in the trailer below – along with other DC comic book heroes.

Opens Mar 24.
Child acting sensation Saoirse Ronan (Atonement) is all grown up now and winning awards for this adaptation of Colm Toibin novel about an Irishwoman who immigrates to New York City in the early 1950s to start a new life. A romantic drama that captures a time and place with acuity, it's getting rave reviews.

Opens Feb 11.
There's life in the old wizarding world yet as the Harry Potter universe gets its first spin-off film with a screenplay by JK Rowling. Eddie Redmayne stars as Newt Scamander, a UK wizard who arrives in the US for a magical conference in the early 20th century.

Opens Nov 17.
Things move at a glacial pace in the world of animation but even we are surprised it took 13 years for a sequel to 2003's near-billion-dollar earner Finding Nemo to come along. Still, the whole team is back: Albert Brooks and Ellen DeGeneres voicing Marlin and Dory, and Andrew Stanton directing. The plot concerns the forgetful Dory being reunited with her family. Expect that stony heart of yours to be tugged anew.

Opens Jun 16.
Newton Knight, a Confederacy deserter who attempted to establish a free state during the American Civil War, is the subject of this drama from writer-director Gary Ross (Seabiscuit, The Hunger Games). Matthew McConaughey stars as Knight and rising Brit star Gugu Mbatha-Raw is his (African-American) lover – little wonder he switched sides.

Opens May 12.
The distaff reboot of the 1983 comedy-horror favourite stars Kristen Wiig, Melissa McCarthy and Kate McKinnon in the roles made famous by Bill Murray, Dan Aykroyd and Harold Ramis. Paul Feig (Bridesmaids) directs and co-wrote the script with Katie Dippold (The Heat). Time Out would not be especially excited about another classic film being remade were it not for the super-cool gender flipping – and watch out for cameos from the surviving cast of the original.

Opens Jul 14.
The Coen Brothers return to a Hollywood setting with the madcap story of a studio fixer (James Brolin) trying to retrieve the kidnapped star (George Clooney) of a swords and sandals epic being made in the 1950s. A bigger-than-Ben Hur cast also includes Ralph Fiennes, Tilda Swinton, Scarlet Johansson and Channing Tatum.

Opens Feb 25.
Show more
More movies...
Pull up a pew at one of Sydney's best outdoor cinemas, from the Eastern Suburbs, to drive-ins way out West.